Note from the Editor: For those who don't know, Lou Curtiss passed away on July 8 at the age of 79. The Troubadour will be rerunning selections of Lou's column, Recordially, Lou Curtiss, from the vast archive of his writings, dating back to 2001, at least through the end of the year and perhaps beyond. There are so many great pieces of music history and experiences he had to write about!
We would also like to invite our readers to share their personal stories about Lou by emailing info@sandiegotroubadour.com. Last month Patty Hall and Gregory Page shared their memories. Steve Thorn has a memory to share this month. We would love to hear from you!
A memorial/tribute for Lou has been planned for November 18, a Sunday, at the site of the old Bostonia Ballroom in El Cajon. Please stay tuned for further details as the date draws near.
–Liz Abbott
It was an old converted movie theater in the LA. suburb of Compton, built over in the front to look like an old barn. I never knew if they used it much during the week, but during my teenage years it was the Town Hall Party on Saturday nights. The band on stage was led by a six-foot plus man with a double-necked Mosrite guitar named Joe Maphis and with him on stage were Marion Ross on pedal steel, Fiddlin' Kate Warren and Bill Hill on fiddles, Jimmy Pruitt on piano, Quincy Snodgrass on string bass, and Pee Wee Adams on drums. This band backed up most anyone who came on the show, including regulars Johnny Bond, Tex Ritter, Merle Travis, Wesley and Marilyn Tuttle, Freddie Hart, Lefty Frizzell, Larry and Lorrie Collins, the Sons of the Pioneers, Gordon Terry, Skeets McDonald, Tex Carmen, Cousin Emmy, the White Brothers (Clarence and Roland), Les "Carrot Top" Anderson, Tommy Duncan, Bob Luman, and so many more. On any given Saturday night you might see guests from the Grand Ole Opry like Ray Price, Stonewall Jackson, Marty Robbins, or Faron Young. You might also see rockabilly artists like Carl Perkins, Wanda Jackson, Gene Vincent, or Eddie Cochran and the Burnett Brothers. You might see western movie old timers like Eddie Dean, Ray Whitley, Jimmy Walkely, or even Gene Autry.
It was billed as Western Music's Hall of Fame and from 1953 to 1961, the West Coast country music scene personified in the Town Hall Party gave Nashville's Grand Ole Opry a good run for their money. When Joe Maphis would lead Town Hall package tours out on the road, regulars Johnny Bond, Merle Travis, or Wesley Tuttle would either bring in a band or sometimes bring in a guest band like Ole Rassumussen, Leon McAuliffe's Cimarron Boys, or Hank Penny's group. I seem to recall that Bob Wills and his Texas Playboys even filled in one time. Three hours of the Town Hall show were telecast all over Southern California every Saturday, first by KTLA and then by KCOP. We drove up to Compton to be there in person as often as we could but if we couldn't make it, my family down in Imperial Beach were usually parked in front of the television trying to clear up the snowy reception.
It was amazingly informal. Pick sessions would be going on back stage, usually led by Skeets McDonald or Merle Travis, and you'd often find members of the audience circling around, checking out a lick or two. Performers would also mingle with the audience as would comedians Texas Tiny and Quincy Snodgrass. I remember going up to Wesley Tuttle and asking him to sing "I Dream That My Daddy Come Home" (one of his old Capitol records from about 10 years prior) for my sister Leona right as he was going on stage. He said, "Well, I was going to do something else but I'll do 'er," and he did, dedicating it to my sister. If you wanted to hear somebody sing a song and you couldn't get to them, you could always ask Town Hall emcee Jay Stewart and he'd pass it along.
Along about 1961 or so, Town Hall shut down and country music on the West Coast started to fade with it. The Bakersfield Bounce of the mid-'60s gave it a little jump, but by 1970 it was all the Nashville Sound. Most Town Hall artists like Tex Ritter and Joe and Rose Lee Maphis, Lefty Frizzell, and so many more had moved back to Nashville, and country music on the West Coast was nonexistent except for a few revival bands. The idea of a country barn dance show in California is probably dead forever except in the memories of those who were fortunate enough to visit Western Music's Hall of Fame at the Town Hall Party.
If you're interested in hearing what the Town Hall Party sounded like, check out the following two CDs on the Country Routes label.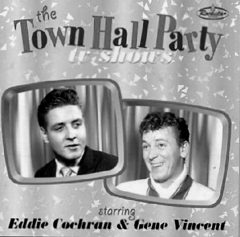 RFD CD 06: Rockin' at Town Hall: Unissued broadcasts from 1959-1961 on the rockabilly side of Town Hall, featuring Carl Perkins, the Collins Kids, Warren Smith, Wanda Jackson, and Bob Luman.
RFD CD 15: Town Hall Party: 1958-1961: The country side of Town Hall, with Johnny Bond, Faron Young, Hank Thompson, Marty Robbins, Joe Maphis, Skeets McDonald, and Merle Travis.
There are also solo CDs on Country Routes by Jose and Rose Lee Maphis, Merle Travis, and the Collins Kids, featuring material from Town Hall Party shows. Bear Family has issued a series of DVDs that feature artists like Gene Vincent, Johnny Cash, and Eddie Cochran (with more to come) live on the Town Hall Party shows. It isn't exactly like being there, but it's the closest thing we have. It hails back to a time when West Coast country music was just as big as anything Nashville had to offer and a hell of a lot more countrified.
Recordially,
Lou Curtiss
Reprinted from the August 2003 issue of the San Diego Troubadour. Coincidentally, Lori Collins, one of the Collins Kids from Town Hall Party and many other television shows, died last month.
"SOMEBODY NEEDS TO…"
We rarely get the opportunity to plan our goodbyes. Following a death of admired individual, we feel regret over not getting together for that last cup of coffee or something stronger. We beat ourselves up over the final phone conversation that never happened or the last internet chat, which seemed like a good idea at the time but was never carried out.
Therefore, as sad as I am over the death of Lou Curtiss, I am happy to report that none of the above missed opportunities occurred. I had what was for me a typical Lou Curtiss visit, and I know this will come as a shock to all of you, but it had to do with music.
This past spring, I was contracted by Oasis adult courses to give three presentations on topics pertaining to local history. The one I was particularly anxious to work on was a talk on the history of El Cajon's legendary Bostonia Ballroom, where over the course of a couple decades, the nightclub hosted a glittering array of stars in the country, western swing, and rockabilly genres–names like Johnny Cash, Patsy Cline, Bob Wills and his Texas Playboys, Jerry Lee Lewis, Eddie Cochran, and Carl Perkins graced the stage and packed them in. No symposium on the Bostonia Ballroom would be complete without bringing western swing great Smokey Rogers into the conversation. He was straight out of Tennessee, sartorially splendored in the latest creation by the famed Hollywood tailor Nudie Cohn and possessing a charisma that was mesmerizing. Smokey was also quite the entrepreneur. In a business partnership with his fiddler, Cactus Andrew Soldi, the duo ran the ballroom, and operated the Valley Music Store. Smokey also had the Rogers Record City shop up on north Magnolia Avenue, offering music fans the latest vinyl and what were then the current cutting-edge hi-fi systems to play them on.
My research began with an important phone call to Jim Soldi, son of Cactus Andrew Soldi. Jim then put me in contact with his sister, Andrea, who showed me photos from back in the day and an accounting book that contained the box office records of the famous acts who played the ballroom. "You should talk to Lou and see what he has," said Andrea.
It was a "warm" day (is this the story of 2018?!) in the spring when I arrived at the home of Lou and Virginia Curtiss in the Granite Hills neighborhood of El Cajon. Even with the rising thermometer, Lou was in a wheelchair draped in a blanket. With the assistance of his son, Ben, Lou was downloading for me hours of audio from the Smokey Rogers TV shows which was first aired on San Diego station Channel 8 and later, Channel 10. Along with our favorite weatherman and movie show host Bob Dale, Smokey Rogers enjoyed the status of being one of our first local television stars. When he wasn't exchanging humorous banter with a guest (Johnny Cash came on the show to plug a Bostonia Ballroom concert), Smokey was brilliantly improvising his way through an on-air commercial spot. These sound bites are wonderful to hear, and the reaction of the audience at the Oasis presentation was proof that I had struck gold. Thank you, Lou!
As I was saying thank you to Lou in his home that day, I gave him a good, firm handshake. He then pointed a finger and said in that famous deep well of voice, "Somebody…somebody needs to do something about Joe Liggins!" Since he was looking me straight in the eye, it was apparent I was that somebody. Even toward the end, there was always work that needed to be done on Lou's watch.
May we all be up to the task.
–Steve Thorn