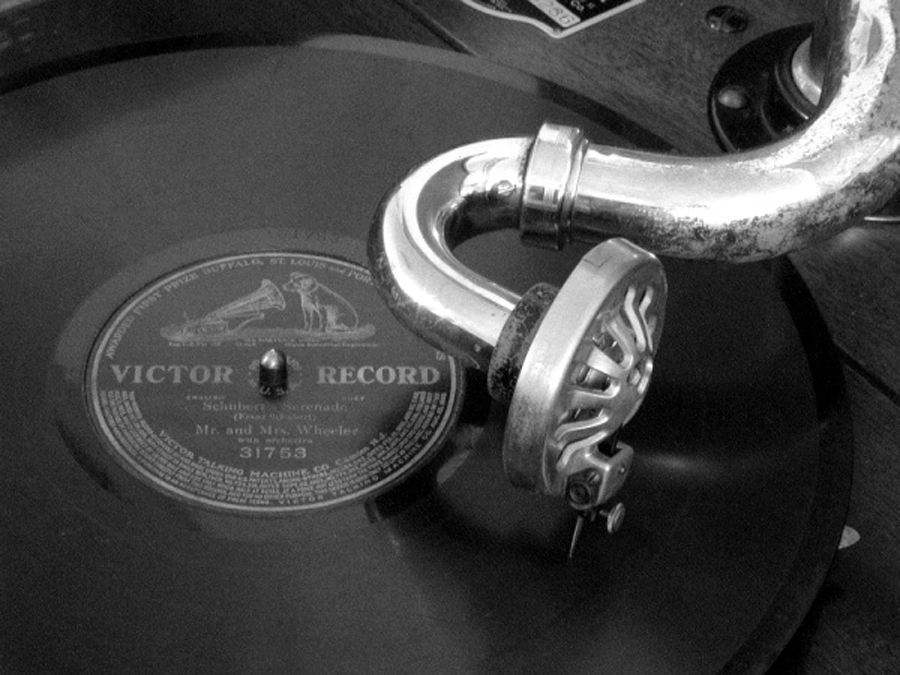 I've been hosting a radio show this past year or so on the world music webcast, which is actually an Internet show and requires that you have a computer to listen in. However, that is the only up-to-date aspect of the program; everything else about it is an attempt to recreate the kind of radio I grew up with: folk music and country, with a side step or two into various ethnic persuasions. It's called "The Melting Pot," and it's on Saturday mornings from 8-9:30 a.m., repeating at noon and again on Sunday at 1 p.m.
I began listening to radio DJs when I was just a kid, living in Seattle. We listened to Buck Richey every night at 10 p.m. on KVI in Tacoma, Washington. Buck played a lot of old stuff and if he didn't like a record, he'd bust it over his knee on the air, sayin', "Well, friends and neighbors, we won't let that one in the library. Somebody else might play the damn thing." Sometimes during the day we'd listen to Shorty Long on Seattle's KXA but not if my dad was around, because Shorty had to dedicate every song to about six people who wrote in cards and lettters.
When I was 12, we came to San Diego and I discovered XERB in Rosarito Beach, which had live shows with The Maddox Brothers and Rose (at least I thought they were live; they were probably electrical 16-inch transcriptions), Stuart Hamblen, Red River Dave McEnery, Tex Williams, and so many others. The country DJs I seem to remember best are Smokey Rogers, Oakie Bob (with the lowest voice anywhere on radio), and Buck Wayne. I saw a lot of country music on TV, with shows like Hometown Jamboree with Cliffie Stone and Town Hall Party with Merle Travis, Joe Maphis, Johnny Bond, Wesley Tuttle, Lefty Frizzell, Sons of the Pioneers, Tex Ritter, and so many more. There were a lot of daytime and afternoon country shows. Doye O'Dell played some guitar and sang and showed a western movie on KTLA, channel 5; Merle Travis and Wesley Tuttle did daytime shows; and, of course in San Diego, we had Smokey Rogers General Store and Monty Hall's Tiny Town Ranch, and even Okie Bob had a daytime TV show on XETV, channel 6.
During the 1950s my tastes in radio continued with country, but I also listened to Hunter Handcock's Harlem Matinee on KPOP on Long Beach and got a taste for rhythm & blues and vintage jazz. Bobby Troup also had a TV show on channel 2 in L.A. called The Jazz Scene, which widened the scope. I was in high school and started getting around to live shows. Sometime during the '50s was when I first heard folk music on some L.A. radio station with a guy named Les Claypoole, I think. In 1959 I went to my first folk festival in Newport, Rhode Island and Berkeley in 1962 or '63. However it was the UCLA folk festivals in 1963, '64, and '65 that made me want to put together my own festival in San Diego, and in 1967 I started to do just that. I also opened a shop called Folk Arts Rare Records that same year and all of the above is what I've been doing ever since. Those whom I can't see in person any more, I play on any format available that'll play music. With my radio shows I try to bring back some of what I remember from those old radio shows (I've also done Jazz Roots Sundays at 9 p.m. on KSDS [88.3 FM] for 15 years). I haven't busted a 78 over my knee on the air yet, but there are times when I play something I wish I hadn't. I started doing radio myself in 1968; at first with guest shots on KPRI underground radio at 2 a.m., then a blues show on KPRI, a short stop at KDEO, and then to KGB, where I stayed for five years until I accidentally played a song with a bad word in it and was asked to leave. I had been off the air for awhile when Kim Cox asked me to come in and share his KSDS radio show with him. That led to my own show and, more recently, the second show, which has sort of brought me full circle in this old-time radio biz.
Having a need for material to play led me to acquire a 16-inch transcription turntable, so I could play the old radio shows, and there's a lot of material you'll hear from the nearly 90,000 hours I have in the Lou Curtiss Sound Library of Electrical Transcriptions (old radio shows) 78s, LPs, live concerts, and material from movies. I try to play a lot of stuff that hasn't been reissued, so I encourage you to listen in and tape what you want and pass it around. We've all got to work to keep music, both old and new, alive and kicking and easy to get to.
Recordially, Lou Curtiss
Reprinted from the San Diego Troubadour, March 2002.