Advertising in the San Diego Troubadour
When you advertise with the San Diego Troubadour, you are in good company. More and more local businesses are added to our list of advertisers each month and the list is still growing.
Gator by the Bay
Jimmy Duke House Concerts
The Music Box
Bugsy's Brew
Brick 15
The Blue Guitar
Adams Avenue Business Association
Museum of Making Music
California Center for the Arts
Summergrass
Grassroots Oasis
San Diego Folk Heritage
San Diego Blues Festival
James Hood Guitar
Folk Arts Rare Records
…as well as dozens of musicians, including Sue Palmer, Robin Henkel, Michael Tieman, Walt Richards, Peter Ray, Chickenbone Slim, Joe Rathburn, Sara Petite, and Clinton Davis.
Publication and Distribution
The San Diego Troubadour is a free publication, published 12 times a year and distributed by the first of the month to music stores and venues, record stores, coffeehouses, book stores, vintage clothing stores, and branch libraries throughout San Diego County. Circulation: 7,000 +
Deadlines
Space reservations are due by the 15th of the month prior to publication, with camera-ready art due on the 20th.
The San Diego Troubadour reserves the right to refuse and to approve all ad copy.
Production and Creative Services
The San Diego Troubadour can design your ad for a small fee. Email us for details.
Terms of Payment
Advertising payment is net 30 days by check or cash only. Unfortunately, we are not set up to accept online payment. Make checks payable to the San Diego Troubadour and mail to:
San Diego Troubadour
4467 New Jersey St,
San Diego, CA 92116
Contact
Liz Abbott or Kent Johnson at 619.298.8488
File Formats
The San Diego Troubadour accepts the following file formats: PDF, EPS, JPEG. Files should be 300 dpi. PDFs should be set to print quality. For further information, contact Liz Abbot by email or phone.
Preprinted Inserts
The San Diego Troubadour offers the perfect way to distribute preprinted flyers. Studies show that newspaper inserts are read and acted upon more frequently than direct mail and at a lower cost.
Rate: $50 per thousand or $350 for the full run.
Specifications: Inserts should be 8-1/2″ x 11″ and are due to the printer, located in Vista, by the 20th of the month prior to publication.
Advertising Rates and Dimensions
All printing is black and white. For your ad in color, add $200. Email us for details.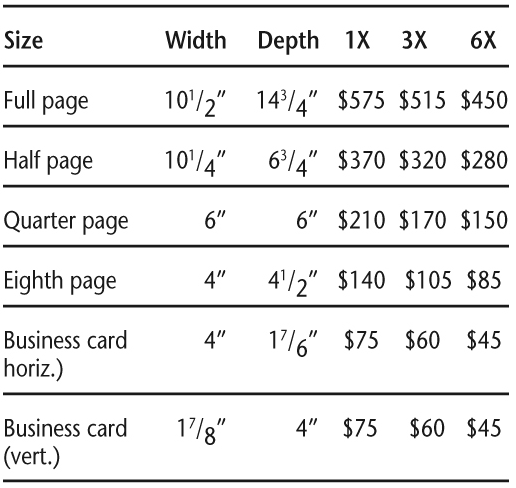 NOTE: Ads must run in three (or six) consecutive issues to qualify for the frequency rate.
Premium Positions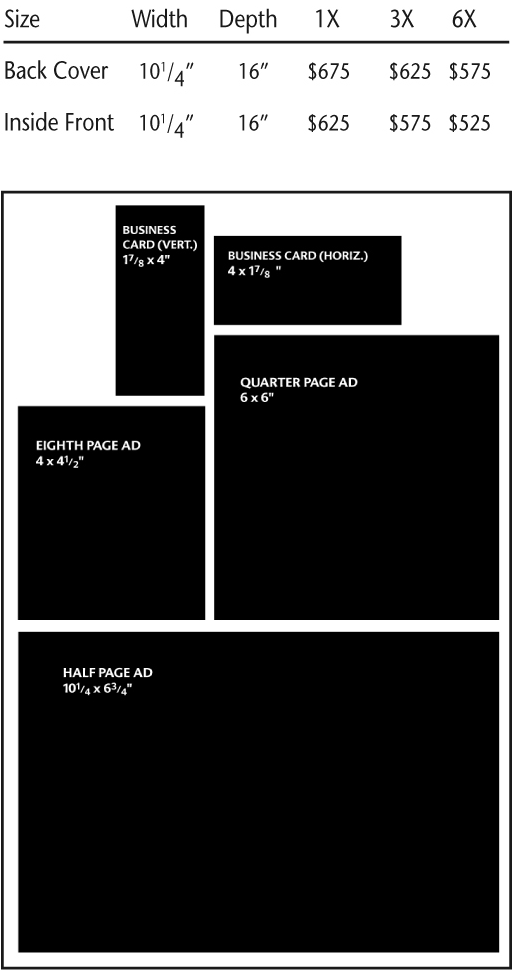 Online Advertising Rates
Advertising on our website cost only $1 per day. Email us for specs.