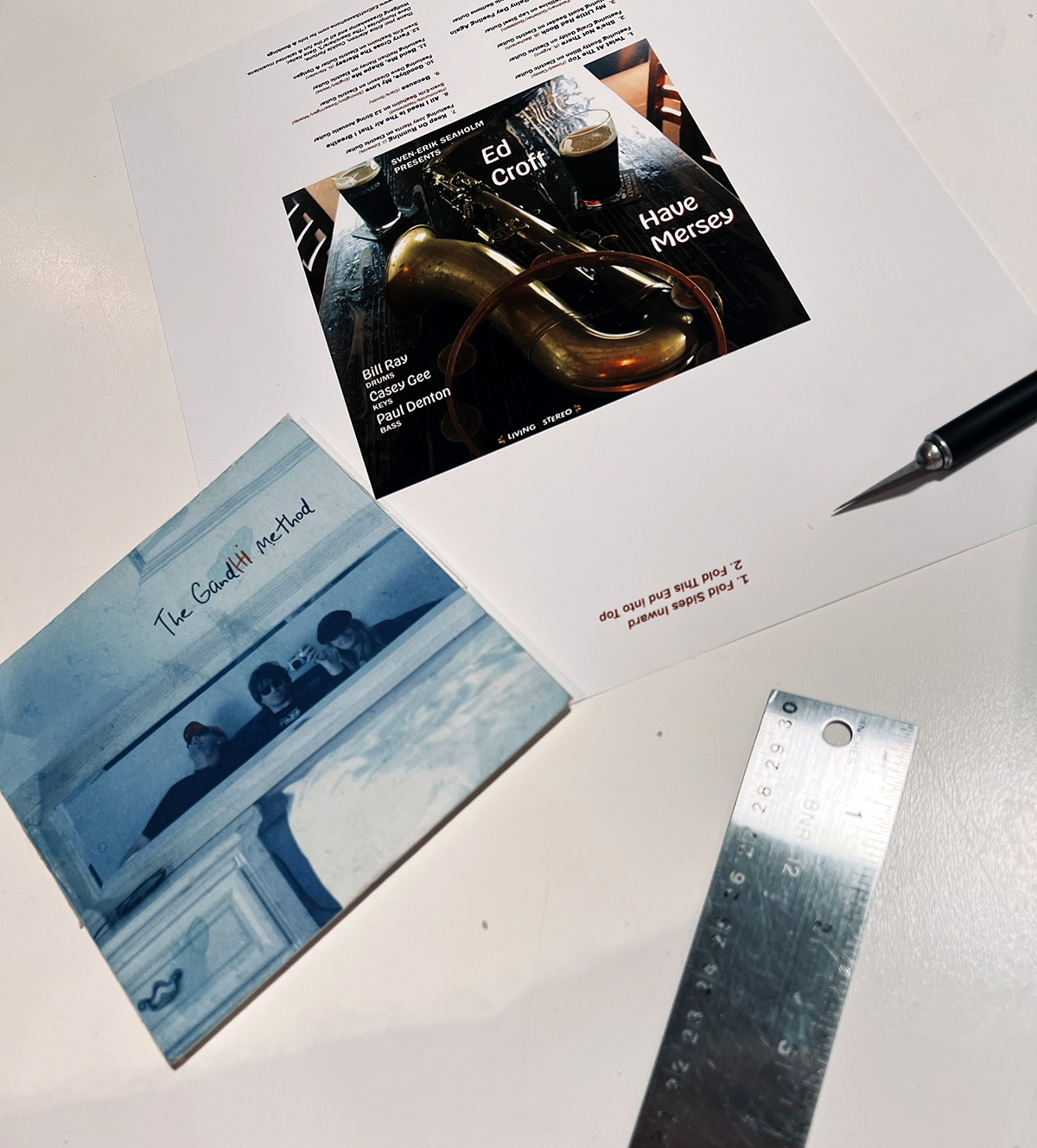 Over the last several issues, we've devoted a lot of attention to the recording, mixing, and mastering of your next music release and rightfully so. Now comes the ramp-up to the project's release, wherein the manufacture, shipping, and distribution of your new album takes place, as well as its submission to streaming services and other sites.
It's also time to get the new music out to reviewers and other influencers, for that all-important word-of-mouth that hopefully draws new listeners toward the fruits of all your efforts.
Ironically, whatever promotional efforts are made, they can often get the short shrift. This is most often the result of budget shortages, impatience, or difficult deadlines. There's also the added stress and expense incurred by short runs themselves!
So, check this out: One day, after a Gandhi Method performance where we had no merch to sell (even though we had an album by that point), I sat down at my kitchen table with a compact disc and a standard white 8.5 x 11" piece of paper. I thought a while.
I considered our situation, our "problem," if you will—all its facets and angles. I knew for instance that our solution had to be easily obtained, economical, and couldn't rely on glues or fasteners.
I stared a while longer, just meditating on the solution.
I reached out and rotated the page toward me, in "portrait" mode.
I picked up the CD and placed it at the center of the page 3.25" from the top and just folded it at all of the disc's sides. I flipped it over and after a bit of fudging, was able to make a functional envelope. My brief obsession with origami as a kid finally paid dividends!
I refined the idea even further, focusing on the album cover. The standard CD booklet dimensions are 4.75" square, so I went into Adobe Photoshop and tried to lay out the artwork in a way that could actually help with the folding process itself. Laying it out this way worked pretty well, but I eventually found that by making the cover art just a sixteenth of an inch larger, the discs fit perfectly after folding.
I love liner notes, so I added those above the cover and turned them upside-down. Once folded, everything reads like a mini LP jacket.
If you have a design and want to print your own, you may want to have your print vendor score the pages for easy folding. In the absence of that option, I line up a metal ruler along each of the cover square's four sides and lightly drag an X-acto knife where the folds go. This works really well but requires a bit more patience and effort.
One of the big bonuses was that we could always bang out a few right before a gig, but they're actually pretty attractive, too.
Mostly what this is about is being able to provide an alternate income source through selling your music at gigs, while keeping those expenses down and your music available!
Sven-Erik Seaholm is a singer, songwriter and record producer. His "Side Hustles" concert takes place on November 5th at 5pm and features many of Seaholm's collaborators over the years, including Cathryn Beeks from the Gandhi Method, Peter Bolland, Michael Tiernan from Allied Gardens, and many more!