Dear Troubadour readers, 
After hibernating during much of the winter season, I'm ready for spring on March 20 and will get back in the swing with various short-term and long-term music projects. 
A promising start this month: March 5 is my COVID vaccine appointment at UCSD's RIMAC center—making me optimistic about pursuing future plans. Dear readers, please keep your eyes open for updates about vaccination phases here in San Diego County:
https://www.sandiegocounty.gov/content/sdc/hhsa/programs/phs/community_epidemiology/dc/2019-nCoV/vaccines.html#:~:text=COVID%2D19%20vaccination%20is,a%20County%20vaccination%20site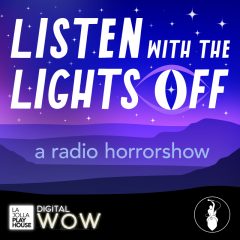 This month features the finale of the Listen with the Lights Off horror radio drama series in the spring version of the WOW! Festival at the La Jolla Playhouse, produced by the So Say We All people. I'm so grateful they asked me to provide underscoring music and sound effects in the series. I think the waterphone was their favorite instrument (I brought over a van full of old-school radio special-effects items and unusual musical instruments each time I visited their studio.) Below is the link for the spooky October premieres, but I'm sure they'll tack on the spring finale soon.
https://lajollaplayhouse.org/wow-goes-digital/listen-with-the-lights-off/
************************************************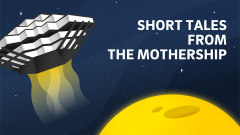 I'm helping celebrate the 50th anniversary of the iconic Geisel Library building at UC San Diego with Short Tales from the Mothership, a sci-fi micro-fiction event that I founded a few years back. We're hosting the event on May 4, but now is the time to consider writing 250 words or less! I'll give you an opening or closing fanfare at the event on my favorite synthesizers and Theremins, if you like. If you're too shy to read your piece aloud, we'll read it for you. Send your stories to me at spaulson@ucsd.edu and be sure to use the term "50th" somewhere in your story.
https://library.ucsd.edu/news-events/events/short-tales-2021/
************************************************
A Blast from the Past
Lisa Kozenko, associate professor of music performance (oboe) at Ball State University in Indiana, contacted me about a solo oboe piece that was dedicated to me in 2000. Composed by Harvey Sollberger, I premiered it at the UC San Diego Library on our "Short Attention Span Chamber Music Series." Dr. Kozenko is curating a collection of solo oboe music for the American Composers Alliance and asked for extra research regarding the piece. It was a great excuse to reminisce. I love performing works for solo oboe—especially when there is embedded story-telling in the music. Not everyone is a fan of double-reed program music, as Plato himself was famous for giving a very bad music review to a show-off aulos (ancient Greek wind instrument) player who relayed too much virtuosic information, back in the day.
************************************************
This season, please make a virtual visit to the Birthplace of Country Music Museum. If you are able to visit Bristol, Tennessee, you should stop by, as they are open! They contacted me recently, asking for kazoo research assistance (I curated a kazoo exhibition that has traveled a bit) and I was happy to relay that the kazoo is "much more than an annoying party favor." Everyone from speech therapists to Jimi Hendrix to Leonard Bernstein to Mister Rogers to the great Barbara Stewart have found legitimate reasons to employ a kazoo!
https://www.birthplaceofcountrymusic.org/instrument-interview-the-kazoo/
Theremin Concerto from Linda Kernohan
I heard from Maestro Jaime Morales-Matos and executive director Warren Hyer from the Central Ohio Symphony, and I've been invited to perform Linda Kernohan's Theremin Concerto in a season soon after their programming resumes. I love Linda's concerto—though because of its brevity (less is great!) she should consider calling it a Theremin concertino. There are some hidden pop music quotes in the piece and the orchestration is very clever. I'll start practicing NOW, Linda, though I bet it will be a year or two before the dates are set. Keep up with Linda here: http://missmusicnerd.com/
************************************************
Next month (April) is Jazz History Month and I'm asking Jeannie Cheatham to help me with my month-of-April Troubadour column.  See you again next month!