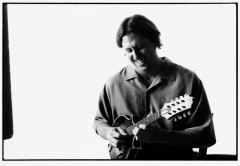 San Diego Folk Heritage Welcomes Tom Corbett Band
National touring bluegrass/Americana songwriter to perform in Encinitas
San Diego, CA – On Saturday, September 27th at 7:30pm, San Diego Folk Heritage is thrilled to host an evening of music featuring award-winning songwriter Tom Corbett and his band. The all-ages event will take place at San Dieguito United Methodist Church (170 Calle Magdalena – Encinitas, CA 92024). Admission is $15 for members and $18 standard. Tickets can be purchased at the door or online.
Corbett is an established multi-instrumentalist and songwriter who has toured with some of the best musicians in the folk/roots music world, including John McEuen (Nitty Gritty Dirt Band) and Robin and Linda Williams (of Garrison Keillor's "Prairie Home Companion"). Corbett has also lent his talents to many popular artist's recordings, such as Mike Ness's (of Social Distortion) solo album Cheating At Solitaire. As a frontman Corbett has released three albums to date, with his 2011 disc Tonight I Ride charting top 10 on the Euro-Americana charts for several months. He has also been recognized in prestigious songwriting competitions, as a finalist at Telluride Bluegrass Festival (2012), Kerrville Folk Festival's New Folk competition (2011) and as an official showcase selection at Southwest Regional Folk Alliance (2011).
Says SD Folk Heritage's Booking Manager JT Moring: "Tom blew me away when he was down here last spring playing his 'two point' mandolin with Young Ireland, and I immediately asked him back as a headliner. He's made a good showing here with Robin and Linda Williams in the past. Tom is the guy who can find a perfect fill on any song, and I'm looking forward to hearing what he can do with his mates from the LA scene. He's also the nicest person you can imagine, and I expect the concert is going to feel more like a campfire songswap."
San Diego Folk Heritage is an all-volunteer 501(c)(3) non-profit organization dedicated to preserving and promoting the folk arts in Southern California. For more information about this event, please visit http://sdfolkheritage.org/events/tom-corbett-and-band/
For more information regarding Tom Corbett (including photo downloads) please visit http://tomcorbett.net