Nothing New Under The Sun: The Eternal Life of Jeff Buckley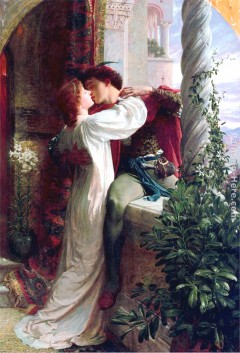 For never was a story of more woe
Than this of Juliet and her Romeo.
Ah, there is nothing quite so romantic (nor as great a career move) as that of the premature, untimely death of an artist. With countless examples of this phenomenon in our youth-obsessed culture (James Dean, Buddy Holly, et al) the Old Globe Theatre in Balboa Park is launching its 2013-14 season with the marriage of two of show businesses' most enduring tragic motifs: William Shakespeare's Romeo and Juliet and the songs of the late Jeff Buckley in a musical amalgamation titled The Last Goodbye.
The success or failure of The Last Goodbye rests largely upon the execution of ideas brought to the stage by the creative team of director Alex Timbers, choreographer Sonya Tayeh, musical director Kris Kukul and Michael Kimmel, who conceived and adapted the entire enterprise. The Last Goodbye's main creative challenge is finding an original and effective approach to the material, as Shakespeare's classic 1597 scenario has weathered numerous interpretations over the centuries for both stage and screen (most notably Franco Zefferelli's 1968 masterpiece, the reconfiguration of the text into Robert Wise and Jerome Robbins' West Side Story (1962), and Baz Luhrmann's 1996 radical reappraisal).
While the Old Globe has high hopes for The Last Goodbye (calling it a "remarkable fusion of the classic and the modern") it looks to be (on paper at least) another nostalgic bait-and-switch exercise for our current generation of theater goers and music lovers to hear the songs of an artist who is no longer capable of speaking for himself. Going back to the mid-seventies with the staging of Beatlemania, there are many examples of taking a popular music act's back catalog, hanging the flimsiest of narratives upon a collection of their greatest hits and treating contemporary audiences to what is primarily a musical revue. The idea of a plot seems to be an afterthought when it comes to such productions as Mamma Mia (ABBA), Jersey Boys (The Four Seasons), Movin' Out (Billy Joel), and Smokey Joe's Café (Jerry Leiber and Mike Stoller). Perhaps most telling is that the success of these productions proves that the audience cares little about the paucity of ideas contained within the book and is more than satisfied by the razzle-dazzle staging of the music — with songs that they have already embraced long before entering the theatre.
And that is where perhaps The Last Goodbye has the edge over all of the above-mentioned competition. By employing the classic tale of Romeo and Juliet there is a depth and simplicity in the irrational feud of the Montagues and Capulets and the adolescent star-crossed lovers who fall victim to forces that seem to be beyond their immediate control. Shakespeare's tragedy is at heart a morality tale, serving to illustrate the supreme futility of blind hatred and jealousy and offers a glimmer of hope at the play's conclusion that the death of the principals has not been in vain and indeed has served a noble purpose — creating peace within the streets of Verona and building a bridge of compassion where once there were only walls.
In a way Jeff Buckley's songs are the perfect complement to such a dramatic conceit. For who is more dramatic or short-sighted to the effects of such impulsive decisions as that of an adolescent, which is certainly what the principles of Romeo and Juliet are. Caught in the first flush of teenage lust and the surging hormones that come with the territory, the text of The Last Goodbye will no doubt resonate deeply with the musical material because Buckley was an archetypal adolescent: emotional, paradoxical, and lacking in the maturity to understand the full impact of his impulses. His life and music beautifully reflect upon the action that is central to Romeo and Juliet. It is a match made in theatrical heaven. The only lingering concern is: can the production team pull it off in a manner that is both tasteful as well as effective?
*********************
Born on November 17, 1966, Jeffrey Scott Buckley was the product of a teenage romance in Anaheim, California between Mary Guibert, an aspiring actress, and singer-songwriter Tim Buckley. When Guibert became pregnant and the imperatives of adulthood came calling the relationship quickly unraveled, with the songwriter bristling at having his freedom stripped away. Buckley bolted from his wife and unborn child for a life on the road as a touring musician (making an epic statement of renunciation on his debut LP with the song "I Never Asked to Be Your Mountain"). Except on a few rare occasions he never spent time with his biological son and when Tim Buckley died on June 29, 1975, due to the combined ingestion of heroin and alcohol it ensured that the primary way that Jeff Buckley would ever know his father was through the nine studio albums that Tim recorded for Elektra records between 1966 and 1974.
"Music was my mother. It was my father." — Jeff Buckley
Apparently Tim's proclivities carried over through his DNA because ultimately the younger Buckley proved to be as formidable a talent as that of his absentee father. Growing up in a rather nomadic existence in Orange County, California, Jeff was inspired at a young age to become a musician. After one failed attempt at living in New York City, Buckley eventually relocated there for good after receiving an invitation in the spring of 1991 by producer Hal Willner to participate in a night of music celebrating his late father called "Greetings from Tim Buckley." The evening at St. Ann's church in Brooklyn would have profound reverberations: Jeff ended up stealing the show and by reluctantly accepting the mantle of his father's legacy he ironically found himself in a position to capitalize on his birthright and turn it into his professional advantage.
"In a way I sacrificed my anonymity for my father, whereas he sacrificed me for his fame."
It wasn't long before Jeff caught the attention of Columbia Records A&R executive Steve Berkowitz who was instantly captivated by his dynamic range as a singer. A courtship ensued and soon Buckley had a cadre of lawyers and advisers grooming the young upstart for what was anticipated as a long and fruitful career ahead. A four-song EP (Live at Sin-é) was released in November of 1993 and after spending several months on a solo promotional tour Buckley put together a band of his own. Bassist Mick Grondahl, drummer Matt Johnson, and guitarist Michael Tighe were recruited and by August of 1994 his first full-length studio album was ready for the world. It was called Grace.
Buckley's quartet toured the world for the next year and a half in support of Grace and when the experience was over he found himself half a million dollars in debt to show for his efforts. At tour's end drummer Matt Johnson announced his decision to leave the group and a temporary replacement was found in Eric Eidel before Parker Kindred joined the group full time. Amidst the upheaval Buckley began work on his second album. It was to be called My Sweetheart the Drunk.
At this point Buckley crossed paths with punk rock icon Patti Smith (who was just emerging after eight years of inactivity) and ended up performing on two songs from her 1996 LP Gone Again. Also present at those sessions was guitarist and leader of the band Television, Tom Verlaine. Against the wishes of his record label (who wanted a more commercial presence behind the board) Buckley asked Verlaine to produce his second LP. Sessions in New York and Memphis followed and after spending $350,000 on the recording no one was happy with the results. Buckley decamped from NYC to Memphis in order to focus on writing more songs. After three months of woodshedding he felt that he was ready to proceed (this time with Grace producer Andy Wallace back at the helm) and on the very eve that his band was flying into Memphis from NYC to resume work on My Sweetheart the Drunk, Buckley impulsively decided to wade into the Wolf River (with all of his clothes on) and go for a swim. A steamboat came by and the undercurrent pulled him down and on May 29, 1997, Jeff Buckley departed from this mortal coil.
"I wanted to be a singer, you know — a chanteuse."
Even though he was blessed with the voice of an angel and a rare sensitivity, Buckley could also be prone to vocal histrionics and at times exhibited the petulance of a spoiled child (check out his pile-driving cover of the MC5's "Kick Out the Jams" or the ridiculous over-indulgence on his take of Big Star's "Kangaroo" (which repeats the same moronic riff relentlessly for over ten straight minutes).
"Stay with me under these waves tonight…" ("Nightmares by the Sea")
Was Jeff Buckley's death a self-fulfilling prophecy on some level? He certainly appeared to be obsessed with the premature loss of his father and wrestled with those demons throughout the pages of his numerous journals and personal correspondence. He fretted that he somehow wouldn't manage to outlive his father's brief 28 years on this planet. Biographer David Browne's Dream Brother utilizes the device of alternating chapters between Tim and Jeff's lives to drive home the eerie parallels between the both of them. Perhaps it is only natural that a Scorpio such as Buckley would refer time and again to water as a recurring motif; it is his most recurring theme — the ocean, sleeping under a blanket of waves, drowning. Jeff certainly shared Tim's reckless temperament, allegedly going as far as trying heroin on a few occasions ("Mojo Pin") in spite of (or perhaps because of) the fact that the drug took the life of his father. Some have speculated that Jeff's drowning was a form of suicide, but it would seem to be just one more reckless choice in a life that was strewn with them — death by misadventure. With millions of dollars at stake and the demands of the world's largest record company barring down on him, either consciously or unconsciously Jeff Buckley opted out of the game. And with no say in the matter, his catalog continues to grow year after year as long as there is a profit to be made on the scraps that he left behind in his wake.
*********************
On August 19 the Old Globe hosted a Jeff Buckley tribute concert on its Lowell Davies festival outdoor stage as a tie-in to promote The Last Goodbye, and for all of its good intentions there was much to be desired regarding both the selection of material and the actual performances. Overemphasizing the oft-times cliquish nature of the local music scene with an overlong program (three-plus hours) that stalled on several fronts, it was primarily the female performers (Veronica May, Gayle Skidmore, Shelbi Bennett of the Midnight Pine and Eve Selis) who were capable of delivering the goods and transmitting the vibe of Jeff Buckley's music (kudos as well to Superunloader despite their out-of-tune guitars). All of the other performers were at best adequate and ill-considered for the attention of a theatre audience. Additionally, whoever curated the evening made the dubious choice of overemphasizing the cover songs that Jeff Buckley was fond of  to the detriment of performing Buckley's own unique compositions. How would you like to go to a concert honoring the songs of Bob Dylan and end up hearing Woody Guthrie, the Carter Family and John Lee Hooker? It was a lovely idea to pay homage to Mister Buckley's music. It just would have been nice if the audience had actually heard more of it.
Previews for The Last Goodbye will run from September 20 through October 5 with the play officially opening on October 6 and running through November 3.
Jeff Buckley Tribute Concert
Monday, August 19, 2013, 7pm
1.    I Know It's Over/Veronica May
2.    Hymn à  l'Amour/Veronica May
3.    Soul/Veronica May
4.    Lilac Wine/Pete Thurston
5.    Eternal Life/Pete Thurston
6.    In the Ocean/Pete Thurson
7.    [unidentified original]/Israel Maldonado and Fernando Apodaca
8.    The Boy with the Thorn in his Side/Israel Maldonado and Fernando Apodaca
9.    Mojo Pin/Israel Maldonado and Fernando Apodaca
10.    Conversations with the Moon/Jeff Berkley
11.    The Last Goodbye/Jeff Berkley
12.    I Shall Be Released/Jeff Berkley
13.    Forget Her/Steve Harris
14.    Kosovo/Steve Harris
15.    Everybody Here Wants You/Steve Harris
16.    Morning Theft/Eve Selis
17.    Memphis/Eve Selis
18.    Dream Brother/Eve Selis
19.    Lover, You Should Have Come Over/Gayle Skidmore
20.    Strange Fruit/Gayle Skidmore
21.    Little Bird/Gayle Skidmore
22.    Satisfied Mind/The Midnight Pine
23.    New Year's Prayer/The Midnight Pine
24.   Mother of Amends/The Midnight Pine
25.    Spider Web/Superunloader
26.    So Real/Superunloader
27.    Grace/Superunloader
28.    Hallelujah/the entire cast of musicians