Space 4 Art: Please Make Us Say "Wow"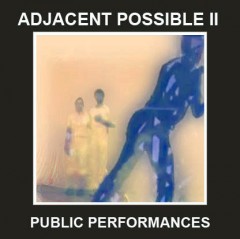 Watching the news these days, one could certainly conclude that things are getting a bit apocalyptic. Shootings, floods, war, the lingering Great Recession, the latest Miley Cyrus meltdown. There's an around-the-clock reminder that civilization as we know it is coming to an end.
Within this dialogue of doom-and-gloom, another proclamation has been stated: that art itself has come to an end. In his 2005 book The End of Art, Donald Kuspit argues that aesthetic production has basically ceased. Sure, Michael's still offers painting workshops on Wednesdays and Saturdays. And, sure, there is still a punk rock singer somewhere who will cut his mother's maiden name into his abdomen with a razor blade tomorrow night. But, aren't these clichés by now anyway? It's not to say that people aren't out there attempting to create art. In fact, thanks to the Michael's and Guitar Center and Starbucks, there are more people than ever before trying to capture their little piece of Bohemia. But, the difference now is that it doesn't matter anymore. Or, so the story goes.
What is gone is the sense of Thrill. The pastiche of post-modernism has exposed us to every combination and juxtaposition possible. Urinals re-gifted as water fountains. Monks burning themselves to death with gasoline. Bridges and skyscrapers wrapped in Saran Wrap. What else is there? Art has lost its ability to take us by surprise, to make us say "wow." As with pornography, all of the possibilities have been imagined. Much as Hegel discussed the end of history, many are now talking about the end of art.
Let's face it. It's been a while since we saw our last Guernica or our last Beatles for that matter.
However, art isn't going to go down without a fight. And, it may even be this fight that actually saves it. Fighting against the end of art is SPACE 4 ART, something akin to a Guild of oulde (sic).
Confronted by the eastward-moving avalanche of the Gaslamp and downtown redevelopment, three hundred artists formed SPACE 4 ART in 2010. Blessed with non-profit status, the organization now has three adjacent warehouses at 325 15th Street that house an outdoor stage, five resident studios for artists to live and work, a classroom, and 40 working studios.
"We represent all of the arts," says executive director Patric Stillman, "except maybe dance." But, all of the other arts are there: vis arts, sculpture, sound art, puppetry, literature, film, found art, and experimental [art].
"Our philosophy is to encourage artists to explore their craft," Stillman adds. In many ways, SPACE 4 ART is realizing the role that art played in classical civilization. One of the goals is to combine art with science as was the rigor in ancient Greece and Rome.
"Art leads to future technology. We are combining the free form of art with the strict discipline of science."
On this front, SPACE 4 ART is now working with homeless youth to create after-school programs and UCSD's STEM program to develop curriculum for the County's STEM and STEAM schools.
Accountability is also very important for this non-profit. So, SPACE 4 ART has elected a nine-member board of directors, which includes Nicole Deline, Vernon Franck (Metropolitan Mapping, Inc.), Barbara Gothard, Victoria Hamilton (Jacob's Center for Neighborhood Innovation), Alexander Jarman (San Diego Museum of Art), Robert Leathers (Leathers & Associates), Cheryl Nickel, Michael Stepner (New School of Architecture and Design), and Chris Warr.
In 2010, SPACE 4 ART introduced the Adjacent Possible series, which is being reactivated in 2013 throughout the month of October. Adjacent Possible II kicks things off on October 4th with an evening wine tasting, silent art auction, and meet-and-greet with the creative teams. Tickets to this non-profit fundraiser are $75.
On October 12th and 13th, the public is invited to the East Village to engage in five "experiences" created by teams of local artists, scientists, and educators to explore the potential of STEAM (science, technology, engineering, arts, and mathematics). Dancers, visual artists, aerialists and computer programmers will take participants on an unexpected journey of wonder as they explore biology, anatomy, sociology and zoology through the arts. Financial support for the Adjacent Possible II is provided in part by the City of San Diego Commission for Arts and Culture.
The scientific and artistic creative teams include Bedrieh Caraway, Lisa Caraway, Christopher Commons, Rebecca Goodman, Kerry Greenwood, Andrew Hunter, Elmira Mohebali, Yasamin Nouriboushehri, Traci Ostertag, Teresa Patchett, Asha Sheshadri and Laura White.
Additionally, through October 26th, SPACE 4 ART presents the works of Andrew Hunter and Stephanie Lie. This unique exhibition reflects upon the human experience of wonder, curiosity, and experimentation as well as exploring the synergy between science, technology, engineering, arts, and mathematics.
All events take place at SPACE 4 ART, located at 325 15th Street, between J and K Streets in downtown San Diego's East Village. For more information, visit the SPACE 4 ART's website at www.sdspace4art.org or call 619-269-7230.