Chelsea Crowell Carries on the Family Tradition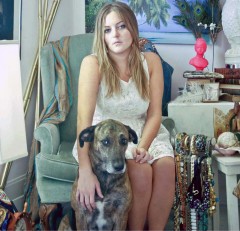 If the name of country music singer Chelsea Crowell has a ring of the familiar to it, you're not mistaken.
The daughter of musical luminaries Rosanne Cash and Rodney Crowell, the granddaughter of Johnny Cash, as might be expected, Chelsea Crowell's music is definitely a slice of Americana, but there are darker shadings and atmospheres as well. She's carving her own path though music.
Crowell has released two solo albums to date, Chelsea Crowell (2009) and Crystal City (2011), but fans will also want to check out her album recorded as one half of the duo, the Janes. Recorded circa 2003, it was finally released in the wake of her debut's success in 2009.
Speaking by phone from a tour van enroute to a show in Nashville, it's literally the first hour of the first day of a five-week road trip. While life on tour can be hectic and less fun than most suspect, so far so good. Despite the coming hazards, lack of sleep, and endless highways, Crowell is happy to be taking her music out to the masses. "Any job where you can travel is really good," she said good naturedly. "Not to sound cheesy but there's a sense of freedom to it."
While this is the first time Crowell will be performing in San Diego (appearing at Lestat's on May 5), she has visited the area before, staying with her sister Hannah, an area resident during the mid 2000s. While she's often seen in solo acoustic mode, Crowell is currently on tour with the band Faux Ferocious, who will play their own shows in addition to dates with her.
She notes that when it comes to performing, she has the best of both worlds. She's effusive about her backing group, who happen to be acclaimed garage rockers in their own right. It's an interesting mix of sounds. While Crowell's music falls well within the realm of Americana, some of the Faux Ferocious songs, such as "Striking Distance," have a punk feel to them. "They do have a harder edge than my own sound, in fact they tone it down a little for my songs," she laughed. "With the band, I can make things more up-tempo on certain dates and then solo, play the more singer-songwriter type things at others. It's nice that I can do both." All of the California club dates will pair Crowell with the band.
Though she is part of country music's royal family, Crowell was by no means certain she wanted to be a musician at first. "I went through all the phases that normal people do," she said. "I tried photography my first year of college and art school. I played some music when I was around 13, and I kind of dropped it for taking pictures and writing."
She laughs when she recalls her earliest endeavors. "I was playing music at the time, very poorly," she said. "I had some electric guitar I was trying to teach myself all these power chords on." She muses on the difficult chording she worked on at the time. "That might have been why I stopped playing for a little while."
Crowell acknowledges the pressure of having well-known musical family members. "It's definitely not something that's there all the time, but you find your areas and make peace with it," she said. "Once I had my own records, I began to feel a little bit more confident, to feel a little less pressure. It's a paying-your-dues type of thing."
Although at the time there was an element of rebelling against type in her moves, those teenage career sidebars of writing and photography actually played a key role in Crowell's music, with a lyrical emphasis and a moody, cinematic quality to some of Crystal City's best tracks, such as "I'm Gonna Freeze."
She acknowledges the tone and style of the album is all over the place and that it was definitely an intentional move. "There is no happy accident in that," she said. "Obviously it's a tense record. It's not something to put on in the car and it'll make you feel good while you're driving down the road, but one or two songs do make it even weirder."
What is she looking forward to most on this tour? "Playing in San Diego, of course," she joked. "Seriously though, I mean it's the first coast city we'll be playing on this tour and after awhile on the road it's going to be looking pretty good. It's beautiful there, just relaxing."
Upcoming plans include more touring and eventually, a follow up album to Crystal City. "I do have a lot of things percolating, but nothing in the can," she said good naturedly. "It'll probably be a year and a half or so. I don't want to under estimate because sometimes time gets away from you."