Art Around Adams and So Much More!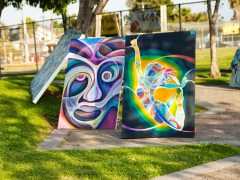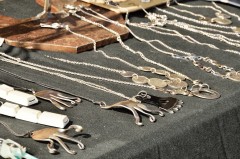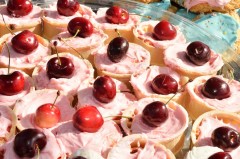 Is that a 12-foot-tall mechanical giraffe? Is that a 10-foot by 8-foot mural being created on the corner of Bancroft Street? Is that a cosplay outfit? It's not even time for Comic Com!
What has happened to Adams Avenue?
"Continue to expect the unexpected," says Adam Rosen, who is the executive producer for Art Around Adams, a unique art and music celebration that for one day turns the neighborhoods of Normal Heights and Kensington into the equivalent of London's South Bank or Portland's Pearl District, with a score of artists participating in the event.
From noon till eight in the evening of Saturday, June 6th Adams Avenue will become one long art gallery, or, more precisely, many of the businesses along Adams will be transformed into galleries. Hair salons, pet supply stores, restaurants, corner grocery stores, and coffee shops will have their walls adorned with artwork and handicrafts. Councilmember Todd Gloria kicks off the event with introductions, followed by a meet and greet with the one-time interim San Diego mayor.
"The Adams Avenue District continues to evolve," says Rosen. "[There are] new restaurants, eclectic shops, friendly pubs, even a brewery. Adams Avenue has always seemed to put a unique spin on the businesses that populate its oasis. Art Around Adams stays on the threshold of that evolution, bringing new cutting-edge artists to the avenue year after year."
Now in its 12th year, the music and art walk will span Hamilton Street all the way down to Biona Drive. That's about two miles in all, so the arts celebration will have a free trolley for folks as they make their way from gallery to gallery. Attendees will also have the chance to win prizes throughout the day.
"Art changes the way I see things," says San Diego artist Bryan Tipton, whose work will be on display at Twiggs Bakery and Coffee House. "I appreciate subtleties I would have otherwise missed. It makes my life richer. It introduces a new way of seeing." Among Tipton's output are expressive nudes. Perhaps his most intriguing undertakings are watercolors of animal skulls that he paints on newsprint.
Known for his penchant for isolating his subjects as though they exist apart from their world, as well as his color work that is suggestive of pastels, photographer Carlos Galvan's work will be at the gift shop Maven. Anna Tillett produces ironic and humorous images that can combine animals, people, and food. Her artwork has been featured on television and can be found at Viva Pops of San Diego, as well as other galleries throughout the United States.
Whether it is abstracts, scenes of the ocean, or floral subjects, Katie Halvin's canvasses are filled with color. The Navy veteran says that each day she "strives to create something new" with her art, which will be on view at the Book Tree. Do you root for the femme fatales in the Bond films? If you do, you may appreciate the images of KimCHI (AKA Linda Nguyen), whose artwork can combine beautiful women and firearms. The artist, who actually grew up around Adams Avenue, also creates cosplay costumes that are part of San Diego's annual Comic Con.
Artist Kristel creates colorful pop images that have been described as playful and quirky. The San Diego native was recognized for her distinctive style in 2014, when she was featured by RAW: natural Born Artist organization in their local summer artist collective. A favorite among animal lovers, as well as art lovers, Padgett Mason creates colorful cats, dogs, owls, and other animals that seem to jump out at you with their character and charm.
As with any shindig on Adams, there will be plenty of music along with all of the art. Among the more than 30 bands and performers will be five-time San Diego Music Award nominee Marie Haddad, who will perform at the Kensington Library stage. The enchanting singer-songwriter has received high praises from her home here in San Diego all the way to New York, where she has also performed. Besides her own compositions, she is also capable of some truly dynamic covers. Just listen to her version of Leonard Cohen's "Hallelujah." She has a beautiful voice that must be heard, whether or not you have a bucket list.
Internationally renowned for their high-spirited world beat admixture of Celtic, Irish music, and Spanish flamenco, Skelpin will be at the Blindspot Records Stage at Smitty's Automotive Service. San Diego's incarnation of all that is Mod and Beatlesque, Bart Mendoza, will bring his band True Stories to Art Around Adams. They will also perform at the Blindspot Records stage.
Besides all the art and music Art Around Adams will include circus performers, dance, comedians on their own "comedy trolley," and even intergalactic superhero wrestling. Yes, that's right, intergalactic superhero wrestling. As Adam Rosen said before, "Expect the unexpected."