"Brilliant musicianship, a warm and welcoming stage presence and voice as rich, matured and knowing as the finest thrice-distilled Irish malt whiskey."
-Geoff Wallis, fRoots, UK
On Friday, October 16, 2015 at 7:30pm, San Diego Folk Heritage is thrilled to showcase Sarah McQuaid at their next Poway concert as a part of her US and UK tour promoting her critically-acclaimed new album Walking Into White. San Diego-based bluesman Eric Freeman will open the show. The all ages event will take place at Templar's Hall in Old Poway Park (14134 Midland Rd. – Poway, CA 92064). Admission is $15 for members and $18 standard. Students with school I.D. receive the member price, and youth ages 12 and under are free. Tickets are available at the door or online.
About Sarah McQuaid: UK-based singer/songwriter Sarah McQuaid was keen to ensure that her fourth solo album Walking Into White got at least a few full-length listens before being subsumed into playlists — so she's performing the whole thing live, track by track, as the first half of each concert on her forthcoming September-October US tour. Released in the UK and Europe in February and North America in August, Walking Into White has already drawn praise from critics: Johanna B. Bodde at InsurgentCountry.net called it "A combination of seasoned craft and innovative ideas… Highly recommended," while in Folkwords, Tim Carroll wrote: "The echoing magic of Walking Into White…seizes you from the first and holds you captured long after the last notes fade…. Sending out a trembling resonance, this is a collection of songs that feel their way into your being." Born in Spain, raised in Chicago and now living in rural England, McQuaid refuses to be pigeonholed, segueing easily from one of her emotive originals into a 1930s Cuban jazz number, a 16th century lute piece or an unexpected contemporary cover. For more information on this troubadour's globe-trotting career, please visit http://www.sarahmcquaid.com.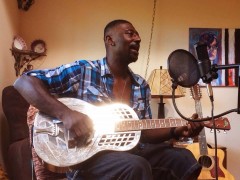 About Eric Freeman: Eric Freeman has been making a splash in the San Diego blues since his recent arrival. He builds on his repertoire of classic finger-picking and slide ragtime, peidmont, and delta blues numbers with a collection of original songs that stay true to those traditions.
San Diego Folk Heritage is an all-volunteer 501(c)(3) non-profit organization dedicated to preserving and promoting the folk arts in Southern California. For more information about this concert, please visit http://sdfolkheritage.org/events/sarah-mcquaid/.