Unique local School to Host Benefit Concert on Encinitas Farm June 13th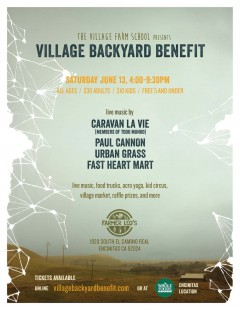 This coming Saturday, a local farm will be transformed into a concert venue complete with local music, conscious food trucks, acro-yoga, children's cirque performances, and a unique assortment of raffle prizes and handmade merchandise. This family-friendly event is a concert called the Village Backyard Benefit and all money raised goes to support the Village Farm School's growing farm program.
Nestled in a small house in Leucadia, the Village Farm School is a unique look into what's possible in education. They are a progressive co-op farm school where children spend time learning in the classroom, on local farms, and being of service in the community. Said parent and lead teacher Katie Brillault, "Our mission is to create a learning environment that encourages curiosity and self-motivation while meeting high academic standards, helping our children work together collaboratively to develop the initiative, creativity, and skills needed to serve an evolving humanity."
That commitment to service is demonstrated in their work with TERI, Inc., a large San Diego non-profit that serves people with autism and developmental disabilities. They were voted TERI's 2014 Volunteer of the Year for their contribution to their farm program. Agriculture Director Carrlie LeCompt said, "TERI is so fortunate to have the Village Farm School students and parents come twice a month to help us grow organic, seasonal fruits and veggies for our clients. They show up with an inspiring attitude, and our students are able to explore food in its natural environment, opening the door to a truly project based learning experience. We absolutely love them as volunteers and I believe that this is truly inspirational alternative education!"
With the money raised at the Village Backyard Benefit, the Village Farm School hopes to expand their current campus so they can serve even more families in their growing school. They also hope to work to develop a more robust farm program at their campus where they can bus in underserved children from all over San Diego for farm days, spreading the healing and empowering benefits of getting your hands in the dirt and growing your own food with youth who might not otherwise get to experience it.
Event Information
What: Village Backyard Benefit Concert featuring Caravan la Vie, Paul Cannon, Urban Grass, and Fast Heart Mart
When: Saturday, June 13, 2015 from 4:30-9:30
Where: Farmer Leo's, 1920 South El Camino Real, Encinitas, CA 92024
Cost: $30 adults, $10 children 6-18, Free under 5
Tickets: villagebackyardbenefit.com or Whole Foods Encinitas