MISS ERIKA DAVIES: On the Wings of a Nightingale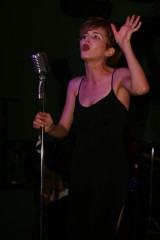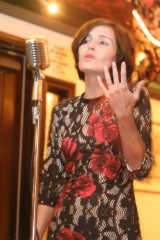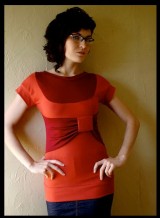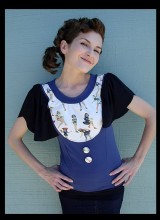 In a world full of cookie cutter singer-songwriters, it's safe to say Miss Erika Davies stands alone. Ostensively a jazz singer, there is much more to her music. Despite generally sparse instrumentation, sometimes just her voice and a guitar, Davies doesn't just sing a tune, she creates an atmosphere. Blessed with a wonderfully fine, almost fragile voice, her music is part jazz, part folk heroine, part lounge vocalist, harkening back to the days of smoke-filled nightclubs somewhere between 1915 and 1940, when the song was king and a performer had to have both talent and a stage persona that was truly engaging. Davies has all that and more.
Of course, this isn't mere nostalgia or an artist putting on a genre to attempt an impact on the music community. Davies music may contain nods to the past, but it remains fresh, vibrant, and a compelling listen.
Early Days
Born in Mesa, Arizona on January 20, 1981, Davies arrived in San Diego in 1991, part of a military family, including a mother who in her spare time was a country singer and guitarist. "She played guitar and sang to us all the time," Davies recalled. "She sang us to sleep, sang to us at breakfast [laughs]. Just silly songs and fun things she made up. She sang other things as well, and we joined in. The music in the house was mostly her singing to us or us all just making up silly songs, more so than us listening to anything on records or radio," she said.
Davies' first public appearance as a singer was at age eight, joining her mom for a song at a bar in Virginia. While still in Arizona, she took a community college classical voice training class. However, despite that early start in performing it wasn't until 2004 that she began to seriously pursue music.
Musical Beginnings
Her attraction to jazz came about naturally through her love of fashion. "In high school I started to get into the fashion of the 1930s and 1940s. I always dressed up and then I got into the music from that era, but more musical than show tunes, from watching movies with artists like Lena Horne. A friend of mine, Jeff Graves, knew I liked that sort of thing; he would scour record shops and make me compilations of songs, since I really didn't like looking through records. He would make me cassette compilations; they were all big band and little known female vocalists, so I would listen to a handful of those he gave me and sing along to them. I just got into that."
In 2004, Davies began to frequent open mic nights, eventually making the acquaintance of Gregory Page and spending the next few years, approximately 2006-2008, teaming up with the esteemed troubadour for performances.
"That was the best learning experience I ever had that I didn't have to pay for," she said. "It was like going to some sort of major college. I learned so much from singing with him and watching him perform and the way he did certain things. That was the first time I ever really spent time around anybody who performed. So I learned a whole lot."
Worst Show, Ever
With Page, she quickly became a sensation around town, going on to play most of the areas prestigious venues, starting around the time he began promoting his album Love Made Me Drunk. At first, Davies would merely sit in for a song or two.
"I just sang with him on his mini-tour around town and a couple of shows in Los Angeles. After that we'd play together whenever we could. I'd just come to his shows every once in awhile at old folks homes or wherever he was playing; I would just come and sing a few songs. It lasted a couple of years."
Not that it was all wine and roses. Earning her road warrior stripes she also performed at one of worst bookings in recent history when she and Page, alongside violinist Ray Suen, were scheduled to entertain the thousands-strong crowd during radio station 91X's 20th Anniversary Show at the Embarcadero on September 30, 2006. The concert showcased some of San Diego's top talent from throughout the stations existence, including Steve Poltz, Mojo Nixon, Ryan Ferguson, Transfer, Sprung Monkey, and Switchfoot. While it's possible Page and Davies set would have worked earlier on in the day, by the time the solo/acoustic performers took the stage they were placed late in the schedule, between indie rockers Unwritten Law and hard rockers P.O.D.
The pair turned in a solid performance, however; some in the amped up crowd weren't too keen on crooned vintage tunes and showered the pair with debris. To their credit, Page and Davies finished their set and did indeed have a large portion of the crowd on their side, but it's unlikely either will be showing up on any heavy metal bills in the future. "That was the worst show I've ever played," she laughed, "I'm just not used to having people throw things at me. But I don't count it as one of my shows, it was Gregory's," she joked. "I thought it was funny, but I remember Ray got really upset because of the beer bottles." Davies had never heard of P.O.D. before the show. "All I really remember is zooming through the set. I just thought it was hilarious, I mean, why are we opening for these people? After the show, I sat backstage and watched them play and thought, sarcastically, oh now I get it," she said.
While the pairing of Page and Davies was popular in local venues, it's unfortunate that despite some attempts at recording being made, with Page producing, nothing from the team up was ever officially released. "There was a little something recorded, but it wasn't anything major. I don't even have a copy of it," she said. Anyone wanting a taste of what the pairing was like is directed to YouTube, where several fan-posted clips can be found.
When the Page/Davies pairing ran its course, it indirectly led to her penning original tunes. Taking a year off, she focused on other things. "I spent time with my sewing business, Spicy Toast, and hibernated," she said. "But also I took up the ukulele and started writing a few songs. Then I started working with a few jazz guitarists and that really showed the way forward." She cites early accompanist Jon Ji as a major part of her early musical development. "I didn't do originals until I met Jon, a guitarist I was playing with for awhile. We connected and he understood what was going on. I could play anything on my ukulele and he turned it into a full fleshed-out song."
She released her first album, Creecho Habecktoe, in 2008, a loose knit collection of eight songs, half standards/half originals, with copies custom pressed for her fans as demand dictated. The disc, which includes the future live staple, "If I Had A Million Dollars," originally by Les Brown arranger, Joe Haymes, showed the way forward for Davies' sound, but her big break right around the corner came out of left field.
Subaru
In 2011 Davies career took a major upturn when the automobile manufacturer Subaru used a song featuring her vocal, "I Love You I Do" in a television commercial. Commissioned especially for the spot, the song brought her near-instant worldwide attention, but it came about by happenstance.
"At the place where I lived, then in Golden Hill, I had a friend who was the janitor and he was in a band, like a 12-guitar thing. He was apparently speaking to Matt (Molarius, of the band Transfer) when Matt told him, 'Oh yeah, my friend is looking for someone to sing on these songs he wrote," which turned out to be Chris Fulford-Brown." Brown, who works at local music and sound design company Singing Serpent, soon sent Davies a batch of songs for her to add lyrics and melody lines to. "He gave [producer] Rafter [Roberts] my name because they were looking for someone who had kind of an old style, for a TV commercial. They had some old song I'd never heard that they wanted to pattern it after. I went in one day with Rafter and he just played a little. I did a couple of other songs, but that one really stuck in my head."
Only fragments of the tunes were recorded, as might be used in a TV spot. Things moved quickly from there. "Rafter called me a couple of weeks later and told me they wanted to use that one. I was so excited, but I never saw it on TV until I started to get tons of e-mails from people who had somehow found me. Then Chris contacted me and said, 'This is crazy, this doesn't usually happen, but people are calling us trying to figure out who is singing that song.' And me being business like, or maybe anybody else in this position would think the same, but I figured, I'd better finish this song and put it up on iTunes; people wanted to buy it from me right away but I hadn't even recorded it yet. I mean what we did was only 30 seconds long, it was just that little hook." At first she contacted Roberts to attempt further collaboration. While he proved to be too busy to do so, he was also okay with letting Davies finish up the track. Once on iTunes the song became a solid seller, but more important, "I Love You, I Do" led directly to her second album, Galaxy Lakes (reviewed in the February issue).
Nominated for "Best Jazz Album" at the 2011 San Diego Music Awards, Galaxy Lakes is a work of art, indeed every copy is hand-crafted by Davies in a special sleeve, using recycled chipboard wallets paired with four 4 x 4″ matte photo's on the front. It's a particularly impressive feat, especially when you take in the hundreds of copies sold. The album's title track comes from a poem penned by Davies in 1995. Her biggest surprise wasn't in the albums sales but in the amount of e-mails she received. "It coincided with the TV commercial, so I sold them all over the country. It was strange how many messages I got from people. They just kept coming."
Spicy Toast
Currently, Davies splits her time between performing and her one-woman Spicy Toast clothing company, though there is cross over between the two worlds. "Pretty much I always make something new to wear for a show," she said. Davies, self-taught at her sewing craft, established Spicy Toast in 2007. "I don't even make official patterns, I'm not technical," she noted. "I tried to take few classes, but I dropped them because I hated them." While Davies does custom clothing, "more than I ever wanted to," interestingly, she's never been asked to make clothes for other musicians.
Selling her items on Etsy and through commissions, with prices ranging from $32 and upwards of $115 for a range of truly unique blouses and dresses, Davies has built a fan base for her clothing as well as her music. However, she is torn between keeping her enterprise at the original level or expanding a little, recently taking a business class to help in the decision. "It's hand-made one-of-a-kind items, that's what it's based on," she explained. "Yet I want to branch out into small runs that can be carried in local shops, that aren't hand made. But that takes away part of what's special about them, which is that I do make them."
I'm With the Band
While Davies plans to continue making music, the exact format forward is still a pending decision, though jazz will remain the focus. "I feel lost now," she said. "I've played with a couple of different people and I'm not sure what I want to do next. I've had thoughts of going back and doing straight jazz, but in a different way, playing with a band that does acoustic stuff." She admits, she prefers to let things happen rather than plan things out in too much detail. "I need to write more," she said. "But I almost prefer to let some strange organic process start brewing. Right now I'm torn between trying to find a new band or maybe taking a year off and really learning the ukulele. I don't know what's going to happen next."
Her influences remain much the same as when she started, though there is a newer artist that's gotten Davies attention. "I never really look for anything new; I wait 'til people tell me I should listen to something based on knowing me," she said. "After hearing about k.d. Lang a handful of times, I looked her up and I've been listening to her early country albums."
At the moment, live performances usually feature one of two groups, depending on the demands of the gigs themselves, which can last up to three hours. A more standards-oriented combo, and therefore capable of performing hours of material, features Aaron Mahn on guitar and Jeremy Eikam on upright bass. Meanwhile, originals, which require more intensive rehearsing, make up the bulk of the set when backing consists of Gary Hankins on guitar, Chris Carroll on drums, and occasionally Todd A. Davidson on piano.
Although, for Davies, the normal writing procedure would be to sketch out her music on the ukulele before bringing it to her musicians, she has recently begun to write in a jam session format with Hankins and Carroll. "We've written two songs that way and that's definitely something I'm not used to," she said. "Usually I would write something on ukulele, then later I'd play it for the guitarist and we'd work it out together. It would always sound exactly the same as what I had first come up with, because I wrote it. But this way of writing is very different, with Gary adding guitar parts and Chris adding more rhythm. It's really a new thing for me to be collaborating with people like this when I'm so used to doing these things by myself," she remarked.
She cites Irving Berlin's "How Deep Is the Ocean," covered by everyone from Billie Holiday to Frank Sinatra, as a particular set list favorite. "It's my favorite one to do, but all the silly ones also go over really well, "If I Had a Million Dollars," from my first album is one of those."
Davies has a small fan base around the country, but has never toured. "I don't really have specific goals on that right now," she said. She notes that touring is an expensive proposition with the potential of little return, apart from road tales."I kind of want to tour, but after talking with Gary, who was in Scarlet Symphony and did a bunch of stuff, all I could think of is how do I tour smart? How do I not lose a bunch of money? How do I not waste people's time and my time and why would I want to tour? Right now, I'm thinking it would be fun, because I've never done it. That's the only reason I would want to do it," Davies remarked.
New Recordings
Upcoming plans include work on a new six song collection, Lovely Ways. The album is about half done, with recording taking place in Davies' Golden Hills home, helmed by Hankins. "I have this back room that has pretty amazing acoustics. It's where I practice and sing all the time. I don't want to move because I love this room. I have moved before, but then I moved back — like three times [laughs]. I did the same thing with my car, but just once. I sold it but then bought it back three years later. I just like old things that have meaning to me," Davies mused. Davies is considering writing songs about her car. "Not that there's probably much demand for that, but it would be fun for me to do," she said.
She recently signed a deal with MTV for possible use of her music on thier network. "It's for their sitcoms and other programs, I haven't seen them, but it seems to be the way to go nowadays. They'd just use little clips of the songs here and there, but it would be kind of neat to have my music included in some things like that…"
She's now a seasoned recording veteran but Davies much prefers a live setting for her music than studio work. "I don't like recording very much," she confirmed. "It's hard for me to imagine people there and a lot of what I do come's from singing for people and having an audience. I can't really get that real emotion in the studio. It's hard for me to conjure that up, it has to be like I'm doing it right now for people, like this music is an experience they're going to have right now," she said.
For her part Davies is happy to be making music at any level, taken as much by the creation of it as well as performing it. "I think it's fun that I'm not trained in music, because I just come up with these spur-of-the-moment, ridiculous things that I can work with and turn them into something," she said.
Despite having some significant career mileage under her belt since she began performing in 2004, it's hard to believe it's only been a little over three years since Davies began working on original music. The progress in her craft continues to impress. One of San Diego's most original and gifted musicians, Davies successes are well deserved, but it's clear from both her talent and business acumen that this is only the beginning.
Miss Erika Davies will perform on April 10 at U-31, 10 pm, while on April 14th, she'll be at the LUX Art Institute in Encinitas, from noon-3 pm as part of a free open house/family day.