Leonard Patton: Soul, Style, and So Much More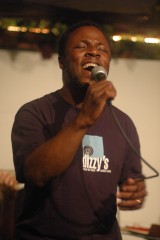 You might say that Leonard Patton was destined to become a singer. His father sang gospel; he also managed a gospel group. When Patton was 11 years old he wrote his first song. And, according to him, that he soaked up any music that he could expose himself to, even at an early age.
He is a dynamic singer with a great deal of presence in his voice, and he does not readily fit into a musical classification. The gospel music of his father is in his music. You can hear similarities with other men who got their start in gospel — Lou Rawls, Ray Charles, Sam Cooke — but there is more there as well. He eschews the more stylized type of soul singing popular today, and his extensive jazz studies are evident when he improvises. There are elements of British pop, rock, and Broadway in his singing as well.
Patton is compact yet sturdy. It seems you'd need a train and then a truck to knock him over. He has a way of gesturing with his left hand, raised about eye level, when he sings. The fingers move as though he is blowing an imaginary horn that can morph into a movement resembling that of a conductor. Sometimes it looks like he is physically graphing out the lines he is singing. He also has a way of smiling that seems to make his whole face light up. And he smiles a lot. The hallmark of any jazz singer is his or her ability to scat, to improvise as though he were a sax or a trumpet. Many singers try this, yet few achieve the fluidity of a Sarah Vaughn or Mel Tormé. When Patton scats, he seems to draw on a great deal of musical knowledge, using whole scales instead of sketching through arpeggios. He is also very attuned to the band and the variations and substitutions that the rhythm section is playing.
Patton has been a professional musician and stage performer for the last 20 years. In the early nineties he was a student at United States International University, what is now known as Alliant International University, studying musical theatre and classical music. During his time there, a few turns of events helped to lead him along his path to becoming the singer he is today. He met James Romeo, who was director for the university's big band. Recognizing his talent, Romeo asked Patton to sing with the big band. Another instructor regularly brought in musicians to perform for his music students. One of the musical units that he brought in was guitarist Peter Sprague and his quartet. That day was a turning point for Patton. "Seeing Peter and his band, that's when I knew that that was the direction that I wanted to take for myself," he says.
Besides his schooling Patton was assigning himself coursework of his own by studying musicians and the music they made by going out to the clubs and concert venues almost every night of the week. "I was just trying to absorb as much as I could at the time," he says.
Twenty years ago, for those of you who may or may not remember, San Diego had a small yet vibrant jazz scene. Atop the Summerhouse Inn sat Elario's, which hosted top jazz performers of the day. During that same time period, as a labor of love, local jazz flutist Holly Hoffman was booking similar nationally recognized jazz musicians in a performance space at the Horton Grand Hotel in the heart of the Gaslamp District. While at USIU, Patton set a goal for himself: within a year he would perform at the Horton Grand.
To get the gig, he needed to make a demo tape. Working up a little moxie, Patton called Sprague for help. Sprague called in Bob Magnusson, one of Southern California's top bassists, and the trio created Patton's demo tape. Patton had two destinations for copies of the tape — Hoffman, for the gig at the Horton Grand and Berklee College, the prestigious music school in Boston.
After about a year doing more schoolwork, singing with the big band, and absorbing what he could from the clubs, Patton finally felt musically ready for a stab at the Horton Grand. In the meantime Sprague had contacted Patton to perform at a gig in Del Mar at what is known as Powerhouse Park. While performing the gig, with the demo tapes set aside at home to be sent to Berklee and Hoffman, who shows up at the concert but Holly Hoffman, who had just finished a gig of her own near by. She stayed for Patton's performance, apparently enjoyed the music, and booked Patton for his long sought-after gig at the Horton Grand Hotel.
On a gig you may see Patton do something that few other singers do: he looks at the chart the other musicians are using. Patton reads music. While he acknowledges that there are and have been great singers who know little about the technical aspects of music — famously, or infamously depending on your point of view, in all his decades of making music Frank Sinatra never learned to read music; it's the same story for Bing Crosby, Barbara Streisand, and many other singers — Patton believes that it is incumbent upon singers to know and understand as much as they can about the music that they make and the technical aspects of the craft that pianists, oboe players, and violists have to contend with. He says, "First, a singer should call himself a musician. For that you need musical knowledge. You should know how to communicate with your fellow musicians. To be able to understand the nomenclature of music if someone is talking about a key change, you need to know what's going on. You need to be involved in the making of the music. You need to know all the keys. You have to understand arrangements. The way you gain respect is by what you bring to the table. I want to repeat performances with people. The singer who knows how to sing his songs, but doesn't have any idea what's going on with the rest of the band — I did not want to be that guy."
Patton has done all the homework that is demanded of great jazz artists. One of the most difficult exercises for a jazz musician, and one of the best and most fundamental ways of learning the language of jazz, is to transcribe a solo of a jazz great. The task entails hours and hours of hitting the rewind button on the CD player (or, in the old days, dropping the needle on the phonograph) and listening again and again to the riffs and lines and then writing them down on paper. Most musicians simply concentrate on their instrument. Sax players transcribe Charlie Parker and Lester Young; horn players transcribe Dizzy Gillespie and Clifford Brown. Patton cold have transcribed Ella Fitzgerald or Mel Tormé scatting solo, but he took the additional challenge of working on an instrumentalist and transcribed a solo by guitar god Pat Metheny.
Very serious about studying his craft, Patton's academic career nonetheless has had its twists and turns. He attended the Berklee School of Music without getting his degree. And he spent a few years living in Orange County and attending Chapman University, with the object of becoming a music therapist. "I almost got that degree," he says. "But maybe I guess it wasn't meant to be. Finally it was 2007. I had a lot of unfinished business. It was time to tie up loose ends and get my degree." He enrolled at Cal State San Marcos. With the credits that he had accrued over the years, it only took Patton a couple of semesters to finish his degree in visual and performing arts. While he had the academic juices flowing, Patton turned right around and enrolled at San Diego State in a graduate program to get his master's in jazz studies. "As a vocalist, it is a little unusual to get a jazz studies degree," he says. "But I already had an instrumental approach to singing." He earned his master's in 2010.
Besides club dates and recording, Patton has worked in theater. He has had a long association with the North Coast Repertory Theatre and has performed in productions of Hello Dolly and Godspell. For a little over a year he has been one of the ensemble members, performing in a production of MixTape at Lamb's Players Theatre. Patton says that stage work "offers him a different type of creativity. I love developing a character. I love the interplay of dialog and music and how that can bring a story alive."
Extended yet again through the end of this month and now in its third year, MixTape is San Diego's longest running locally written and produced musical. Following the general life sketches of eight Gen Xers who pass from high school to college and early adulthood, and whose highest audio achievements were crafting the most perfect successions of songs on their cassette recordings (a mix tape), MixTape is nostalgia with afterburners and is not embarrassed to wallow in the memories of Ronald Reagan, Cliff Huxtable, and everything we remember from 30 years ago. The women wear leg warmers, and their business attire includes shoulder pads that seem more suited to the NFL than the boardroom. There is lots of eighties hair, at least one "Members Only" jacket, and everyone wants their MTV.
With the music of Madonna, Prince, Sting, and dozens of other performers who may or may not have had last names, MixTape is a musical review in the style of Forever Plaid or Smokey Joe's Café. Staged on a minimalist set of bare ramps adorned with neon light squiggles, fast paced doesn't come close to describing the manner in which the performers run through the hits from the eighties. Just about every song you can think of from back then gets at least a snippet of a verse or chorus in the production. It has been said that nostalgia is the most useless emotion. But so what. And if you're going to celebrate the music of a decade, it may as well be the eighties. After all, it was the greatest decade for music ever.
As mentioned earlier, Patton is compact. He still manages to fill a great deal of space on stage. He steals the show, at least briefly, with a spot on impersonation of Mr. T ("I pity the fool!"). And one of the finer moments of this production is Patton's solo performance of Peter Gabriel's "In Your Eyes," as he lends a soulful quality to the popular world-beat inspired tune.
Patton released his first CD, Love, Life, and Song, in 2008. With a lineup that included Peter Sprague, pianist Josh Nelson, drummer Duncan Moore, and bassist Darek Oles, the disk featured covers as well as original compositions by Patton. Keeping for the most part to straight ahead jazz and Latin interpretations, the CD was nominated in the category of Best Jazz Album by the 2008 San Diego Music Awards.
In the fall of last year, Patton released his latest CD. Titled Expressions, the entire recording is a collection of duos with Patton and pianist Geoffrey Keezer. Nominated for the recording industry's Grammy Awards in 2009 and 2010, Keezer is a world-class musician who has performed with Joshua Redman, Dianna Krall, Art Blakey's Jazz Messengers, as well as many other musical notables. You can hear a great deal of thought in his playing, as well as influences that range from Nat King Cole to Stravinsky.
Recoded at Peter Sprague's Spragueland Studio last July and released in September with a concert at Anthology, the recording features three songs penned by Patton and seven interpretations of standards and songs by other artists and bands. If anything, Keezer has an exceptional sense of time, and he uses a number of techniques — quick phrases, broken lines, occasional staccato chords, and a very driving left hand playing bass lines — to give a solid rhythmic foundation to Patton's vocals. The interplay between the two musicians is adventurous and sometimes quite playful. At times the impression is one of two musicians bouncing ideas back and forth between them as much for the pure fun of it as it is for the musical and artistic expression that it provides. In an interview with the San Diego Reader, Patton said, "Recording in the studio with Keezer was probably the easiest and most fun process I've ever been a part of; it's very much a collaboration, a lot of give and take on this record."
One thing that is quite evident on this recording is the range of Patton's expression and the fluidity with which he responds to some of the directions that Keezer takes, shortening or lengthening his scat syllables as well as playing out long musical ideas.
It's tempting for jazz musicians, particularly singers, to mine the Great American Songbook and jazz standards for their repertoire, playing it safe for themselves and their audiences. Thanks to Herbie Hancock, The Bad Plus, and a few others who have interpreted tunes by Peter Gabriel, Blondie, and even the grungiest of grunge bands, Nirvana — and thus risking the most damning of jazz audience's epithets "that's not jazz!" — the musical sources for jazz musicians have been greatly broadened.
Like Hancock and The Bad Plus, Patton explores beyond the safe boundaries of the jazz idiom on a couple of the disk's tunes. He takes "Everybody Wants to Rule the World" by the English pop/rock band Tears for Fears and, carefully using his upper register, turns the New Wave anthem — a song about insecurity and indecision as the source of our ever loving need for acclaim and power — into a sensitive and thoughtful reflection, an interpretation that replaces the tune's adolescent cynicism with a mature sympathy. And his up-tempo interpretation of Lifehouse's 2000 release "Hanging by a Moment" brings out the joy that was always hiding somewhere in that song.
Patton performs occasionally as a duo with Peter Sprague. Commonly the two perform with Patton sitting on and playing a cajon, sometimes hitting the box with his hands or playing the instrument with brushes. Sprague is among the best jazz guitarists. The great thing about Sprague that I've always appreciated is that, though he exhibits the chops and feeling of a musician familiar with Miles Davis and John Coltrane, he is well-versed in pop and rock as well. And unlike a number of jazz cats, he does not condescend when he performs these styles, nor does he try to "jazz them up." It's a guess, but probably a good guess, that between the Miles and the Coltrane Sprague also grew up learning George Harrison's riffs off Beatles records and jammed along with Sergio Mendez when his band had the "66" in their title.
I say these things about Sprague, because when he performs with Patton the two musicians might just as easily play a jazz ballad as they might play Jimi Hendrix or the Beatles. Sprague says that he appreciates Patton's versatility and his ability to improvise like a horn player and the way Patton can make his voice sound like a horn. "First we're playing the melody of the tune and he's telling the story with his warm and soulful tenor voice," he says. "Next, because we in the band love to take the music to new vistas, we start improvising and what's needed is a muted trumpet to make this moment complete. Leonard! That's him, blowing a solo with his voice and it sounds like Miles circa 1970." Sprague goes on to say that Patton's positive vibe and ability to read music make him particularly valuable. "We need a vocalist that can read like crazy 'cause I've written some tricky notes and rehearsal time is tight. Who do we call? Leonard."
Taking note of the day when cupid strikes us all, Dizzy's hosted Valentine's Day concerts last month devoted to two lovers, if not in life at least in song, Ella Fitzgerald and Louis Armstrong. For the night Patton teamed up with Teagan Taylor to sing the duets that Armstrong and Fitzgerald made famous, such as "Stars Fell on Alabama," "A Foggy Day in London Town," and "Our Love Is Here to Stay."
No longer at the San Diego Wine and Culinary Center in the Harbor Club Towers, Dizzy's is now on a quest for a permanent home and is currently hosting concerts at the Back Room performance center at 98 Bottles in Little Italy. On Valentine's Day evening, the crowd was in all their finery and unusually dressy for San Diego. Women wore dresses and heels. And there were more men wearing ties than at the last funeral I attended. Like hummingbirds with serving trays, the waiters zipped and then hovered over their tables.
Patton and Taylor were backed up by pianist Ed Kornhauser, with Bob Magnusson on bass and Duncan Moore on drums. Though the evening was an homage to Fitzgerald and Armstrong, the performers never tried to recreate the original arrangements that the two used for their performances and recordings. The evening started with a very soulful interpretation of "La Vie en Rose" that wound up swinging and Patton scatting. Though they strayed from the original arrangements and styles, Patton and the other performers were able to tap into the joy and chemistry of those old recordings.
Teagan Taylor is a young soprano with a clear yet soulful voice. She is also a pretty fine trumpet player. As she soloed that night, a great deal of her voice could be heard in her horn through the phrasing she chose. She sang solo and played horn on a particularly heartfelt version of "Someone to Watch Over Me."
The band performed "Cheek to Cheek" in the odd time signature of 7/4. If you're not familiar with 7/4, just imagine a swing tune and a waltz thrown in a blender and all mixed up together. For most musicians, at lest those who live outside Turkey and Bulgaria where that time signature is common, playing in seven can be quite daunting. Both
Taylor and Patton (as well as the rest of the band) seemed to enjoy the challenge and risks that the arrangement posed.
After two decades of performing, years of studying music and earning his degrees, Patton's enthusiasm for his craft is undimmed. He says, "I'm still into all types of music. I mean everything. I don't want to only focus on my own thing. Getting out there and focusing on what others are doing, focusing on everything, allows me to have more creative freedom."