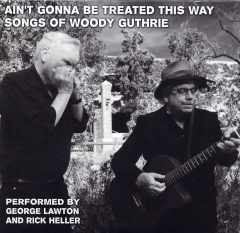 Most folk music fans recognize Woody Guthrie, but many may not realize that he wrote more than 1,000 songs. He was not only a folk singer but a folk hero, a role model for the organized labor and peace movements. Ain't Gonna Be Treated This Way/ Songs of Woody Guthrie offers a glimpse into the man's music, performed by George Lawton, Rick Heller, and a few others.
The ten songs are bare-bones recordings that put Lawton's guitar, banjo, and vocal up front, along with Heller's harp and backing vocals, slide by Richard Stekol and Barry Wood's percussion. Lawton's familiar-sounding voice is a decent approximation of Woody's, and the result sounds enough like old Guthrie recordings that it is almost uncanny. Wise move, since his music needs to be kept simple and direct to maintain its edge.
The most familiar of the tunes will likely be the title track, and songs like "Oklahoma Hills," "Do Re Mi," Dust Bowl Blues," "This Land is Your Land," and "Pastures of Plenty." He wrote for the common man and unions, and traveled the country–often in railroad boxcars–and saw the inside of many jails. This disc is full of tunes like "Hard Travelin," in which Guthrie talks about the plight of miners, steel workers, and pleads the case of those jailed for vagrancy after riding the rails. Some of the most fun is on "Dust Bowl Blues," where the roots of the song are laid bare and the lines between country, folk, and blues get blurred.