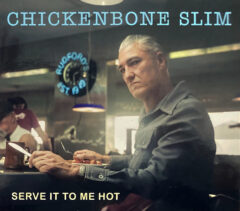 Serve It to Me Hot is Chickenbone Slim's fourth CD release as guitarist/vocalist/bandleader since his debut CD, Gone, in 2015. It's a blues lover's delight throughout the 13 tracks of original tunes, spanning a variety of blues grooves that all showcase Slim's authentic blues-tinged lead vocals and clever lyrical songwriting sense. He's complemented by a veteran band nucleus featuring Laura Chavez, lead guitar; Andrew Crane, bass; and  Marty Dodson, drums, augmented by a stellar recording job by Christoffer "Kid" Andersen at Greaseland Studios in San Jose, California. Anderson also adds in keys and some additional background vocals along with his wife, Lisa "Lil' Baby" Andersen on a handful of tracks.
The title track, co-written with Andrea Ryan, opens the festivities with a solid straight eighth note blues rocker in the common blues key of E that grabs your attention right away, much in the mold of "Little Sister" and "Keep Your Hands to Yourself," with Slim and Chavez swapping traditional electric Delta blues phrases.
"Wild Eyed Woman" is up next with a cool, John Lee Hooker "Boogie Chillen" rhythmic vibe, followed by "Queen of the Wires," Slim's tribute to Chavez: "she's on fire…she's the queen of the wires," as she tears it up on her guitar fills and solos. The next track, "Ought to Be Loved," falls right into Chavez's wheelhouse, a lively jump blues in B.B. King's favorite key, Bb, showcasing Chavez's fretboard chops beyond the scope of the usual Pentatonic scale licks, complemented nicely by Slim's suave vocal styling on this track.
"Love to Be True," a rocker ballad, meanders away from the usual 12-bar blues structure and further illuminates Slim's vocal diversity. "Squares Everywhere," a pulsating up tempo shuffle, features the catchiest lyrics on the disc: "call me crazy…call me a kook…there's squares everywhere I look." "Top of the Clouds," a Chicago blues-style shuffle, brings in San Francisco Bay-area blues harmonica luminary, Aki Kumar into the mix, with some down and dirty blues motifs. "Laying in the Weeds" presents the most elaborate arrangement with a funky minor key groove in which Slim gets to rock out and strut his stuff on guitar in tandem with Andersen's "Green Eyed Lady" tones on keys.
"Crying Tonight" continues the variety of grooves on this disc in the rhythmic mold of the rockabilly classic, "That's Alright Mama," nicely played and sung as if Elvis and guitarist James Burton had just entered the building.
Dodson gets turned loose on a drum and percussion solo towards the end of "Hey Shakalo," a fun-filled funky cha cha groove that'll make you wanna get up and dance, followed by a 180 degree turn with "I Will Stand for You, a serious ballad about injustice: "what is right, we will make it our stand…hope is maybe all we have…come take my hand."
The album closes in fine upbeat fashion with a scrumptious dessert as Chavez dials up a clean tone Claptonesque intro and outro chorus over the medium tempo shuffle, "City Girl," along with Slim's tasty solo in between verses, topped off with Slim's grand finale rocker, "Hook Me Up," channeling his best Mick Jagger and Bob Seger vocal riffs.
Like a good meal, Serve It to Me Hot, from appetizer to the dessert tray, satisfied my appetite and surely should do the same for you. Check it out and don't forget to leave a big tip!