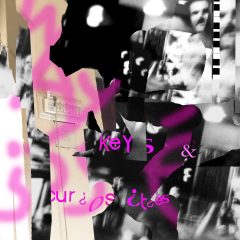 Keys and Curiosities is the latest EP by Way José, local keyboardist/producer Daniel DeMento's band, or more accurately, an amalgam of musicians and styles gathered from sessions in Minneapolis, the Los Angeles area, and Miami. The online download is a five-track jumble of keyboard-driven pop with music written by DeMento, some featuring recited poetry, others straight instrumentals, and while this follow-up to 2014's successful EP Stay in the Light may lack a distinct personality, it has interesting musical moments.
The first track here is "Harmonee," which melds a heavily arranged keys/guitar tune with a rap poem written and performed by Beauregard. It is unusual and well-executed, the story with verses about a fantasy encounter with an outlaw femme fatale and their subsequent travels, along with some nice harmony choruses. The story line unravels after a while as the rap, recordings of a spam robocall, and the busy instrumental all crowd the listener for attention.
"High Road Lows" is a mid-tempo song that starts out with harmony vocals about Hollywood being on fire then, after a verse, it morphs into a musical free for all, with mariachi trumpets prominent on a bridge and nicely played electric guitar solo (Taylor Tester) and more poetry, this time recited by Jenny Stang before a funkified outro. A little bit of something for everyone, it clicks well enough to stand out. The first instrumental is "Elementary Periodically," which features Richard Ramos on keyboard and trumpet. It is a laid back, ethereal launchpad for trumpet riffs interwoven with grand piano statements.
Another poem, by Phillip T Nails, is heard on "Seasons Become Infinite." The story includes statements about society's ills, with Nails doing almost free verse, stretched over a drum and guitar-dominated hook. It rambles with vocals coming from both channels and takes repeat listenings to absorb lines about "ideas are not dangerous enough…and Republicans decided no one should learn." The poem isn't bad, but the overall presentation is at times an overcrowded mishmash.
The project wraps with "Unbroken," another instrumental, a grand piano solo piece that shows that DeMento can do a creditably job on the ivories—and reiterates the overall strengths and weaknesses here: the music has many moments, as long as the overlaid poems don't force it to the background.