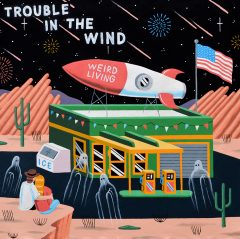 Trouble in the Wind has been regularly releasing CDs and EPs for over a decade from their Carlsbad home base. The band has had few personnel changes and their new release, Weird Living, is their eighth. Musically, there has been development that has seen the impressive songwriting prowess of frontman/composer Robby Gira, whose early efforts drew from New Wave and country sources, to its current level, fattening up the stripped-down, self-produced songs into more of a full-throated, rocking machine.
On board for the nine-track set are Gira's vocals and guitars; Keith Haman's guitars and pedal steel; Kyle Merritt on keys, banjo, and guitar; Trevor Mulvey's bass; and Dylan Garcia on drums. Haman and Mulvey contribute vocals, and the new project includes backing vocal contributions from Lauren Reeder and Larry Doran.
The program starts off with the title tune, which blasts into full bloom with a sea of guitars and scratchy rhythm chops, as Gira is right at home in the pocket singing in his powerful voice about wanting "to get off this ride," in response to the madness of contemporary society. It rocks with ear-catching guitar lines. The band defies pigeon-holing and seems to have many diverse influences, but the early tracks here recall the balls-to-the walls Rolling Stones, when they laid down evil grooves, and their acolytes the Black Crowes. "Déjà Vu" drives this home as a slowed-down guitar ballad that powers though chord changes with nice piano and pedal steel flourishes that bear the imprint of Exile on Main Street.
"They only love me 'cause I'm dumb," Gira sings on "Masterlock." He's on the defense in a world where the unlocked heart soon is hurt. "Rock and Roll" is more straight-ahead rock, a highlight echoing Tom Petty and the Heartbreakers, and pounding away with thumping guitars and harmonized choruses. Yes, what the world needs now, more than ever, is rock 'n' roll.
Slowing things down, the ballad "Double Down" features a great vocal by Gira that is a turnabout from the band's early albums where he sometimes had something of a meandering, off-hand vox. Not anymore, he is locked in and his harmonies with Reeder strike musical paydirt above accordion backing. Haman wrote and sings "You Can't Just Tear You Down," another of the high-octane rockers here, this time with metaphors about life as a demolition project, "It only takes one more stoplight to signal that I've come up short."
On "Down Where I Belong," it is Gira on a ballad that has more of a stripped-down affair than many other tracks, but still has a tasty lead guitar solo and piano that recalls Nicky Hopkins. "Angel of Mine" wraps the set, a wonderfully arranged mid-tempo track that shows the depth of Gira's vocal, taking a nice half-step key change that leads to a fadeout that feels just right.
Weird Living is sure to be a favorite of Trouble in the Wind's not-so-small audience, and for those who like classic guitar rock it's a sure thing.