THE JACKSTONES: Love Badly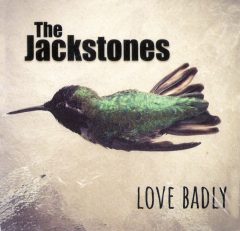 The Jackstones play rock and don't hesitate to crossover into modern country. They made a splash with their 2015 debut, What Brings You Here, where the quartet flashed a lot of alternative rock cred. At their heart, they are a guitar/keys/bass/drums setup that relies on catchy hooks, harmonies, and chunky guitar to get their message across.
On their new CD, Love Badly, the personnel remain: Andy Machin (vocals, guitar), Rick Lorenzini (vocals, keys, guitar), Bjorn deBoer (bass, backing vocals), and George Nelms (drums). Most of the songs are written by Machin and Lorenzini, and Machin produced. The 12 songs pick up where the last album left off: nicely executed tunes with a hint of arena rock in their DNA. "Cruise" establishes this at the outset, four minutes of layered guitar weaving around organ riffs as Machin sings about a fast-living girlfriend who "likes to cruise," is barefoot and tan, and "used red brick dust to paint her cheeks, a petal from a rose to dye her cheeks." It's catchy, rocks just right, and puts the bands strong points right out front.
They change things up a bit on the title song, full throttle with rapid drumming and fiery rhythm guitar setting the pace, as the vocal takes a lover to task for loving him badly, mistreating him. They get into country-rock mode for "Obstacle Course," as honky-tonk keys pound away and the singer is at a drinking establishment, "So I walk walk walk with a swagger/ Yeah, and I talk talk talk like Jagger/ When I'm movin' through the tables like a dark horse/ You can bet on me." It is a highlight, and a good-time party tune. "Dirty Stuff" is pure guitar adrenaline, a driving rock and roll groove that uses a good hook to read down a greedy power player who manipulates others from their "power chair." This one has memorable instrumental solo bridges that recall moments on old, good Deep Purple albums with Lorenzini and Machin stretching out on organ and guitar.
The second half (shown as Side 2 on the artwork) reflects a generally lighter approach, as the band plays "Your Secrets Safe," with less of a rock edge-and more of a detour down power pop avenue. Then they really reverse their approach with "Ball of Thread," about the aftermath of a father's death–and the big picture. There are mysterious photos, and a secret family, along with a Bible "full of dogged pages."
They stay outside the box for "The Cowboy Life" as the midtempo tune paints a story about an untamed wanderer with silver spurs, "Riding alone with his gun and his knife/ That's the way of the cowboy life." The set wraps with "Sounds Like Chains" as they make a social statement about 200 years of war, and the lies heard in the street; cleverly making reference to Marvin Gaye's classic What's Going On album while making its points.
The Jackstones' Love Badly will find fans in both country and rock audiences.