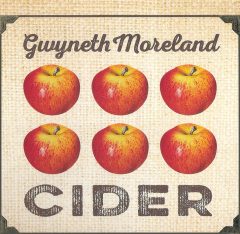 Northern California's Gwyneth Moreland is a singer/songwriter who played as a teen in her brother's bluegrass/folk band, and returned to the Mendocino area after college to start writing and recording her own Americana songs. She released a CD in 2014, Ceilings, Floors, and Open Doors and her follow up is Cider. On hand for the new album is a studio crew that includes former Byrds member Gene Parsons, who plays and sings on some of the tracks. Also aboard is producer/musician David Hayes, a long-time Van Morrison bass player who has played on and produced his own albums and those of many other artists, including Parsons. Moreland sings on the 10 originals and plays guitars, ukulele, accordion and piano, and dulcimer; other artists include her brother Morgan Daniel on guitar and backup vocals. The sound is pristine.
Moreland sounds totally at home on the album opener, "Movin' On," which is a pleasing if lightweight shuffle, opening with her scatting and singing verses with backing chorus responses, a loping bass line, and a solo played by Moreland on a baritone uke. It doesn't ask a lot of the listener, but ushers in a program of relaxed, good-time sounds. "Broken Road" seems to fulfill this promise by giving the listener an intriguing song that uses lovely harmonies, a great guitar hook and just enough of an unusual approach to grab the listener and not let go. She sings, "If my busted heart should break/ Like a fiddle poorly bowed/ Then send word to my baby that I walk the broken road," and the imagery works.
A clear disc highlight, "Little Bird" uses an almost traditional folk approach and angelic harmonies, anchored by dulcimer accents that give it a rustic spin. This one captures the feel of an old children's folk song, taught in a churchyard or barn, from mother to daughter. "Eloise" is a picture portrait, as minor chorded guitars lay down a sad melody while Moreland sings of reading a letter from a desperate man who is out of options, "What about my soul, Eloise? Where will I go? My homeland has forsaken me, Eloise/ Will God forsake me too?"
Moreland' single selection on this disc is "The California Zephyr," and it is a winner; a woman is leaving her lover and bedmate for good and heading west-to have his baby and start a new life. It is a lively tune with a rhythm that captures a train on the track, helped by banjo and guitar interplay. The title song starts softly, with Moreland singing about apples, and her lover and child; the unhurried music has room to tell its story, "What once was lost is made new," as Parsons' pedal steel takes its turn singing. The album closes with "Summer Song," yet another catchy mid-tempo ear catcher offering further proof of Moreland's gift for capturing memorable hooks-this is one disc with no soft spots. Gwyneth Moreland's Cider is a superb album by a roots artist who is going to find a bigger audience.