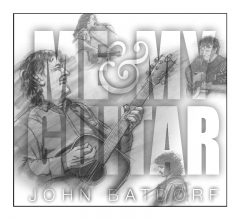 John Batdorf has been playing music professionally for over half a century, and is a soft rock/harmony ballad specialist, releasing many solo albums as well as projects with Michael McLean, James Lee Stanley, and others. Recent projects include 2017's Next Stop Willoughby.
Batdorf is back with Me and My Guitar, a sort of career retrospective; it is a very generous 17-track collection of songs he has written and performed, likely to some extent an answer to the inclusion of "Wham Bam Shang-a-Lang" on the soundtrack of the popcorn movie Guardians of the Galaxy II last year. Released originally by Silver when he sang for them in 1976, an acoustic version is heard here. In fact, this album is sort of a throwback to the "Unplugged" era, Batdorf plays nearly all of the instruments himself and does all of the singing. And, unlike many of his albums that feature material cowritten with McLean, he wrote all of the songs except the one cover, and produced and engineered the immaculate sound.
The early tracks are reworked early '70s harmony rock radio hits: "Wham Bam Shang-a-Lang" and "You Are the One" are well crafted and catchy. And similar sounding, and though the near-disco tendencies of the original "Wham" are exorcised, it fails to sink in too far. "You Are the One" is a better song and sounds like the missing single that Seals and Crofts should have put out instead of the awful, disco "You Are the Song." Batdorf sings well, and sounds like that duo (and Graham Nash), with his upper register instrument. "Somewhere in the Night" is another chart hit, a good ballad that generates energy without being drowned in strings or keyboards like the 1971 original.
The title song is a snappy folk song with Badorf singing and his six-stringed friend answering, the kind of thing most musicians can relate to. "It's Not Love" is another tune within Batdorf's specialty–it has a hook, telling of a relationship in trouble, with crisp harmonies. His view on the world is usually on the sunny side, but this time "what he keeps telling himself is love is really something else." The catchy melody of "It's Gonna Be Alright" lift it, a disc highlight built on a lick the listener is certain that he or she has heard before and dressed by ethereal choruses and the first piano notes heard on the album. One of the most effective folk numbers is the simple love song "She Made Me Smile," which again strikes a Seals and Crofts chord while standing out from the crowded program. "Is It Love" is pleasant and catchy, but in many respects is "It's Not Love" with a livelier beat and upbeat lyrics.
Batdorf wraps the program with two new songs; "Thanks to Me" takes a clever swipe at the music/entertainment biz and a departure from all the love songs and softball ballads. "Time to Say Goodnight" is a sign off for shows or albums, like this one. John Batdorf and his guitar have made a statement that fans of acoustic roots will be sure to enjoy.