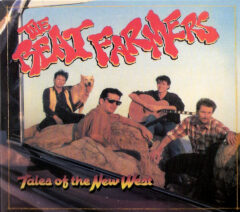 The Beat Farmers' saga is pretty close to the quintessential American rock 'n' roll story: during a decade when most commercially successful pop music was being played by New Wave and hair metal bands, a group of scrappy but talented musicians from the suburbs find each other and start a band. What sets them apart from a thousand others was playing a fine-tuned, unique hybrid of styles that included roots rock, cowpunk, rockabilly, and country rock. While woodshedding in dive bars, they caught on and after gaining an enthusiastic audience put out a record. In the space of a couple of years they became almost household names and developed a legendary live stage act. Before long, they played on concert tours in Europe in front of thousands and eventually made national TV, as they became the closest thing to rock stars that the local scene has ever produced. But like many other music-based sagas, the story of their brush with the big time also contained eventual tragedy—but not until long after the Beat Farmers' mark on the local and even national scenes was assured.
Though their origins among the El Cajon and San Diego rock bands of the time is a story unto itself, for many of the band's legion of admirers, the roots of the Beat Farmers trace back to their early days at the Spring Valley Inn and their first studio release, in 1985. Now, after 36 years, both their debut and Live at the Spring Valley Inn, 1983 are being re-released in a two-disc set: Tales of the New West (Deluxe). The new album includes a new gate-fold cover and a 24-page booklet of photos and memories. And for those who want the music in traditional form, it comes out on vinyl next month on May 7.
The live album was recorded in the strip mall hole in the wall where they first established themselves and contains 21 tracks. It represents the only official live recording of the original line up and captures the essence of the band in its early days, with three lead singers (Buddy Blue, Jerry Raney, and Country Dick Montana), featuring both Blue and Raney on guitars. The Beat Farmers were virtuosos on their instruments, but the secret of their appeal also included their varying personae: Blue (who left the band in 1986 and was replaced by Joey Harris, passed too young in 2006) was arguably the rockabilly soul of the band, with Raney its hard-rock guitar hero. Love was the too-young-to-drink source of bottom throb on both standup and electric bass. And it was Montana (whose tragic onstage death in 1995 closed the book on the group) who not only anchored the beat on drums, but also provided the band's crowning touch with his deep baritone and mischief-making personality, the perfect focus of most of the tongue-in-cheek live shenanigans.
The great draw in this package is that the live disc includes ten incendiary versions of originals and key covers from the group's first couple of albums. "Never Goin' Back" opens, a John Stewart nugget that was covered by the Lovin' Spoonful. It's a great start that combines Blue's vocal and sharp guitar answers by Raney. Montana's vocal stylings, once described by a journalist as "Johnny Cash on acid," sings/groans through "Lonely Blue Boy," and it is a musical moment not to be missed, made more memorable by the doo-wop backing provided by Raney and Blue, who covered the drums when Country Dick stepped out front. Dick is still at the mic for Rod McKuen's "Beat Generation," with a flashy and gritty solo by Raney, whose "Selfish Heart" is next in the set, a sizzling rocker that features his rapid fire, fluid guitar playing while he tells a betraying woman, "All I want is all I can get/ Lover, why're you making me play this game of rockin' roulette?"
Other standout tracks on the live album include two of the best of Blue's rockabilly efforts, "Lonesome Hound" and "Lost Weekend." Raney sings on his original "Showbiz," and a great cover of Springsteen's "Reason to Believe" that is invigorated by Blue's bottleneck guitar licks. Late in the program, there is an almost overlooked version of "You Can't Tell a Book by Its Cover," sung with gusto by Raney and featuring some hot-as-hell lead guitar by Blue that might be his best six string performance ever. Elsewhere, Montana turns in a bravura job on Raney's "Big Ugly Wheels" and his own riotous "Mongo," which may be the funniest-ever spoof of western movies—if one forgives the gunmen masturbating in lieu of firing real guns. This tune by itself is worth picking up the re-issue, as it perfectly captures the irreverent and wacky mind of Country Dick, who correctly points out, "I don't think there's any record exec in the world who has this good a sense of humor."
The band's studio debut, which launched them into the public eye, is uniformly excellent. The 12 tracks were recorded at Capitol records, or as an awestruck Love put it, "the big round building in Hollywood." On hand for the sessions were co-producer Steve Berlin, who played sax for Los Lobos (and does the same for "Showbiz,") and backing vocalists including, among others, "Bigger Stones" and "California Kid" writer Paul Kamanski, the Bangles' Vicki Peterson, and the Plimsouls' Peter Case. The album captured lightning in a bottle—young but expert SoCal rockers in their prime, carving a niche for themselves in the evolving '80s rock music world.
"Bigger Stones" opens, a track that the band released as a single. It is an infectious tune that rocks while retaining sentimentality, as Raney in the vocal slot remembers his wild youth, when was "young and feeling mean." He went on joy rides then, but now he reappraises life from an older, wiser perspective of someone who "feels the pain of a world grown old." The song, and the album that follows, is perfectly produced, with a clean, almost minimalist groove; the guitars ring and chime, the vocals are spot-on, and the arrangements bring out the best of the band. They make some inspired choice of covers; "There She Goes Again" is a Lou Reed song that dates from the Velvet Underground & Nico album of 1967, at its heart a song about a girlfriend who has unrepentantly hit the road—and is now both very stoned and available for those willing to put up with her. Blue gives it a rousing version helped by some near-screaming vocal power.
Another cover, from Bruce Springsteen's Nebraska album (released only three years before), "Reason to Believe," clicks with a treatment rendering it a boogie with Raney singing and Blue on slide guitar. Blue's "Lost Weekend" takes the humorous Beat Farmer edge to a rockabilly scenario as he sings about waking with a hangover after a particularly wanton night of drinking, only to find a teenage girl in his bed and wonder "why's this ring on my finger/ And who's that screamin' kid?"
Country Dick turned "The California Kid" into a signature tune, concerning a mythical outlaw from the Wild West who arrives in town, promptly hooks up with the local madam, then ends up in a shootout; his spoken-word segments are hilarious, as usual. The studio version of "Never Goin' Back" follows, a rocking minor masterpiece with Raney laying down the kind of guitar work that very few players even dream of, and then it's back to Blue's rockabilly with "Goldmine." It's a song that is easily good enough to have been covered by other band, and wound up on Homegrown '84. After Raney's "Showbiz," with its sax solo, harp, and slide guitar, Blue returns with "Lonesome Hound," a first-person rebel rocker with surf guitar touches, lamenting that "Joe bidness suit is smilin' and he's lookin' straight at me/ No money has been minted that can set this hound dog free."
Back-to-back Raney compositions are next, as the wistful tone of "Where Do They Go" is the album's most laid-back track, spelling out in ¾ time the kind of teenage experiences that at the time included MTV, leather, and spikes—and how the kids soon enough will move away to locations elsewhere and life as adults, never to gather again. "Selfish Heart" on the other hand is the album's hardest rocker, with Raney attacking both vocally and on guitar—almost as if wielding his six-string as a weapon. For good reason, it was and remains a crowd favorite. "Happy Boy" is the final track, with Montana singing what was to become the Beat Farmers most requested song in the early days. And why not? While it didn't showcase all of the group's talents, the short, quirky tune with kazoos and gargling beer was perhaps the perfect anthem for the Beat Farmer nation. It also ended up on several movie soundtracks and appeared on a Dr Demento collection of the greatest novelty songs of all time.
Decades have passed since these records were committed to wax, but the Beat Farmers' music has not faded with time. The band soldiered on after Blue left, releasing several more uniformly excellent albums, but was unable to continue after Montana passed. Many fans of the original band still follow the Farmers, composed of Raney and several musicians from bands like the Penetrators, playing the old tunes—along with newer ones. Meanwhile, this must-have re-release is sure to stir up old memories of a classic San Diego band in its heyday and the musicians, both alive and passed, who made it happen.