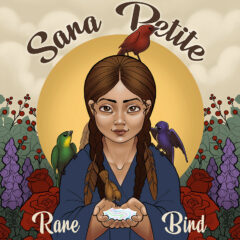 Since her debut 15 years ago, Sara Petite has been in the vanguard of the local country music scene, with six releases, many recognized by several San Diego Music Awards and winning multiple songwriting awards. She has that elusive country gal charm and twang, and it is framed in strong songs that variously celebrate her wild steak, independence, spirituality, and other traditional songbird themes. For good reason she has made a mark on the national Americana charts, and heads up a kick-ass road band. Her latest album is Rare Bird.
The new 11-track album explores some of the territory of 2017's The Road Less Traveled, as her songs have a country-rock outlaw edge, while never quite moving very far outside of the lane previously established by the genre's stars like Reba McEntire, Lucinda Williams, and Dolly Parton. She has strong, crystal-clear pipes and uses them to convey catchy songs that surpass expectations. The new album is produced by Petite and Ben Moore, prominently featuring Mike Butler on guitars; Steve Peavey on guitars, lap and pedal steel; Patrick McClory on bass; and Michael Kastner on drums.
"Feeling Like an Angel" launches the program, as Petite tells a lover that the math is simple: "You got what I want, I got what you need." The mid-tempo tune throws in a superb guitar break by Butler. The pace is cranked up a notch for "Runnin'." This one rocks briskly as she spells out the hazards of a hard-living country rebel. The title tune opens softly as Petite is singing about herself: "I'm a fighter, but I'm a lover/ Do you hear me when I call?" She identifies with the bird who charts her own path and doubles down on the next track, "Misfits." Petite clearly identifies with this one, which drives harder, a sort of anthem for those who steal hearts and generally raise a ruckus.
On "Crash, Boom, Bang" Petite is right in the pocket with a full-throated honky-tonk, a piece of old-fashioned country boogie led by ear-catching lap steel riffs. "Medicine Man" includes some guitar-hero worthy fretwork by Butler on a disc highlight, while a traditional country ballad approach clicks for "Floating with the Angels." Here she sings about how love makes her "feel like I have wings," but the declaration doesn't mean that she is willing to sell herself short, though, as she clarifies that, take it or leave it, she's okay either way. Another introspective ballad follows, "I Just Keep Moving On," about spiritual matters, supported by a gospel-flavored backing choir, and the tune sets itself further apart with a horn solo. "Freedom ain't just for the chosen few." The finale kicks off with a discordant cacophony, then it dissolves into another gesture toward gospel as Petite warns about her day-to-day battle with the devil and his machinations, and how she'll be working on a soul into her sunset years. It possesses the ingredients of a potential singalong.
With Rare Bird, Sara Petite again stakes a claim as one of San Diego's—and the nation's—standout country singers.