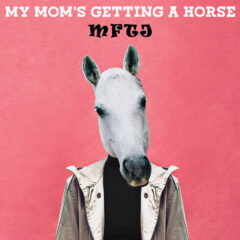 Mike Keneally has played both solo and with a legion of other artists and bands over the course of several decades. The local guitar whiz has been associated with the cream of the prog and art rock crop, with stints in the bands of both Frank and Dweezil Zappa, Steve Vai, Joe Satriani and others, including teaming up with Andy Partridge (formerly of XTC) and, more recently, Scott Schorr in the MFTJ project. The duo released their debut disc in 2020, and latest online MFTJ album is My Mom's Getting a Horse with Keneally on guitar, bass, noise, and piano, with noted prog producer Schorr on drums, percussion, and keyboards.
The sound on the 11 instrumentals is a rich gumbo of drum-driven music with funk and psychedelic flavors—straight ahead onslaughts of musical ideas and strident rhythm tracks, echoes, quirky hooks, and hypersonic lead guitar figures. It isn't subtle and in spots recalls such previous trailblazing instrumental breakthroughs as Jeff Beck's Blow by Blow and the fusion efforts of Alan Holdsworth.
"What Wally Thinks" opens, as pounding drums dance with bass lines and electronic noises bounce around. Keneally plays a few bars of fiery lead but most of the tune is a byplay of textured electronic effects. Not too long before the guitar juggernaut that is "Remember When Candy Bars Were a Nickel" takes off, the scales fly past while piano and electronic keys appear and vanish. More of a funk stutter-step drives "National Milk Day," a convergence of prog sound flourishes that flow into a keyboard riff answered by Keneally taking a stretch to remind the listener that he can burn holes in space with his guitar prowess.
"Lucy Has the Grip of a Crop Duster" has a bit more of an ethereal feel, as a floating electronic cloud of keys and background noises flows. Flashy keyboards give way to lead guitar that absolutely sizzles before things settle back down into softer atmospherics. Among the quirkier, art-rock influenced pieces is "Who Grooms Your Fur?—Who Grooms Your Fur?" It chugs along its sonic percussion highway while collecting sound ideas from bass, string keys, and sound effects. "Peeping Raccoon" follows a similar format, but adds a rare key shift to the scale's fifth, before turning matters over for some lead guitar explorations that draw from Eastern sources.
Keyboard riffing over electronic noises dominate "Shoe Trade Gone Bad" as the duo relegates guitar to the solo sidelines, then "Donner Party Highlights" weaves a fusion carpet that hammers away to penetrate an echo barrage. The title song closes the program, and keyboard effects are the prominent voice. Keneally's bass lines catch the ear, as do his slide guitar interlude that jogs the memory of Pink Floyd's trailblazing "One of These Days."
Mike Keneally and Scott Schorr have carved out a place in the instrumental prog landscape with My Mom's Getting a Horse that updates the Frank Zappa influence with a collection of hard-charging grooves and displays of awesome musicianship.
To purchase the album online, go to: https://mftj.bandcamp.com/album/my-moms-getting-a-horse