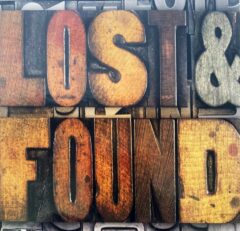 Americana singer/songwriter Dave Preston calls Imperial Beach home, and since the advent of Coronavirus it is from that home he has been writing and producing his latest, while sequestered, Lost and Found. The six-track EP was written and recorded by Preston with backing vocal help on one track; the only track that isn't new also features an appearance on trumpet by Teagan Taylor. This is laid back, unhurried folk with a country slant that reflects Preston's Kentucky roots. Immediately, it draws attention to his skills on guitar, mandolin, pedal steel, drums, and bass. The music tells tales, reflects spirituality, and has a homespun charm.
"As Far as I Can Fall" opens with fingerpicked fabric, buffed by dashes of pedal steel, over the lyrics about Preston taking stock of his life, a series of stumbles and shortcomings. The sound of Preston's unaffected vocal fits into the groove's empty spaces in an almost haunting manner. The title song is a breezy midtempo tune that includes harmonies on the choruses (Cheryl Jackson), and the theme is Preston's commitment to his creator, "Thank the Lord sweet Jesus/ Looks like I am glory bound/ Praise the Lord good God Almighty, I've been found."
The spiritual songs continue with "Hope the World Don't End," about all the doomsday predicters, as Preston points out that he sure hopes they are wrong—but if not, he may be broke, but his shoes will last. The guitar fills on both acoustic and pedal steel give it a tasty feel. Another storyboard is heard on "Switcherman," about misadventures related to outlaw train-hopping in the Midwest river valleys, from jail he laments his decision to gun down a stranger, and the switcherman's role in his fall.
Another tale about being on the wrong side of the law, "Sister Kate" is about his downfall due to a man murdered in a fight. He is "doing 99 to life," but feels like his similarly imprisoned sister would approve. Again, there are guitar licks aplenty that give this one a boost. The last track was recorded in 2016, with Preston on piano, reciting spoken poetry in a stark and quiet piece called "Rising Sun Over Shanghai." Taylor's horn interplay with the piano casts a spell. Preston sings about a woman from China in the days of Mao, her life reduced to singing, marching, and "carrying bricks on her back" though she "rides horses like a Mongolian warrior." The otherworldliness of this track shows the breadth of Preston's talent, and the disc as a whole is a softly rendered pleasure.