The autoharp is a very American instrument with obvious eastern European roots. There was a remarkable period of development in 1880s Germany when the volkszither design from instrument maker Karl August Gutter appeared on the scene, looking much like our current version. Charles F. Zimmerman produced autoharps in the United States around the same time, creating instruments that are still sought after by collectors. The transformation from zither-like instrument to widespread American country/folk phenomenon has a more recent and more familiar credit: the Oscar Schmidt musical instrument manufacturing company.
Appalachian music and autoharps have maintained a loving marriage for decades. Depression Era and mid-century public school teachers in the U.S. relied on autoharp as the acoustic music pedagogy instrument of choice, especially when no piano was part of the classroom.
Usually held against one's chest, this resonant, strummed instrument utilizes buttons that dampen certain strings, creating desired chords. The buttons are labeled with inviting, easy-to-read chord names.
Easily stored and durable for any kind of travel, I'm using autoharp in many of my radio drama re-enactments and silent film screening concerts. I often enlist an audience member as musical performer on it in these shows, as autoharp is a forgiving instrument for the inexperienced. Legendary songwriter Harlan Howard wasn't talking about the autoharp when he said this, but "all you need is three chords and the truth" and that's what I tell my drafted autoharp performer in that setting. Those not yet skilled in reading traditional musical notation or tablature are not hindered, just can just pick three chords and go. For a pick, I usually tightly fold and refold a dollar bill into a strumming tool and the performer gets to keep the pic as payment. Most important, I tell the selected performer not to fret (pun intended!).
I also use my autoharp as a sound effects tool, hitting the low strings with a mallet or with the wooden part of a violin bow (col legno) to get a sonorous grandfather clock chime (midnight never sounded so dramatic!). If I draw the horse hair of the bow across the higher strings, you hear rusty hinges of an abandoned cabin's door. Strumming the instrument once without pressing any buttons creates a memorable horror glissando.
Rebel with an Autoharp…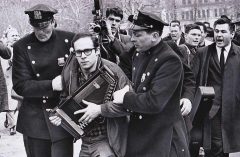 This photo of autoharpist Robert Easton warrants an explanation. NYPD officers shown here are arresting Easton on April 9, 1961, at Washington Square Park in Greenwich Village. The park was a longtime gathering spot for folk musicians, but an ill-advised ruling led to a ban on music and protestors that had gathered to fight the power! Easton and his colleagues won their battle after six weeks of active protesting. Don't underestimate the power of an autoharp!
A quick survey of artists from the 1960s to the present who embraced the autoharp in their careers—all of them sincere about the instrument's past, present, and future.
June Carter Cash played autoharp throughout her career and the instrument was photographed with her from the earliest days of her musical family's performances. Actress Reese Witherspoon, who portrayed June Carter, was directed to learn the basics of the instrument prior to filming Walk the Line. The instrument's popularity owes a debt to June Carter Cash, who was a role model among music makers. My favorite June Carter Cash quote: "I'm just tryin' to matter!"
John Sebastian's 1965 "Do You Believe in Magic" recording with the Lovin' Spoonful was a favorite amongst amateur guitarists, but those fans had trouble recreating the single's sound. It wasn't until Sebastian's impromptu appearance at Woodstock in 1969 that some players finally saw the reason why: Sebastian used an autoharp in that song and not a guitar.
African-American performer Dorris Henderson became a sensation in London in the sixties, accompanying herself on autoharp while singing traditional folk songs of Appalachia and the deep South at clubs and in regular television appearances.
Dolly Parton famously features autoharp in live performances and recordings. Her trademark fingernails are a big part of her unique technique.
More recently, Andrew Huang, a popular YouTube celebrity, visits many instruments on his YouTube channel to enlighten his viewers.  He recently provided his followers with an elegant and informative introduction to the autoharp along with a well-executed contemporary composition for the instrument.
Finally and fantastidally, drag queen Trixie Mattel is a sensation on autoharp in her live appearances and recordings.
Note: Stay tuned for a future column surveying the original founders of the field!