TASHA SMITH GODINEZ: Out of the Desert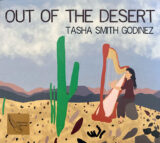 Out of the Desert is a collection of 13 original compositions from harpist Tasha Smith Godinez. The nearly hour-long album will not be everyone's cup of tea, but if you dig compositional music along the lines of composers such as Debussey, Bartok, Edgard Varese, and Schoenberg or more contemporary artists such as Oregon or Weather Report, you'll be in for a treat.
Godinez is joined by Christopher Garcia on percussion and Domenico Hueso on viola with both contributing occasional vocals as the trio creates an abundance of musical moods with virtuoso interplay especially between Godinez and Hueso in many out-of-time improvisational conversations.
Godinez' compositions range from pleasant consonance to striking dissonances as she takes the harp to new dimensions tonally, way beyond the usual dinner music accompaniment, with dramatic pauses and creative tone diversity through pizzicatos and string mutes annexed with eloquently flowing series of arpeggios in most of the tunes.
The opening track, "Mulatta," sets a pensive mood with dulcet tones from Hueso's viola over the lovely minor-key melody, followed by "The First Garden," which leaves no doubt about Godinez' flawless technique, venturing into avant garde territory as she weaves in and out of tonality and atonality. "Wind—Where are you now?" is set against the sounds of nature and a droning bass figure as the trio exchanges playful percussive motifs creating a soothing meditative vibe.
"Infancia" and "The Path" could easily be nice backdrops for a short documentary film with the latter set behind echoes of children playing at the beach amid Godinez' lush harp chords. "Quiet Memories" once again features Godinez' masterful technique over consonant chord changes in 4/4 time all the way through as she effortlessly executes lightning-fast arpeggios set against Garcia's rolling percussion figures.
"Come back to me…" and "El Amanecer" are two ventures deep into the avant garde as Hueso lets loose with bursts of atonal phrases executed to perfection with wonderful call and responses among all three musicians. From these echoes of incidental musical exchanges and tone clusters, the concluding five tracks take on a whole different vibe of peaceful meditative reflection, which Godinez subtitles "My Soul Floats on the Sea," with dreamy major pentatonic melodies setting the mood along with a few occasional character blues tones to round out her musical versatility. She leaves us with a short finale solo piece, "Return and Ascent," which puts a nice bow on the eclectic arrangements and dynamic musical interplay from all three virtuoso musicians.