GARRISON BAILEY: Secret Superwoman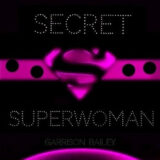 It's a bird, it's a plane…it's secret superwoman, Garrison Bailey, starring in her one woman CD production, Secret Superwoman. You may recall her behind the drum kit with the all-female group, the Groove Kitties a decade ago, but now she has busted out with her home recording, employing GarageBand, the classic digital audio workstation that enables users to create multiple tracks with premade MIDI keyboards, loops, and various instrumental effects. The result is ten original tracks with Bailey utilizing her drumming prowess paired with funky ostinato bass figures to create wicked syncopated rhythmic grooves throughout the album. It's raw and real and a refreshing listen in contrast to the much overproduced and glamorized current pop music slop.
From the initial vinyl needle scratches to the opening infectious groove on "Dance Your Ass Off," you feel the immediate old-school rhythms that make you want to dance against Bailey's repetitive vocal chorus: "get up out of your seat, get up on your feet, and dance your ass off," followed by the minor key funk groove title track, "Secret Superwoman." "I'm your superwoman, I'm your supergirl, let me fly you to my castle, let me rock your world."
"I've Got It Bad" continues the funky bass/drum interplay exchanges embellished by partial chord guitar phrases, à la Jimmy Nolen, along with Bailey's soulful vocal lines, including some fluid scat vocalizing. "Rule the World" features some creative vocal and instrumental looping motifs with a more compositional and lyrical slant: "when I was a little girl…all I wanted was to rule the world."
"Aren't You Chaka Khan?" puts Bailey's dynamic vocal phrasing front and center with some sweet layered vocal harmonies and nicely arranged polyphonic orchestrations, followed by "Backline AF," an instrumental techno-pop, spotlighting Bailey's strong drum chops. "Raised in the Cold," is a powerful ballad that highlights Bailey's vocal diversity amid her lyrical musings: "there's never been a mirror you haven't looked into…there's no one who loves you…like you do."
"Hey Baby" rocks out with Bailey's electric guitar front and center, churning out heavy metal power chords along with some nifty lead guitar riffs, not to be outdone by "That's the Song," a funk rocker with Bailey's distinctive voice and vocal harmonies reminiscent of Rufus in their prime: "if my heart is like a wheel, please, please take it… if your soul is just like a pill…I'm gonna need to take it."
The curtain closes with the pop ballad, "You're Mine," embellished with cascading vocal harmonies and orchestral crescendos against the lyrics: "Your smile has the power to stop my breath…your eyes make me want to see the rest."
Hats off to Bailey for a successful homemade recording project, all done on a shoestring budget. In addition to playing her ass off on drums and blending in all the accompanying instruments, her soulful voice carries the day in complementing her lyrical flow throughout…Thumbs up all around!
Garrison Bailey CD release at Navajo Live, Doors @ 7pm, Sunday, September 25.