RED HEADED STRANGERS: Reverend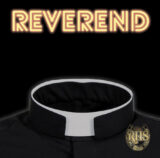 Hear ye, hear ye, church is in session as the sacred chord swells of the organ introduces us to the debut album from the Red Headed Strangers, appropriately titled Reverend, which includes16 original tracks chronicling the downward spiral of one particular reverend. It's the concept of veteran musical troubadour ZB Savoy, who penned all the tunes—except one—in addition to handling the lead vocals and acoustic guitar on all the tracks. He's joined by a strong musical trio of Patrick McClory on bass, Matt Lynott on drums, and Mike Butler on electric guitar and dobro and the man behind the board engineering and beautifully mixing the project at Singing Serpent Studios in San Diego.
The hand-clapping first track, "Morning Glory," opens the festivities with a vocal chorus immediately shaping the theme: "hallelujah…glory hallelujah, I'm gonna praise his name; hallelujah…glory hallelujah, gonna let his praises ring." After a narration from the "reverend" to contribute to the donation basket, the band goes into high gear with a "That's Alright Mama" rockabilly groove on "Sunday Stick Up," with Butler's fluid and effortless lead guitar lines sparkling, right out of the Jerry Reed and Albert Lee playbook amid the revealing lyric: "I might dabble with a drink 'bout now and then…and I might dip into the plate, that ain't no sin."
Guest organist Jody Bagley along with the dulcet tones of Butler's dobro gracefully accompany the tender country waltz, "Brother," followed by the spoken narration by the reverend bellying up to the bar, which leads to another up-tempo rockabilly track, "Whiskey, Cocaine and Women." "Line 'em up my friend…I don't wanna be thinking anymore…do this right and I'll be laying on the floor," segueing into "Good on Paper," penned by Butler, a slow waltz aptly defining the reverend's aftermath: "just another empty night, to fill an empty soul."
Savoy's interlude narration, "Crossroads," brings us up to date on the reverend's self destruction: "there's a breaking point that a man reaches…when all that he knew is gone," poignantly leading into "Everything Done Changed," a funky groove, reminiscent of The Band, embellished by Bagley's tasty honkytonk licks on keyboards. The reverend's descent is aptly portrayed by the saddest musical key, D minor, featuring cool syncopated flurries between McClory and Lynott on bass and drums respectively. "There is one thing that I might ask that you do…if you pray for me and my family…sure would appreciate."
The echoes of possible redemption continue through the minor-key darkness of "Weight of the World" and "Jacumba," layered with spring reverb tones in "spaghetti western" fashion before resolving with the more upbeat "Devil Don't Dance," backed soulfully by Butler's dobro motifs. "Seems like every damn thing I believed in has all been wrong…makes it hard for a man to wanna keep keepin' on."
"Gonna Be Alright" closes the reverend's realization that humanity is probably the better choice than his faith in God as the final track reveals in an upbeat and uplifting musical moment. "I don't think I realize…the truth that's in this life." Overall, it's not only a superbly played and recorded album by a tightly knit unit of high-level musicians but also a storyline that should eventually culminate into a musical theater production coming to a town near you!