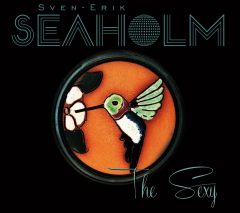 Before his recent move to Utah, he likely had a hand in more recent, quality local music than anyone else, though much was behind the scenes. Sven-Erik Seaholm has collected 11 San Diego and Los Angeles Music Awards — so far — for Acoustic Artist, Record of the Year, and Record Producer of the Year. The regular Troudadour columnist also has been a prolific artist in several bands (Wild Truth, Gandhi Method), and on solo albums, including 2007's Sotto Voce. His music mixes pop, soul, jazz, and hard rock for a delightful style pallet — bouncing the listener from Boz Scaggs vibes on one track to Todd Rundgren on the next, with old-school production that reflects Memphis to Philly to Muscle Shoals — played by himself and other top-shelf local musicians. His latest solo album is The Sexy, and it is more of the same.
The 13 tracks are all originals and the co-production by Seaholm and Wolfgang Grasekamp skillfully builds each arrangement, often using mellotron and horn arrangements, giving the songs a wall of sound that elevates them.
Contributing players include John Foltz (piano), Peter Bolland and Michael Tiernan (guitars), Brooke Mackintosh (guitars, keys, vocals), Brian (Nucci) Cantrell, John Anderson (bass), and many others.
"Love in Amber" kicks off and works a tasty hook over verses that sound huge (ELO-style strings), then floats away on choruses built on layers of keyboards and percussion for an irresistible effect. It's a trip to the disco for "Animals," a tasty wah-wah driven dance song that asks the musical question, "Can't you smell it through my shirt… We're all animals, baby, this is love." Turn back the clock and get a mirror ball; it's a winner. Seaholm is having more fun on "Sexy On," which powers up an overdriven guitar lick as he tells off an unfaithful lover, preparing to enter the love arena fully prepared, "I know now all the things you said to him/ 'Cause I hacked into your phone… I never had a prayer." It's a catchy highlight that makes the foot stomp.
It is a lighter and jazzier feel for "The Lookback." Latin percussion and nylon-string guitar strums create a breezy fabric for Seaholm to tell about his lover giving him that wordless signal, green-lighting romantic moves. "Showdown" throws some of the same switches as "Animals," and this highlight has that Gamble and Huff feel, blue-eyed maybe but pure soul: a highlight and the kind of music that doesn't get made anymore — except by Seaholm and a few others.
"If You Call" features Stax-style vocals over the top of some beautiful pedal steel licks by the late Doug Meyer. The disc closes with "A Matter of Time," probably the most ethereal song here, a triumph of arrangement with Seaholm promising his love that all will be well while floating away on a magic carpet of keyboards, backing vocals, and effects.
Sven-Erik Seaholm's The Sexy is the kind of pop music that used to be on the radio before good music disappeared.