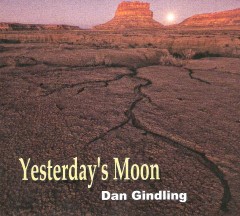 When last heard from on 2013's Fingerprints, Dan Gindling sang mellow and personal folk-style tunes, many about love and loss; he also added a couple that had something to say about social issues. The local singer/songwriter has followed up with a new album, Yesterday's Moon, and his sound has become more eclectic, with a shift of focus to a balanced mix of story and protest songs.
The new disc features Gindling's vocals and acoustic guitar on 13 originals, and among the numerous backing musicians Dennis Caplinger (banjo, mandolin, fiddle), Raphael Harp (harmonica), Jesus Gonzalez (lead acoustic guitar, percussion, backing vocals), and Bob Campbell (saxophone) are prominent. It is smooth, rootsy country-folk, and soft rock, on many tracks augmented and made more interesting by horns.
Gindling relates some personal history in "On Country Roads," a lively, banjo-propelled tune about his early days. "She always cried when it rained real hard/ We'd find shelter in my Chevy," about his now departed love of the time (lyrics to all tunes on his website, along with a nice bit about each song's background). "Maralee" is one of the highlights here, and a story song with a slow, haunting melody anchored by Campbell's sax fills — it is about a returning GI, trained to kill abroad without hesitation, returning to find his former girlfriend in prison for doing the same to a lover. Gindling scores again with "Cool Enough," a pleasant pop shuffle with goofy lyrics and a memorable hook.
Engaged in the social issues of the country, Gindling doesn't soft-pedal institutional racism with "Hands Up, Don't Shoot." The tune has good sax and harp work, but the message contains words like, "You see it in the news, almost every night/ A black man dead under a white sheet." He has something to say about the human costs of war in "Because Wars Took You," wondering about the things lost due to deaths in wars — "What if Shakespeare had been killed in the Spanish Armada/ And Springsteen and Dylan died in Vietnam?" Another statement about our flawed society-one that needs to be made appears in "She Walked Away," about a woman who is the victim of domestic violence.
Gindling's softer side shows in "Lucky Me," a personal love song celebrating the joys of his relationship with his lover, helped by Sven-Erik Seaholm on keyboards. "Paper Thin" also catches the ear, with strong drums up front (Barry Farrar), trumpet, and a driving beat; it's a story about a chance encounter between two lonely souls. Gindling wraps with "Live Your Own Way," a highlight that finds him imparting advice on being your own person and not worrying about those who disapprove. The song has a very catchy chorus and musically is a breezy exercise with nice sax and trumpet interplay over the top of a jazzy guitar riff.
Yesterday's Moon is a very satisfying collection of roots music from Dan Gindling, some of it about the realities of today's world.