ARCHIE THOMPSON & THE ARCHTONES ALLSTARS: Jazz Vespers, Vol. 1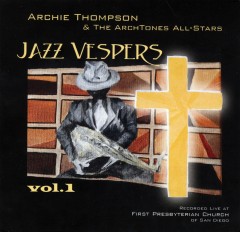 If you start off a church service with a live blues or jazz jam, you're likely to get God's attention, plus you might also attract more worshippers who will likely focus more on the band and music than in a noisy nightclub. Rev. Jerry Andrews is the pastor of First Presbyterian Church in downtown San Diego and through his efforts, together with Archie Thompson and the Archtones All Stars, the music series became a reality now documented in a CD of 11 songs, recorded in the church chapel, Jazz Vespers Vol. I.
Thompson recorded the music live in February and it sounds great. On hand are Thompson on keyboards and tenor sax, Jason Littlefield on bass, and Danny Campbell on drums. Appearances by other local musicians help to bring the 11 songs (mostly standards, many with spiritual themes) to life. While most of the music is straight-ahead jazz, the cats on hand don't hesitate to step outside for a track or two to hit some gospel and blues notes — no big surprise, since Thompson plans two more future CDs with focuses on those genres.
"At the Well" is the opening track, an energetic tune that has some of Herbie Hancock's "Watermelon Man" in its DNA.  One of two Thompson originals, it has sharp guitar, trumpet, and sax spots by Alex Ciavarelli, Derek Cannon, and Thompson, as well as some measures taken by the rhythm section. Whitney Shay does a beautiful vocal on "Wade in the Water" as it is given a smoky, blues-club treatment that also spotlights Thompson's piano (he impresses, and his skill on the ivories is matched by an ability to fly on tenor sax). "Willow Weep for Me" would seem like an odd choice, but it works nicely as Holly Hofmann uses the melody as a launching pad for lovely jazz flute excursions.
When Nathan James sings and plays, on electric slide guitar, "Bye and Bye, I'm Going to See the King" the listener has checked out of familiar jazz Kansas, but it is a fun trip to hear the Gospel standard, which is a great church song and a highlight. A mellow, delightful reading of Horace Silver's "Peace" features tasteful guitar statements from Bob Boss. Thompson gives "I'm on My Way to Canaan Land," a spirited vocal that has plenty of gusto, and the gospel favorite gives Cannon a chance to shine on
trumpet.
Cannon is back, as is Ciavarelli on the smooth jazz "Look to the Sky," a light and flowing Antonio Carlos Jobim ballad that is another highlight; the spiritual feel here is how this song just flies away. The last two tracks give the Archtones a chance to give two traditional Gospel classics a straight-ahead jazz trio makeover: "Swing Low, Sweet Chariot" takes that chestnut into piano improvisational territory, sounding just right. The disc appropriately wraps with "Amazing Grace," this time with Thompson celebrating the musical possibilities with his saxophone.
Jazz Vespers Vol. 1 certainly has its heart in the right place, and musically is a great listen.