THURSDAY NIGHT FISHING CLUB: When the West Steals Your Heart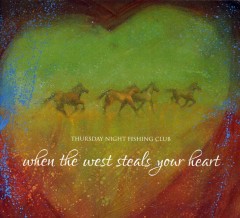 Former San Diegan Gary Sheibler relocated to Nashville over five years ago, and has put together a group called Thursday Night Fishing Club, with a new double CD that seems a love letter to his old hometown: When the West Steals Your Heart.
This is a Nashville project, borne out of the respective bands of Vince Gill, Roger McGuinn, John Prine, and others. Sheibler wrote almost all of the tunes and it is his show: he does the lead and background singing, and plays keyboards and clarinet. The other members of the Club include guitarists Chris Casello, Mike Baker, and Mike Waldron, Tim Atwood on keyboards, drummer Billy Thomas, and bassist Jimmy Johnson.
The 26 songs (103 minutes) were all recorded in a take or two; aside from a bit of hiss the music is smoothly presented, but there are too many tunes, and many are too long. Sheibler's agreeable vocal presence is marched out again and again, in pleasant songs, but relatively few really catch fire or seize the listener's imagination.
The first disc kicks off with the title tune, an innocuous, key-dominated waltz (one of several), about how the West will steal your heart "like chasing the setting sun." One of only two covers, "Mr Spaceman" is a blown opportunity — the familiar Byrds rocker is sung in harmony so buried in echo that it is almost impossible to make out Sheibler's parts. "Bisbee Girl" is a clear highlight, the best ballad on either disc; a perfect arrangement pulls in lap steel effects as it builds-this one has that Nashville sheen.
The level isn't sustained in "You're Too Easy," which sounds like two riffs in search of a song, failing in two minutes to find one. Much better is "Chase the Rain" as Sheibler drives an acoustic guitar hook, builds it up with clarinet, and gives Thomas on drums something to hit some skin about, while Baker flies all over the neck with acoustic shredding. The final song on disc one, "Fight for You," is a good keyboard ballad notable for its lyrical message of commitment.
By the second CD, Sheibler's approach loses its element of surprise; "Rockin' the Boat" clicks about him and his baby, and how that boat isn't rocking because of waves or wind — with nicely punched up acoustic guitar work. After the by-the-numbers original rocker "I'm Lost" comes the standout track on this disc, a cover of "The Middle." This single by alternative band Jimmy Eat World here is given a nifty arrangement with ukulele and haunting key/fiddle backing. It is different, refreshing, and shows that the Club can flex. "The Things We Miss" is another ballad with a memorable hook and nice, soft harmonies, but it overstays its' welcome at over 51/2 minutes. "Ghosts of Route 66" is catchy and overcomes hiss to become a travel anthem, about a "road full of dreams and things we just can't fix."
The Thursday Night Fishing Club have mixed results on When the West Steals Your Heart but there are several memorable tracks.