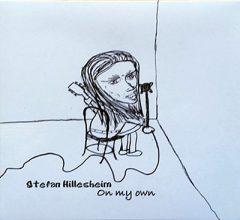 Stefan Hillesheim released a debut EP earlier this year with a band backing his blues vocals and guitar, a project that made an impression with his skill on slide guitar and vocals—soaked with a vibe that recalls Mississippi delta saints like Robert Johnson and Elmore James. Now he is back, with a live, solo EP that makes the best of the same skills, called On My Own. Recorded at Rarified Recording, these are six originals that demonstrate why the native of Germany has been working as a studio cat, and they reflect his studying of the blues form with a willingness to provide a reverent approach that doesn't showboat or try to rewrite the blues toolbox.
The title tune takes mere seconds before catching the ear with Hillesheim's technical expertise on acoustic, finger picked blues slide. He plays clean—he has been listening to the masters and such forerunners as Ry Cooder—and there isn't a stray note, string buzz, or missed note anywhere on the disc. Like the other tracks here, it is built on foundations laid a century ago in the Mississippi valley, and his lyrics reflect that. The slide clinic continues on "When I'm Gone," as he relates, "I been knocked down/ Lord I been treated like a dog/ You keep adding to my misery/ As I'm waiting for the tears to drown." Hillesheim's voice may not have the gruff growl of a country bluesman, but what he does sing matches the musical package it is wrapped in, and comes from the heart.
The disc's artwork contains Black Lives Matter iconography and a reprint of the lyrics to "George Floyd," just another reason to buy in on this music. The tune is a poignant, relevant look at the plight of people of color in this upside-down society, as he references Floyd's last words calling his mother's name, "A whole nation is to blame/It's not too late to wake up/ So he didn't die in vain." On "Relapse Blues," the 12-bar shuffle features his laying down walking strum/bass note picking and echoing the words with his slide, delta style, then playing a sweet solo, all the while keeping the momentum from losing any steam.
A slower pace marks "Move On," which becomes the thousandth blues number to open with "Woke up this morning, and my love was gone." The ideas aren't new, but again there is pleasure to be had in Hillesheim's execution of his homages to this music; on this tune, he lays down a beautifully measured break that mixes chords, individual notes, pattern picking, and tasty slide highlighting. "Say Goodbye" wraps the set with a faster pulse, a toe tapper that again shows his slide and picking expertise.
On My Own is a great listen for anyone who appreciates acoustic blues and should open some eyes and ears to Stefan Hillesheim as a 21st-century bluesman, a student who clearly has become a master.