PODUNK NOWHERE: Crackle and Shake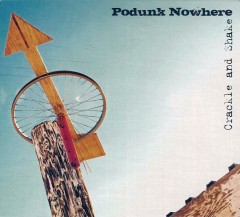 Some albums instantly put the listener into a space. Like you're there. Crackle and Shake, the newest realease from trippy-folk-rockers Podunk Nowhere, is one of those albums. Crackle and Shake is a marvelous collection of songs that saunters through its own down-tempo-ish experience. The lyric and the music support each other with a minor key spirit that turns mild meloncholy into an elegant and beautiful ride through haunted, desolate soulscapes.
Heather Janiga writes about doom looming in the wind as she braces to face it head on — a metaphoric vehicle that is emblematic of her sensitivity to approaching hard subjects and situations throughout the album. All while doing so by looking them straight in the eyes. Lyrically, she has a way of reaching into those darker places much with the same reverie the young babysitter (in the movies) runs back into the haunted house to save the cat. And Johnny's right beside her with his guitar. The choices he makes with his left hand are something I'm a big fan of. In a word "irreverent" and generally unsuspecting. There are instances in this music where its pretty clear Johnny was making the same left-hand turn at the crossroads where Led Zeppelin arrived at their dream sequence.
I mean all that to say, think Allison Krauss and Robert Plant with a little more permission to step out of bounds and into the other side. It really is a beautiful, artfully rendered work, from the writing to the playing to the production (Jeff Berkley). And while it's a well-crafted, well-designed body of work it relies on style and substance more than it does the pop formula shoved through our radios as per industry A&R marketing models. Instead…. it's honest… and therefore has much bigger result.