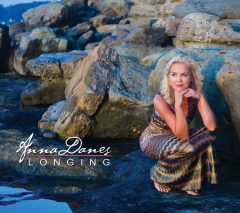 "Splendor in the Grass" is the opening track to Anna Danes' debut album, Longing, and its affecting vocals are fluid throughout the entirety of the 12-song collection. Languid, but far from dull, Danes moves across the album with a graceful sound that is seemingly effortless. Longing contains an eclectic mix of songs, but a consistently innate sense of rhythm as well as Danes' lustrously smooth singing gives it a cohesive jazz texture, with each song flowing seamlessly into the next.
Danes, who left Communist Poland with her family when she was young and settled in Ottawa, Canada, fell in love with jazz music when she was a teenager. Singing was always one of her favorite pastimes and remained a great source of comfort to her. That genuine passion is transparent in her work: the listener can feel it — consequently making her music more accessible. Both soothing and wistfully nostalgic at the same time, the collection of tracks keeps smooth jazz feeling fresh and contemporary.

Longing features Larry White on keyboards, John Rekevics on tenor flute and clarinet; Scott Hecker on the trumpet, Mark Chosak on the guitar, Bob Magnusson and Rob Thorsen on bass, Kevin Koch on the drums, and Monette Marino on percussion. The arrangement perfectly complements Danes' honey voice and adds sophisticated edges to each song. Welcome moments of instrumental breaks, particularly the warm and relaxed trumpet in "Sweet Valentine" (one of the album's two original songs) are ideal for pensive daydreaming.
One of the album's most memorable tracks is Danes' touching and romantic rendition of the Beatles' "Something," which she makes her own with an impeccable delivery of George Harrison's beautiful lyrics. Other standouts include the exotic and melodically entrancing "La Vie en Rose," a painfully potent cover of "Killing Me Softly," and, one of the album's lighter tracks, an almost pop-like and playful version of "Dream a Little Dream of Me." Each song gives off a gentle and soothing vibe, however Danes' emotional depth is still ever-present.
Longing is a promising debut. It's filled with hints of inspiration from some of the greats: the articulate intonation of Ella Fitzgerald, the sweet elegance of Lena Horne. Yet Danes has found her own voice and her uniquely rich sound places a distinguished vocal stamp on the album. "I Wish You Love," the closing track, is reminiscent of rainy day farewell. When she croons, "I wish you shelter from the storm /A cozy fire to keep you warm/But most of all when snowflakes fall/I wish you love," there's a definitive parting ambiance — clearly marking the end of the CD and leaving behind a feeling of melancholia. Simply put, Longing has you longing for more.