NORMANDIE WILSON: Geography and Other Problems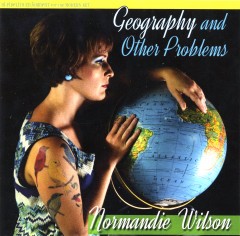 Normandie Wilson is a lounge singer who writes songs in the mold of the Brill Building, Carole King, and Burt Bacharach — pop confections that are about emotions, and built on her piano playing. The local artist has released two previous EPs and two CDs since 2010, the most recent with vocals At the Heart of Staying in Love from 2012. Her latest one is Geography and Other Problems, a collection of 10 songs, some recorded locally and others in Sweden.
From the first tune it is apparent that Wilson has a gift for capturing a soft, catchy hook and that her piano playing is fluid and lyrical. That said, the production on the four tracks recorded with Swedish musicians tends to bury her somewhat smallish voice in the mix, pitting her in a sometimes losing battle with her own piano or the rhythm section for prominence. On other tracks with less ornate arrangements — often just piano — this isn't a problem.
"Don't Use My Words Against Me" gets things off to a good start, with a lively keyboard/sax riff flowing with a free, jazzy feel while Wilson sings, "You started a reaction that's hard to ignore, Oh please don't let me fall to the floor." She can write a good lyric, and all are printed in the liner notes. The album is fleshed out with two , placed in the first four tracks for some reason: "Cold Rain, Malmo" gives the cats in the Malmo, Sweden studio, especially sax man Karl Hjalmar Nyberg, a chance to flash their oats. "Meanwhile" is a sharp duet with Rasmus Olsson, good enough to overcome his verse being sung in Swedish and a too-quick ending to be a disc highlight.
It's just Wilson and her keyboard for "A Lack of You," and the combination works well. She is able to accomplish some vocal nuances and inject some of her personality into the song, which has a definite Bacharach vibe. The same setup again clicks on "Your Nights, My Days," as she makes the most of the uncluttered arrangement, singing about her trepidation at a breakup, "I count to ten on both hands and back again/ And think of how deep I'm in." "Before I Go" is an interesting song, starting as the most interesting instrumental on the disc with Wilson playing vibes to a surging percussion wave, bringing in Juan Lopez on trumpet and other horns as it builds-then, at almost three minutes, she sings a quick verse over the top, "Before I go, please won't you hold me? Don't let me go." A big arrangement anchors the final track, "Stop My Heart," at five minutes the magnum opus here and another standout. It takes a page from numerous Bacharach tunes with a small piano/vocal opening that builds, adding catchy melody as guitar, drums, and the rest of the wall of sound join in for the rousing chorus at the end, sort of like "Close to You."
Normandie Wilson's Geography and Other Problems has much to offer for fans of female pop vocalists.