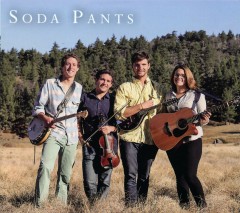 In 2012, four UCSD student/musicians decided to join up for a battle of the bands and Soda Pants was born. Since then, the alt-folk rock band has been surprise winners of San Diego Music Awards' Best New Artist for 2013, landed spots on West Coast tours, and raised enough Kickstarter cash to record an eponymous debut album (which also just got an SDMA nod). Not a bad start.
The Pants are Erin Bower (bass, acoustic guitar), Will Chapman (acoustic guitar, drums), Grady Kestler (violin, viola, acoustic and electric guitar, mandolin), and Mike Sierks (acoustic guitar, banjo, clarinet, harmonica). All sing and share in the songwriting, and the 11-song disc of close harmony, mostly acoustic music was crisply recorded by local producer Jeff Berkley, who managed to capture some of the unique mix of smooth and rustic heard on his discs with Berkley Hart.
The first notes from the first track serve notice: this is vibrant and ear-catching stuff, as "All I Can Say" starts with an arresting a cappella, three-part harmony verse. "Seattle" shows instrumental inventiveness, as clarinet joins guitar figures in the quirky melody, as the singers hamonize "Once again I lost you, it was somewhere near the Great Divide/ Coyotes running wild, casting shadows on the mountainside." Bower's great pipes are a key to the sound, both in the many harmonies with the male singers and as lead vocalist.
The band does bluegrass-inspired music well, as "Mary" has clapping, "Oohs" called out after the choruses as briskly picked banjo and guitar lead the way. "Coyotes" is a standout track, with floating backing vocals and a haunting fiddle/harp figure laying down a droning groove under Bower's lyrical story of a broken lives in the back country. The level stays high for "It's Not Fair," as Kestler sings lead, joined by Bower, then three-part, then a crescendo that becomes an accelerated instrumental coda. "To Whom It May Concern" finds Bower giving a stellar solo vocal on the jazziest song on the disc, "Don't come back here with your changed mind/ 'Cause I've changed my mind about you."
The only track that misfires is "Walken," with Bower singing a rather uninspired and conventional sounding pop ballad. Much better is "Brother's Love," co-written by Tyler Schultz, starting as a slow, contemplative song, then using viola and a three-part cloud to elevate, building to a wall of acoustic sound that fills the room, another highlight. The single is "Amarillo," like "Mary" another tune with some hill music pedigree. It's a toe-tapping, clapping banjo and fiddle jamboree about a straying, unrepentant man who was "Unfaithful, in Amarillo, on satin pillows… fell in love with a dancin' girl and I spent our money on diamonds and pearls." It is fun, infectious, and catchy — like just about everything on this disc.
Soda Pants shows what the fuss is all about. The new local Americana success story has recorded a disc that is fully up to expectations and may even exceed them.