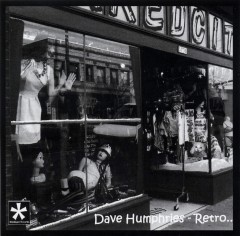 Aye, that's a lovely chune…
By now there must be hundreds of singer-songwriters calling San Diego home, which is both understandable and ironic. When faced with a choice between constant inclement weather in your native homeland and the sunny climes of San Diego, millions have been seduced by our fair city's eco system. The irony lies, however, in the fact that those sunny skies also keep people out of doors in social situations where it is a challenge to experience culture beyond the lapping waves of the beach and the boardwalk.
Thankfully, a bit of British culture has made its way to these shores in the guise of Mr. Dave Humphries. Originally from the northeastern city of Durham, Humphries has called San Diego home for 18 years, and the musical evidence of his transplanted friendships is well represented by his current CD Retro, featuring the talents of many notable locals, including bassist Hector Penalosa (of the Zeros and Baja Bugs), multi-instrumentalist Mike Kamoo (drummer with the Loons), and German ex-pat keyboardist Wolfgang Grasekamp.
Retro pulls together 11 tracks from Humphries two previous CDs, with seven tracks from 2008's and so it goes…, and four tracks from 2010's Hocus Pocus on Joker Lane. Rarely will an anthology draw upon a mere two sources for its material (Harry Nilsson's Aerial Pandemonium Ballet being a notable exception), but the results do add up to a fantastically flowing musical experience, trumping the context of the original LPs.
Humphries has a gift for melody and his debt to Paul McCartney as a source of inspiration is more than apparent. "Run Away for the Day" and "Daniella" are breezy fun, capable of inducing an instant sing-along with an old friend who unexpectedly shows up at your doorstep. Speaking of friendship, the joys of making "Music in a Friend's House" and the emotional dislocation of what happens when you "Lose a Friend" are chief among Humphries' concerns. On Retro it is achingly clear that there are few things more important than the camaraderie of your mates, and Humphries' muse insists on supporting your friends in every situation — regardless of the weather.
The sequencing is fun and effective, starting off with the angsty energy of "Why?" and maneuvering through a series of stylistic moodscapes that take in all manner of pensive playfulness. It must be noted that three of the tracks on Retro feature the lyrical guitar work of the late, great Tony Sheridan and his fills on the ultimate track, "38 Days," is a fitting reminder of the man's formidable talents beyond the long shadow that his Hamburg association with the Beatles cast over his entire career.
Dave Humphries is the true British Invasion. Here's hoping that Retro is merely a stopgap measure and that he applies himself to the task of crafting another set of originals before 2014 becomes history. For someone who values friendship so highly, it would be extremely unneighborly of him to sequester all of that talent. Cheers!