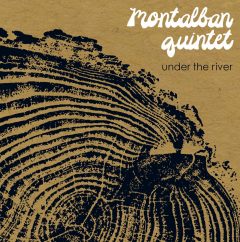 The new disc from Montalban Quintet is Under the River, and the six tunes are extended, primarily instrumental workouts that travel a path that skirts jazz, instrumental rock, and the more hypnotic side of modern cinematic orchestral music. It is inventive, different, and involving.
The quintet has eight members, mainly from other established bands. Most of the original music was written by drummer Chris Prescott, who did a great job recording; prominent in the sound are trumpet by Carl Prescott and Jim Weiss' sax playing. The songs find and work grooves, averaging over six minutes, riding surging hooks of bass, guitar, and keys with horns charging in and out. The title tune lays down an almost drone riff that the drums and trumpet use as a launching pad, soon joined by organ and other instruments, setting an ebb-and-flow tone. "Swamis" is next on the North County-produced disc–its piano lick and engaging melody provide Weiss chances for flashy soloing, but the strength throughout is the solid ensemble feel as multiple instruments come together to build, simmer, and fly.
Vocalist Julie Kitterman helps turn "Kisses" into something truly special, a haunting, beautiful, and melancholy dance between keys, echoes, and her vocal–until perfect counterpoint trumpet statements are heard, morphing into a slow march with chorus vocals interwoven with horns-only to return to the quiet beginnings. "Dank" has a pounding brush with near funk, and "Tahoe" wraps the set, another memorable melody locking in the listener in a musical spell, softer with violin and piano undercurrents, and repeated ethereal vocal chants underneath the trumpet and sax conversations.
Under the River is the kind of album that will collect awards, a great intro to the Montalban Quintet.