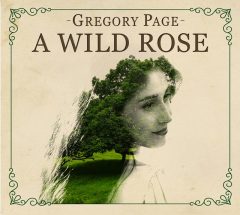 Gregory Page's website contains an interesting note, that the British-born singer/songwriter is an Irish citizen who has never set foot on the Emerald Isle. He has been just about everywhere else, playing his eclectic music and releasing dozens of albums for over three decades. A Wild Rose is his latest, and this project is another example of his endearing ability to draw from a variety of sources and styles to personalize songs that connect with the listeners.
The studio crew is an all-star team of local roots musicians: a partial list includes Doug Pettibone, Steve Peavey, Bob Sale, Rick Nash, Sky Ladd, and Dennis Caplinger; the production on 11 originals is by Jeff Berkeley and Robbie Robinson, and, as usual, it's like putting the listener in the studio. The songs cover a lot of ground, from soft folkie stuff to country ballads, and nothing seems to miss the mark; the Irish edge on several tracks added by Eric Rigler's Uilleann pipes are an added treat.
"I'm Alive" opens, and it kicks the level up a notch right away. "I sing like hell every show; I'm a welcome guest, but I'm never home." Page wants the listener to know that he is here to raise the roof a bit, and the pipes help carry that message; this song has an Irish dance vibe that won't quit, stirring up the blood as well. The pipes lead in the followup, "A Wild Rose," which has a softer and sublime melody about love being a wild rose, embodied in an unforgettable black Irish woman. The instruments and harmonies join in after a gentle intro verse for a jamboree of Celtic joy, sustained until the time comes to settle for a soft last few moments. It is the disc highlight.
Page even does a soft rock number, almost, on "Waiting for the Sun Again," zipping along, about a couple taking a break from each other and resolving to improve their lives with others. "I Say Adios" is a country ballad, also about a breakup, "kiss my tail lights 'cause I'm really gone." He's got his guitar, and her cat, and the pedal steel guitars tell the sad story from there.
"Dreams Come to the Rescue" has more of the Irish charm, thanks to Caplinger's violin and Rigler's penny whistle, turning Page's autobiographical piece about life's ups and downs into another ear-catcher. Soaring pedal steel accents lift "The Trouble With You Is Me," as Page sings a mid-tempo story about a crumbling relationship. Another introspective, arresting folk song that clicks is "A Funny Trick," which concerns the passage of time and how it can steal life, and affect memories and other moments. It is a late program highlight that almost gets lost in the shuffle of a program with no real soft spots.
In a world gone bonkers, Page wraps this set with a song that is almost like a hymn: "Love's Stronger than Hatred." He addresses the cellphone zombies, those who do nothing but complain, while focusing on the small acts of kindness, and asking for unity. A good start.