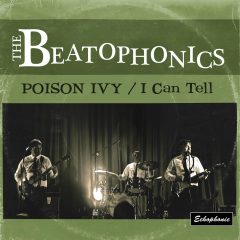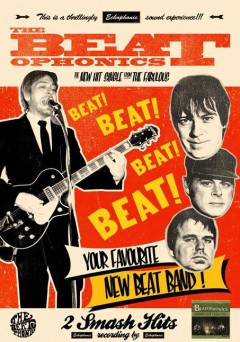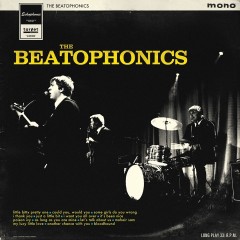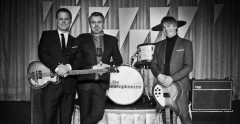 This month we have a conversation with guitarist Soren Koch of Denmark's Beatophonics plus a few reviews to round out the proceedings.
A common complaint these days, is that the music of today isn't like the music in the "good old days." There isn't anything to compare to (fill in your favorite). Of course that couldn't be further from the truth. True chart contenders are a different breed this year, as they are every. But for a music fan that wants to investigate only a little deeper, there is a wealth of cool stuff happening, original music that takes a nod from an influence. Love funk circa 1974? There are bands out there that specialize. And so it is across the board. Meanwhile fans of Beatles inspired music have a great selection of bands, with a strong contender, Denmark's Beatophonics, set to release their debut album this month.
The Beatophonics consist of, Søren Koch: Lead vocals and guitars, Rasmus Schrøder; bass and vocals, Flemming Koch: Drums, vocals. All are involved in the songwriting process.
The band was formed in autumn 2010. "The three of us were all in the leading Danish Beatles tribute band — Beat the Meetles, which I'm still a part of," explained Koch (vocals, guitar).
"That band has been going for 21 years now. (Anyway), Beat The Meetles was going to do an reenactment version of The Beatles' only show here in Denmark (June, 4th, 1964). To compensate for this show's short running time (25 minutes), the three of us decided to open the concert with a set of songs that was played by the three Danish '60s bands that originally supported the Beatles at this very show, and so put together 45 minutes of rather obscure '60s stuff that we knew was on these bands set list around that time."
The trio enjoyed the freedom of performing this material without having to strictly sound exactly like the original version, as is the situation with the Beatles tribute band, instead performing like they were a fictitious '60s era band. "Personally, I found this gave me the freedom to use years of accumulated knowledge on 60s beat/pop/rock history, based on a rather wide collection of '60s beat records that I've collected for years and combine this with a personal input within the theme of being this fictitious 60s band."
Around this time Koch developed an affinity for the late English rocksinger Johnny Kidd's backing band, The Pirates. They were, like The Beatophonics, a trio and probably one of rock history's very first to use the "strength" of having only one guitarist, Mick Green who, with his rhythmic, chopping style, invented a certain style of playing that combined the lick of the lead player with the chord based soloing, to compensate for the missing rhythm guitarist. That was the main inspiration of not forming a quartet," he said.
The Beatophonics began getting gigs around Denmark, all the while honing their craft. At the same time Koch spent a couple of years as bassist with the band the Damn Crystals, backing band for Danish singer Tim Christensen, but by 2012 it was time to concentrate on the Beatophonics. They were to have an amazing bit of luck let them klnow they were on the right track.
"In November 2012 we started thinking about releasing a 45 RPM record," Koch recalled. "(So we) recorded two tracks for the debut single. At the same time, while doing a 50s/60s show at the Vega, Copenhagen, a producer from a Danish TV station heard us and afterwards asked us to do one of our songs from the show in a 60s themed TV program." The particular song that she heard and wanted the band to do on TV was the Leiber/Stoller-written classic "Poison Ivy" which, by coincidence, they had just recorded and intended for the debut single. "We were told we were going to be "the young act" in a line up of original Danish 60s artists, which we thought was pretty cool. While doing the TV show, the producers had decided to put the song on as the newbie for their chart list, which they didn't inform us about beforehand."
The TV show was prerecorded and wasn't going to be transmitted until May 2013, "which gave us time to complete the mix and mastering, as well as press the actual record for release at the same time as the TV show was aired." The Beatophonics 45 single of "Poison Ivy" b/w "I Can Tell" went straight to no. 2 on the shows hit list. The week after it was no. 1." The success of the single meant some airplay and lots of gigs, "which made us a stronger band. We soon started working on recording an album. The inspiration was the early British beat group albums from the likes of The Beatles, The Hollies, The Rolling Stones, The Animals and so on. These often includes original songs mixed with takes on obscure American material and so we decided to make an album like it was late 1963/early 1964 and containing original songs written with this sound and style in mind and mix it we personal versions of obscure beat songs that we took from our live set — much like for instance the first Beatles LP — "Please Please Me". Due to a busy tour schedule, it took the band quite some to get the album done and so it wasn't released until May 11th, 2015.
According to Koch, being closely aligned with a look and sound — the early 1960's – has only had a positive impact. "The whole internet thing has changed the music business a lot. We've had only positive reviews of this very 60s inspired album," Koch said. "I'm sure we would have been slaughtered and been considered "cheesy retro stuff" if we had released the album twenty years ago. It seems ok now to dig deep down into something, like a particular genre or a particular way of playing." He notes that these days it's much easier to reach an audience with a niche product like this. "With all the entertainment possibilities in our everyday lives and the way things changes very fast, it seems like people are very fascinated by people that take their time, go into details with stuff and work with dedication. I certainly don't mind if people see me or The Beatophonics as "nerds" — we take this as a positive thing. That people actually realize that we are dedicated to what we do."
He pauses to reflect. "Yeah, the '60s and the fabs in particular, have certainly meant a lot to us," Koch continued. "We are all big fans. No, it hasn't been a hindrance to us. I know a lot of artists feel a bit embarrassed by being compared to the holy grail of pop music and might not feel one's worthy. And certainly, I would never consider us up there with The Beatles. I think we are doing fine, actually quite good, to be honest, but the songwriting talent of the Fabs is a whole different league, But we are certainly not going to deny that we are big fans and very inspired by the Fabs and the 60s beat in general. To me, the Fabs have always been there. I grew up with my mum's collection of Beatles 45s and her gramophone as my favorite toy." Koch notes some of his other influences from the era. "I've known the A Hard Day's Night album my whole life, so the whole Beatles thing has become like a part of my grounding. Though I still listen to it a lot, I'm also very fascinated with lots of other bands and count The Zombies' Odyssey & Oracle album as one of my all time favorites. Graham Nash-era Hollies is another main inspiration. The songwriting was brilliant, and they were a crazy well playing and singing band. The Easybeats, the Small Faces, the Roulettes, the Action, the Smoke — some of the more obscure bands from before the Hippie movement turned it all around," he remarked good naturedly.
For the last couple of years the band has performed around 25-30 gigs a year, but things will likely escalate with the release of the new album. After being a sideman for many years, Koch is happy to be in charge with the Beatophonics. "It's a very positive feeling to be doing my own stuff and fronting my own band again," he said. " I always thought that being part of a band was the ultimate thing. To be in charge and be my own boss along with my two best mates is a fantastic feeling. Writing and playing what we really enjoy most, recording it the way we think this should sound at my own studio and releasing it at our own label. It's so much fun, such a joy — and people, other than ourselves, even seem to like what we are doing," he said.
REVIEWS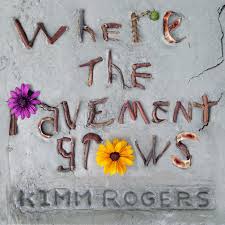 Kimm Rogers — Where the Pavement Grows (self released)
It's been several decades since Kimm Rogers released an album — bottom line? Where The Pavement Grows, has been worth the wait. The ten tracks here start in singer-songwriter mode with "Rain," before hitting the first of several songs her e that would make great singles, "Twenty Three," which deals with aging ,through a terrific, driving, near powerpop tune that feels like a natural progression from Rogers wonderful early '90s albums on Island Records.
What makes the album special is the varying rhythms and textures of the songs, the intricacy of the arrangements and the sonic playfulness, just one example of which is the sound squiggle at :54 in, the second of three potential singles, "Change." For me the best tune here, though, is "Valentine's Day," a melancholy, mid-tempo, piano and band song that is perfect pop, not a note out of place or wasted and a spot of lyrical genius in the twist on cliché in the chorus. It's pure hook, built on a slightly loping, funky beat, the song is perfectly balanced by a biting guitar solo — indeed, someone get this song to Santana asap and you've got a top ten smash. This works on every level, an excellent bridge, the musician ship is top flight and with the production, reminds me of the best of classic seventies albums. Producer Julian Coryell has crafted a real gem here, with guitars that shimmer, nice Hammond work and Rogers voice full of emotion and wistful at the same time. That it's topped by really, really, good lyrics is just adding to an embarrassment of riches.
While not everything on Where the Pavement Grows reaches these heights, the whole album is well worth hearing and clearly shows that Rogers musical talents remain as strong as ever. Hopefully this is just the opening salvo in a musical renaissance for Rogers — welcome back.
For fans of Natalie Merchant, Syd Straw, Carole King
Produced & Recorded by Julian Coryell at West Triad Studios, Venice, Ca. www.kimmrogers.com
Pharmacy — Wrack and Roll (Self Released)
12 tracks and right off I have to say this isn't for everyone. Not a lot of polish on Wrack and Roll. The sound is tough and gritty, a bit on the primitive side and overdriven, so yeah, it's garage rock. Which is why, if you're a fan of said genre, it works. And there are some fun songs here. Within that garage rock umbrella , Pharmacy casts a wide net, such as on one of the best songs, hard rock riffing opener, "Bastards In Arms," while on several other tracks the band pretty much nails the sound and attitude of classic early West Coast Punk, a connection made clear by the inclusion on the album of a well done version of the Zero's classic, "Don't Push Me Around. " Not all of the songs are as strong. Some of the tunes here sound sonically different than their surrounding songs, quirky rocker "Dreams" in particular comes across more demo-ish and lacks the atmosphere of some of the other tracks. A minor quibble, this is rock from the soul and a more dedicated bunch you'd be hard pressed to find. MVP to Jonny Vee for ace fretwork.
Produced by Jayden Fullerton (also engineered) and Jonny Vee (also mixed). http://indiemusicpeople.com/Artist.aspx?ID=147310