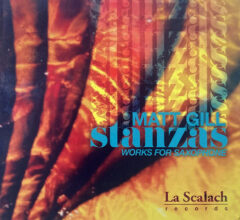 In Troubadourland it's an open secret that many of the CDs I review are made by folks I've had some association or friendship with, sometimes for years. That being said, this is the first time that I will review a disk by a bandmate of mine. Matt Gill and I have been in the Zzymzzy Quartet for over ten years.
So, I assure you, dear reader, that I will not let that relationship to cloud my judgment when it comes to this CD by Matt Gill. I swear (NOTE: I am typing this with my left hand, while my right hand is placed on a stack of Bibles.) that I will perform my duties as a music critic to the utmost of my abilities. Now, onward in these endeavors of music journalism.
A graduate of Oberlin Conservatory of Music, Matt Gill has been a noted San Diego performer and music educator for decades. If you have enjoyed live theatre in town, you have probably heard him as part of the pit orchestra for shows ranging from Smokey Joe's Café to West Side Story. He is probably best known for being one fourth of the Zzymzzy Quartet, playing clarinet in a band that draws much of its inspiration from Django Reinhardt.
Covid-19 completely shut down musical performances over the entire globe. Gigs dried up. While many others occupied their free time by twiddling their thumbs or binge watching Mad Men, Gill took the opportunity to record some of the music that he has composed over the last 25 years or so. The result is Stanzas: Works for Saxophones, a disk that is a delight from beginning to end. All of the compositions are, at times, restive, meditative, and playful. Even after listening to the music several times over, there was always something new to be heard.
After the contrabass violin, the most beautiful instrument in the world is the bass saxophone, and Gill opens the CD with "Five Songs for Bass Saxophone." The music displays all that the bass saxophone is capable of, from boldness and humor to being serenely gentle. Jay C. Easton does an exceptional job of performing on the very large instrument.
Gill features himself in one jazz quartet setting. As a jazz performer, Gill is an acolyte of Phil Woods, the soprano saxophonist who was dubbed "Little Bird" after the death of the be-bop giant Charlie (Bird) Parker. The tune "All the Mind's Shopkeepers," is a bit reminiscent of what the ECM crowd was doing in their heyday and is the one bit of music that you'll wind up humming after hearing the disk.
"Suite for Soprano Saxophone and Piano" and "Stanzas for Saxophone Quartet" are charming compositions, both of which comprise short movements—from just over two minutes down to 32 seconds. These compact bits of music contain a surprising amount of wit. It is as though Gill wanted to quickly grab his listeners by the ears, toss them around briefly, then leave them for the next joy ride.
Possibly the most intriguing offering on this disk is "Jazz Songs," duets for contrabass saxophone and electric guitar. Gill masterfully weaves the heavy and huge sound of the contrabass sax, an instrument so huge that it dwarfs its player, with the guitar, which can at times sound bell-like or resemble a harpsichord. Easton brings out all the sonorous beauty of the unwieldy wind instrument, matched by Jimmy Patton's execution on the electric guitar.
As he opened the disk with solo bass sax, Gill closes the recording with a composition for solo alto saxophone, giving a lighter feel to the final offering.
Though most of the movements of the music are short, there is a respectable amount of music on this CD, over 40 minutes. All the musicians, which included sax men Ian Tordella and Bradley Nash, rose to the occasion. The engineering and all the recording studio gizmo stuff were performed to a fare-thee-well.
Stanzas is a remarkable and overwhelming recording. I usually listen to a CD two or three times before I review it. In this case, I couldn't help myself from playing this disk again and again. Throughout all the music there is a great feeling of joy. Classical saxophone music may not be your thing, but if you are any sort of music lover, I highly recommend to you Stanzas. As it did with me, listening to it will make you very happy.