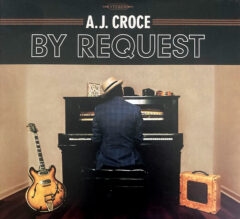 A. J. Croce, who will turn 50 this year, has been performing since the age of 12. He has also been releasing music for a long time, with 10 releases to his credit. Like the artwork in his new CD he says, "I've spent the last 30 years of my life on tour and in recording studios." Headquartered in Nashville, he has been a prolific songwriter and has also worked with some of the best musicians in the country's heartland. The story doesn't end there, Croce is a multi-instrumentalist who plays various keyboard instruments, acoustic and electric guitar, and complements his playing with an endearing vocal presence that on many tracks sounds variously as if it were lifted from old-school R&B, classic rock, smokey blues night clubs, and AM radio from the '60s and '70s.
On his newest album, By Request, the listener is in for a treat as Croce has recorded 12 covers of songs that are his personal favorites, sourced from country, blues, and soul, played by a crack crew of Nashville studio cats. These are songs that everyone probably knows, and the versions are wonderfully arranged and played by a rocking band that includes full horns and backing vocalists. It has something for everyone.
"Nothing from Nothing" kicks matters off, the 1974 Billy Preston radio hit, and it is pounded home in a version that positively kicks ass due to Croce's solid piano playing and the horn section. Preston was no slouch on the ivories, but Croce burns through this minor classic with an energetic strut. Moving from R&B straight into a country ballad, "Only Love Can Break Your Heart" gives the Neil Young ballad a new life with gospel backing singers and keyboard strings. It serves to remind how great this song and others from Young's early career are.
Randy Newman's "Have You Seen My Baby" is full-bore rock 'n' roll, and has the fiercest groove on the program, again boosted by the horns and the Croce's hammering piano. "Better Day," an old Brownie McGhee country blues tune, is made special by the additions of guitarist Robben Ford; it's a shuffle that ends too soon. The unmistakable raw and raunchy Ron Wood intro for the Faces's "Stay With Me" adds yet another highlight—on this one Croce gives a hoarse and powerful vocal that Rod Stewart would approve of.
Allen Toussant's "Brick Yard Blues" makes the listener want to dig out their old, rarely played Three Dog Night albums; "San Diego Serenade" is given a great reading—like "Stay" it retains a roughness in Croce's vox, a small dose of writer Tom Waits' own gravelly tone as Croce is a singing chameleon once again. Even the Beach Boys get a cover, for those who consider a Van Dyke Parks song sung by Blondie Chaplin, "Sail on Sailor" from 1972's Holland still has the interesting lyrical story, and this reading of it has sharp piano-led instrumentation by Croce. It gives it a dimension lacking in the original, when Brian Wilson missed the session and brother Carl's keys are largely buried in the mix. And it serves as yet another example of Croce's talent for selecting classics and putting his own mark on them on By Request.