Local Musician Translates his Joy of Cooking into a Cookbook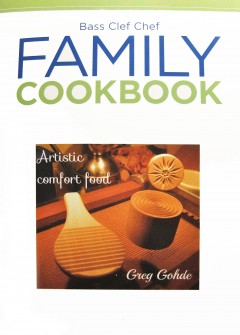 "This tastes really big!"
"Yeah, it's really good!"
These were the exclamations shared by my wife and me upon our first taste of the black bean soup made from a recipe in the The Bass Clef Chef Family Cookbook, a creation of Classic Bows proprietor and bassist Greg Gohde. Besides his love of music, Gohde is a gourmand and home-style chef, and in this family cookbook he has collected some of his favorite home recipes, ones that he has worked on and honed for years. If the two recipes that I tried are any indication of what the rest of the book holds, all those who pick up a copy of this sweet little book — just under 100 pages — should have some delightful taste treats in their future.
If you spend a lot of time in the kitchen, having at least one large encyclopedic cookbook, such as The Joy of Cooking, is a must. These compendiums are filled with the old standby recipes that all cooks rely on. The books that I favor, however, are the ones that are from chefs who have a particular passion for certain foods. Famously, Madhur Jaffrey, the Bollywood actress, took her family and ethnic heritage to create the stellar World of the East vegetarian cookbook. Evelyn Slomon did the same with The Pizza Book, and Nancy Zaslavsky did the same with her Mexican cookbook. These books are filled with pride and love of good food. Greg Gohde's cookbook should be included with these other books. All the recipes in The Bass Clef Chef Family Cookbook are ones that Gohde learned from family or, like a mushroom soup included in this book, he cooked up, literally and figuratively on his own.
The results, as described above, for the black bean soup were astounding. It was quite easy and quick to prepare. I appreciated that Gohde starts with dried black beans instead of canned beans, which is more affordable and commonsensical. The strong tastes of the eight cloves of garlic and the cilantro in the recipe work together to create a large, pleasant umami-filled treat. The consistency of the soup is pleasant, having body but not being too thick. I served it as a simple summer dinner with a French baguette from Bread & Cie (always use the best!) and a large salad with homemade vinaigrette dressing.
Before going further, let me say that I use cookbooks a lot. My wife and I have an entire bookcase of them. And I regularly check out cookbooks from the library to find recipes that intrigue me. I've recently tried two new dishes: a continental lamb stew and a Sri Lankan fried rice dish.
The rule I follow when I try a new recipe is to use the ingredients as specified. If a recipe calls for a pound and a half of kohlrabi, I get a pound and a half of kohlrabi. The same goes for spices. Also, I follow the directions as closely as possible, sautéing, simmering, and slicing everything as instructed. Now, that being said, I allow myself substitutions sometimes for convenience sake and if the substitution does not significantly alter the recipe. If the ingredients include a rutabaga and I can't get a hold of one, I'll use a turnip.
I tried one of Gohde's pasta dishes, Pasta alla Norma, which is built around eggplant. This dish calls for 12 ounces of Italian passata, an Italian tomato sauce. As a trip to Little Italy was inconvenient, I substituted tomato puree. Making this dish was easy and fun. I enjoyed sautéing the eggplant and chopping the kalamata olives. The grated pecorino, which really makes this dish, was not listed in the ingredients and thus did not have the amount of the cheese that was to be added to the dish. Using the accompanying photograph as a guide, I added "this much" of the cheese.
The pasta was delightful. The sauce reminded me of some of the home cooking from my Italian neighbors when I was growing up, and the eggplant enlarged the flavor nicely. I served the pasta with vegetarian sausage, a salad with a simple homemade vinaigrette, a French baguette from Bread & Cie, and cheap red wine from Trader Joe's. Dinner was fine. As to the ingredient oversight, these things happen all the time in cookbooks. That is why, no matter which cookbook you're using, always read the whole recipe, ingredients. and instructions all the way through before you start cooking.
Besides pasta and soups, Gohde includes recipes for rice dishes, vegetables, seafood, pizza, and side dishes. The high quality coil binding lets this cookbook lie flat on the kitchen counter. I also liked that Gohde keeps it to one recipe per page. Using other cookbooks, I guess we've all made the mistake of starting out making chicken cacciatore and winding up finishing with chicken Kiev. The photographs Gohde includes give a good idea of the appearance of the final results of your time in the kitchen. If you like to cook and you like food, The Bass Clef Chef Family Cookbook will make a tasty addition to your cookbook collection.
Available for $20 at Classic Bows Violin Shop, 2721 Adams Ave., San Diego 92116. Also available by mail order $24 post paid.