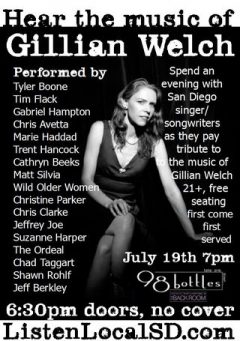 For those of you living under a rock, Cathryn Beeks is a local music promoter who, since 2003, has worked tirelessly to bring San Diego artists together for celebrations of community and music through her organization Listen Local SD. One particularly cool event at one particularly cool venue will take place this Friday, July 19th at 98 Bottles in Little Italy, where 17+ local musicians will gather to pay tribute to the music of Gillian Welch.
For those of you living under an even bigger rock, Gillian Welch is a lauded American songwriter who has been performing and recording professionally with her musical partner David Rawlings since the early 90's. Â She has released five albums under her name, some which feature widely-acclaimed tracks like "Orphan Girl" and "Time (The Revelator)." Welch's music is rooted in a familiar old-timey Americana/folk tradition but finds its own unique identity via dark tones, sharp lyrics, and haunting vocals.
It will be exciting to see how the many talented musicans of San Diego will interpret Welch's trademark style this Friday. The lineup includes local talents such us Chris Avetta, Marie Haddad, Chris Clarke, Jeffrey Joe, Shawn Rohlf, Jeff Berkley and many more! I highly encourage folks who might not be familiar with the local music scene, or with the music of Gillian Welch, to get out from under that rock and experience one of Beeks' famous all-you-can-hear music buffets! The best part? It's free!
98 Bottles – 2400 Kattner Blvd. Show starts at 6:30pm. No Cover. More info can be found at www.listenlocalsd.com