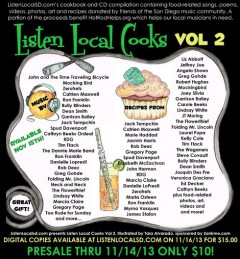 Musical do-gooder Cathryn Beeks has been working hard in preparation for the digital release of her music compilation/cookbook called "Listen Local Cooks Vol. 2" on November 15th at The Go Lounge in La Mesa.
The 75 page cookbook includes art, photos, poems and stories from friends of the San Diego music community. It will be $15 for 1 download code or $20 for two. Each download code will come affixed to the CD compilation from Listen Local Cooks Vol 1 which was produced in November of 2006.
A portion of the proceeds from each sale will be donated to HotRodHelps.org, an organization that ListenLocalsd.com is proud to be part of.  The idea behind the organization is simple: to carry on the legacy and memory of San Diego's Hot Rod Harris by helping musicians in need. Hot Rod was a generous man even at times when he couldn't afford to be. He would give the shirt off his back to ensure a musician could get to their next gig, practice their craft or record their music. He was the first to offer a welcoming smile or hug if need be.
In his spirit of joy and generosity, HotRodHelps.org plans to carry on his legacy. The fund has been set-up to offer small gifts of support to musicians in need. Please visit the website for more information.
From now until November 15th you can purchase download codes for only $10, two for $15 or four for $20.00 by visiting ListenLocalsd.com.