A few months ago, driving down Broadway in El Cajon, Garrett Wear had the vision to bring back the vintage venue that once was the world headquarters for Western Swing: the Bostonia Ballroom, Grand Ole Opry of the Southwest. He shared his idea with producers Christopher Burkhart of Stellar Shows and Rosalea of Wicked Harem Productions. This is what they decided to do to bring it back to life!
Revival of the Bostonia Ballroom
During the 1940s, '50s, and through the '60s, more than half a century ago, the original Bostonia Ballroom was THE hot spot for western swing music in El Cajon, where some of the greatest names in country western music came to play.
On regular rotation were touring acts, such as Bob Wills, Patsy Cline, and Ray Price. Celebrities included Hank Williams, Johnny Cash, Merle Travis, and Willie Nelson. Lefty Frizzell, Spade Cooley, and Carl Perkins were among many top artists to play the storied venue during the golden years of California's country music scene. Hundreds of bands performed nearly every day for decades, with as many as 1,500 patrons in attendance.
With that history in mind, the producers are re-creating the vintage Bostonia vibe and adding an outdoor festival as well.
With three hot bands performing all evening and a sizable dance floor, the Bostonia Ballroom will be swinging once again.
Take a look at this salutary musical lineup!
Deke Dickerson's All-Star Western Swing Band: The legendary Scotty Broyles on mandolin, Dave Stuckey of the Lucky Stars on drums, Brent Harding from Social Distortion on bass, famed picker Tommy Harkenrider on rhythm guitar, fiddler Benny Bryden and Lucky Stars pedal steel sensation Rusty Blake, playing Speedy West's original Bigsby instrument.
Multi-instrumentalists Mitch Polzak & the Royal Deuces bring their original rockabilly, bluegrass, and country swing to the Bostonia from the Bay area.
Rounding out the legendary venue stage are dance hall doctors West Of Texas, playing numbers from their new album Heartache, Hangovers and Honky Tonks.
Between sets, San Diego performer Jill Mercy, known as "The One Woman Rodeo," will dazzle the audience with her signature blend of burlesque and classic country & western dancing.  DJ Garrett Wear will play vintage 78 RPM vinyl before, during and after the live shows.
The Revival also features a free festival in the massive parking lot outside the Bostonia.
Highlights include Chief Bob Wallace of the Barona Reservation performing the Ceremonial Drum Blessing, and The Sea Monks band filling the open air festival air with the sounds of vintage country, rockabilly, and honky tonk music.
There will be a museum of sorts, displaying photos and memorabilia that were donated for this event from various sources, highlighting many of the performers, such as Smokey Rogers, one of the owner's daily TV show, broadcast from the Bostonia in early 1950, and "Cactus" Soldi, the connection to Valley Music and Mickey Whalen, the original owner.
Sadly, since the start of this project, the property has been sold. The new owners will take possession on January 1, 2022. This may very well be the last event under the Bostonia Ballroom name. We will still have the history, but the iconic venue will be lost.
If you have a story or a memory about the ballroom, please share it on the Bostonia Ballroom Facebook page, where there are already hundreds of posts. You can also view videos of those who have played at the ballroom as well as lots of shared personal memories and conversations.
Rob Harty, a member of the El Cajon Historical Society wrote: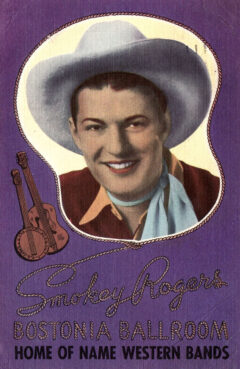 Who would have thought that in 1923, when President Coolidge rang the bell for the Pacific Milestone Marker from Washington D.C., that in just a little over 20 years the li'l Bostonia Dance Hall would be the Grand Ole Opry of the West Coast. The ballroom across the street from the Bostonian Union Auto Court on the Old National Trails Highway would have had the top country music stars from all over the U.S here. They could have never imagined it. Even the new country twang that was rolling out would take the world by storm. To this day, Europe, especially France, has western bars and a whole bunch of groupies who go to these venues and dance, because they love born-and-bred-in-America, country western music !!
When top stars were the first to pile into the Bostonia to play, they knew it as the town of Bostonia until El Cajon annexed it in 1953. Then, the little 50-year-old dance hall seriously put El Cajon on the map in a big way!!! Every top artist of the era knew the place and hoped that someday they could play in it—meaning they had finally made it big. All of a sudden, the old motels up and down Old Highway 80 had the most talented bands they had ever seen—tuning their instruments, smoking Lucky Strikes, and practicing inside those walls!! The famous buses were also stopping at Valley Music on the Old Highway 80, arriving into town to pick up strings, picks, and anything they needed. Can you picture the epic songwriters of yesteryear? The Bostonia Ballroom has quite a colorful past in this building, the place where all the Midwestern sailors wanted to go, so they rode buses in from the 32nd Street Naval Base and got girls to dance with them.
Smokey Rogers had a three-hour children's show, filmed inside the ballroom, every day! The history of the Bostonia Ballroom has so many facets to it, something that was bigger than we could ever understand in our Country Western music culture was happening. It was right there, along modern-day 2nd Street, a diamond hidden in our area. Just look around at the old arched joist roof that all the dance halls had back then, and imagine that wonderful era of Nudie suits, scarves, and music that this country created. If you want to see and feel it, you may have your last chance on Saturday, October 23rd. you'd better get on down here and catch the show, which is as close as you can get as a venue of the same era. We can relive it one last time.
A few words from Deke Dickerson
Back in the glory days of live country music, Los Angeles had the Palomino, and El Cajon had the Bostonia Ballroom. It's difficult to fathom how important the place was, looking at it today, but the amazing thing is that the building still stands. Patsy Cline, Johnny Cash, Bob Wills, Lefty Frizzell, Jerry Lee Lewis, George Jones, the Maddox Brothers and Rose, and literally a thousand other significant and important country western, rock 'n' roll, and western swing artists played the Bostonia in its heyday.I'm happy to say that I'll be playing a little part in bringing those glory days back to those four walls on October 23, when the Bostonia Ballroom revival takes place all afternoon and all night. It will be a great honor to lead an all-star Western swing band to close out the night, with some of the best living western swing musicians and even some historic musical instruments that used to grace the stage of the Bostonia in those early years. You definitely don't want to miss it!
**********************************
LOU CURTISS REMEMBERS

A Night Out at the Bostonia Ballroom
In 1946 Tex Williams formed his Western Caravan. Smokey, along with buddies Andre "Cactus" Soldi and Larry "Pedro" DePaul, became equal partners with Tex. They soon formed a home base to play the Palace Barn in Riverside. In 1947 the Western Caravan scored a major hit with "Smoke, Smoke, Smoke That Cigarette" (that's right, the same song was covered by Commander Cody and his Lost Planet Airmen in the early 1970s). With this hit, the band produced more radio shows and movie shorts and toured all over the country. Upon returning to Riverside, they found themselves hosting a weekly NBC television show. You could say that the boys hit pay dirt. But by 1949 the wheels came off this wagon, too, with Tex moving on in search of greener pastures.
When Tex rode off into the sunset, Smokey went into full gallop. Smokey, along with his partners Cactus and Pedro, was soon staking claim to San Diego's Western Caravan entertainment scene. Smokey and the boys also took over the ownership and operation of one of the nation's foremost country and western watering holes and entertainment hot spots, the Bostonia Ballroom in El Cajon. From about 1950 to the early years of the '60s, every major country-western entertainer passed through the Ballroom. Hank Williams, Hank Thompson, Patsy Cline, Johnny Cash, Johnny Horton, Lefty Frizzell, Marty Robbins, Brenda Lee, Terry Preston (aka Ferlin Husky), a very young Willie Nelson, and Jerry Lee Lewis were just a few of the featured acts to play there.
Also in the late 1940s, Smokey lassoed another gig with local KFMB-TV. Smokey and the band hosted an afternoon variety show five days a week. In the beginning, the show was on four hours a day, but as more network shows moved in, the show was cut to three hours, then down to two. The show lasted six and a half years.
While hosting the TV show, Smokey still had plenty of other chores. The Western Caravan played every weekend at the Bostonia Ballroom, adjacent to which a radio station was soon broadcasting. Smokey and his partners bought Valley Music, still owned and operated by the Soldi family to this day (in 2001).
• San Diego Troubadour, September 2001
San Diego Gems that Are Past and Gone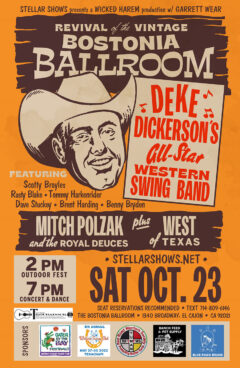 This city and its environs have a bad habit of ignoring our roots—particularly our musical roots and places where music has been heard. I could name many venues—dance halls, clubs, theaters, coffeehouses—that have contributed in a large part to our musical history, but few of them stand out, notably because the buildings are still there. Something should have been done to restore their musical importance a long time ago.
Let's begin with the Bostonia Ballroom, which is located in the city of El Cajon, although when it opened in the early '30s, it was out in the country between El Cajon and Lakeside. I mostly remember the ballroom as a showcase for the best in country music, both local and national. Acts ranging from Bob Wills and his Texas Playboys, Roy Acuff, Ernest Tubb, Lefty Frizzell, Johnny Cash, Hank Thompson, the Maddox Brothers and Rose, Merle Travis, Spade Cooley, and Hank Williams as well as our own Smokey Rogers (who was owner of the Bostonia Ballroom for a while), Roy Hogsed, and Buck Wayne. During the early 1930s Bostonia was a showcase for big bands like Tommy Dorsey and Glen Gray. Today the building houses a restaurant and most of the people who eat there don't even know what a great place it once was. Occasionally someone asks about its history and the waiters show them the old dance hall in the back, which they rent out for business meetings. I have a tape of Bob Wills and Spade Cooley playing together on stage there and I've always thought someone should put together a CD of live material from some of the old Bostonia shows. I wonder if anyone out there has any tapes of those shows. If so, they should make them available sooner rather than later while good musical memories still linger.
• from the San Diego Troubadour, November 2003