I Will Take You There: Getting Straight to the Point of Harry Nilsson in Everybody's Talkin'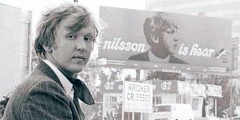 What the hell was it about Harry Nilsson that made him so unique, so freaktastically special? In a culture teeming with celebrity pop stars and famous groupies, press agent to the stars extraordinaire Mr. Derek Taylor expressed it this way: He is the something else the Beatles are.
In 1968, when John Lennon and Paul McCartney were asked at a New York press conference, who their favorite group or artist was, they both responded by saying "Nilsson!" Overnight, the phone started to ring. If it sounds a bit like the hype machine shifting into mythological overdrive, a slow, deliberate perusal through Nilsson's song blotter manages to put things into proper perspective. And, thankfully, his entire musical output is easy to access, due in part to the release of 2013's 17-disc career retrospective The RCA Albums Collection.
On the barometer of artistic endeavor, his work is that rare commodity: rewarding infinite dividends to those willing to invest the time and energy to absorb his musical and lyrical ideas. His melodic inventions alone are golden, and oftentimes convey more weight through the way that a word is phrased than by the actual words themselves. Yet his turns of phrase reflect a wicked sense of humor and a Zen-like genius for Dadaist multiplicity, i.e., he is many things to many people and, simultaneously, beautifully universal.
Nilsson is a true anomaly who somehow transcends the conventions of show business during the 1960s, '70s, and '80s. Tinted, nostalgic, and old-fashioned on the surface, there wasn't much about Harry Nilsson's music that you could call "rock 'n' roll." He was really a crooner with a golden pair of pipes. And yet, his entire OUTLOOK on life, drenched in an attitude of winking knowingness — of gamely seeing through the game — was as rock 'n' roll as it gets. The trademark expositions of rebelliously acting out, with angry platitudes as one's badge and one's shield, were not Nilsson's style. In fact, Harry was truly from the "old school," as his 1973 LP of Tin Pan Alley standards, A Little Touch of Schmilsson in the Night, will certainly attest. Regardless of fads and fashions, this is the terrain where Nilsson's heart and soul merrily reside, as reflected in these quaint old postcards from another space and time. With a sentimental, sun-bleached emotionality permeating his entire catalog, Nilsson can appear at first glance to be a heartsick, romantic fool. The classic embodiment of the Dream Love Myth: wistful, forlorn, and plaintive, yearning for that special someone to make all of Life's trials seem worth enduring, as if finding the ultimate savior/companion will somehow make this longing go away. He's the perfect dualistic dichotomy of happy/sad.
Nilsson is yin and yang personified (he is a Gemini, after all) and that dance between light and shadow is explored in the San Diego Rep's latest production Everybody's Talkin': The Music of Harry Nilsson. Conceived by musical arranger Steve Gunderson and director Javier Velasco, Everybody's Talkin' is definitely not a play, as Gunderson is quick to point out: "There's no dialogue, and there's no story. And it's not about Harry Nilsson. It's simply a tribute to his music."
Gunderson made a name for himself by working on the musical revue Suds before successfully crafting the arrangements for the Back to Bacharach and David production. Burt Bacharach offered up the ultimate pat on the back by saying, "I think it's very hard what Steve has done, because he has gotten inside my music with total respect and integrity. And that doesn't happen often."
While Gunderson feels that Everybody's Talkin' is different from a stage play, there is still "a 'through line,' where we tie it all together with songs at the beginning about youth, songs in the middle about love, and toward the end, songs about outcomes. It's sort of a Harry Nilsson song cycle." If Gunderson has one main goal with the show it's "just to get the music out there and have people reconsider, listen, and think about it."
*****************
It's one of popular music's deeper ironies that a gifted songwriter responsible for writing hits for other artists (Three Dog Night's "One" for example) would have the two biggest hits of his career by covering other people's songs. Everybody's Talkin': The Music of Harry Nilsson takes its title from the Fred Neil composition that figures so prominently in the 1969 John Schlesinger film Midnight Cowboy. Climbing all the way to number six on the Billboard Hot 100, "Everybody's Talkin'" earned Nilsson his first Grammy award. His greatest commercial triumph came in 1972 when he covered Badfinger's "Without You" (written by Pete Ham and Tom Evans), which went straight to number one for four weeks, and scored Nilsson his second Grammy award for Best Male Pop Vocal in 1973. These two anomalies are the only songs not composed by Nilsson for Everybody's Talkin'.
Born on June 15, 1941 in Brooklyn, New York, Nilsson migrated to Los Angeles with his mother after his father abandoned them at the age of three, serving as fodder for the semi-autobiographical "1941." Showing an early aptitude for computers, he worked the night shift as a teenager at a local bank, plying his trade as a tunesmith during the day, with his early attempts at songwriting, impressing no less than Glen Campbell, the Shangri-Las, and the Yardbirds, who all covered his songs. But it wasn't until he signed a recording contract with RCA Records and made his first proper album in 1967 with Pandemonium Shadow Show that people began to take notice. Nilsson scored his first big payday when the Monkees recorded one of his songs for their third LP Headquarters. Mickey Dolenz: "When Davy Jones said that he would record 'Cuddly Toy,' we walked out to the parking lot with music publisher Lester Sill, who told Harry, 'Now you can quit the bank.'"
Utilizing the tools of multi-track recording and taking it, at times, to absurd lengths, Nilsson's honey-stacked vocals are sonic painting at its finest. Pandemonium Shadow Show and its follow up, Aerial Ballet, are from that bygone era when vocalists interpreted a wide variety of material across a single LP, mixing original compositions with a quirky selection of cover tunes, creating interesting juxtapositions. When Nilsson took 16 different Beatles songs and mashed them up into a composite using "You Can't Do That" as the track's foundation, his genius for whimsy and appropriation was in full evidence. While standing in line at a supermarket, Beatles press agent Derek Taylor was caught by the sound of Nilsson's voice and ordered up a case of LPs to pass around to his friends, which, of course, included the Fab Four. It wasn't long before a mutual appreciation society was formed, with Nilsson receiving a invitation from Taylor to "come to England. The boys are doing an album."
It was an intense friendship that endured for over 20 years, famously captured across pages of the middle '70s. When the Beatles imploded in 1970, Nilsson filled a void created by Paul McCartney's departure, as a number of projects with Ringo Starr and John Lennon demonstrated. Lennon's infamous Lost Weekend circa '73—'75 is filled with insane tales of over-indulgence, and yet some incredible work was accomplished during this time: Son of Dracula, Pussy Cats, "Old Dirt Road," and Goodnight Vienna. The promotional video for Starr's cover of "Only You" atop the Capitol Records tower in Hollywood is a classic, with Harry pictured in a lawn chair, reading a newspaper, celebrating Ringo's return and receiving a hero's welcome à  la The Day the Earth Stood Still.
Van Dyke Parks suggests that Nilsson "was doing something that existed before Elvis shook his hips. There was a musical continuum that Harry was a part of. He continued to experiment with each record. And this is what was magical about the age of vinyl, when people had enough time to listen to an album and let it take them away, like a good beach read. The ultimate short story: Harry would do that with albums. And he was so great at it, and sometimes that is what put his relationship with RCA's promotion men at peril."
Since his untimely death in 1994, Nilsson's music has been used in countless television and film projects. A beautiful example of his latter-day genius can be found in the song "Perfect Day," used to exquisite effect in Bob Fosse's 1979 masterpiece All That Jazz, not to mention his sublime reading of "How About You" in the Terry Gilliam classic The Fisher King. And now, in 2015, his music is being celebrated in a contemporary stage production.
Javier Velasco: "I like working with collaborators and material that elevates me, because there has to be some sort of sympathetic reaction to the material. Nilsson has this duality: some of his songs are so, so dark and then others are so, so light. But the more I started listening to him in interviews and what he chose to write about, I found that he has these wonderful ideas where he's sort of an optimistic pessimist. I believe that everyone has difficulties and problems, and because of that we all have to be optimists. Hope is a practical, viable thing that we need to sustain us."
******************
So, what was it about that Mona Lisa grin that was perpetually seeping out of Harry's sly demeanor? That angelic voice of his allowed for a multitude of sins to be pardoned, or at least skirted over when it came to dealing with the consequences of his actions.
Nilsson's life was a combination of triumph and tragedy. Was he an alcoholic? The short answer would appear to be "yes," even though it's never really dealt with directly in the 2010 documentary by John Scheinfeld Who Is Harry Nilsson (And Why Is Everybody Talkin' About Him?). Or perhaps that was the point of the entire exercise — swimming, or wallowing, in the psychic pool of subconscious/subterranean inspiration?
The longer answer could be "so what, who cares, and what business is it of yours anyway?" But the issue of escape and salvation does seem to permeate Nilsson's body of work.
Not to mention companionship, which is the recurring idea behind his song "Best Friend," the theme to the television program The Courtship of Eddie's Father. One of the most successful projects of Nilsson's career draws upon the ideas of alienation, friendship, community, and identity in the 1971 album and cartoon The Point. Interpreting the story's hero, Oblio, as Nilsson's altar ego isn't a huge stretch: "I was on acid and I looked at the trees and I realized that they all came to points, and the little branches came to points, and the houses came to points. I thought, "Oh! Everything has a point, and if it doesn't, then there's a point to it."
That's the conundrum of Nilsson and his round-headed hero, who stands out from the rest of the village (i.e., the world) by being different from everybody else. Except that he wasn't different from everybody else — it was simply thinking he was different that cut him off from the rest of society. The thing that made him unique is the thing that made him special and ultimately the thing that cast him in a self-created pit of his own demise.
Nilsson was an innovator who built his dreams upon the foundation of knowing how masters accomplish their greatest works. Perhaps that is what his Cheshire-eating grin was all about. He exercised his creativity behind the closed doors of the recording studio, preferring to work behind a baffle, baffling those who couldn't quite relate to his skewed vision.
So he didn't perform concerts or tour the world, big deal. It adds to the enigma. There is enough visual evidence to demonstrate that the guy was capable of sitting down and delivering a one-man concert of intense, adept passion, as the excellent 1971 BBC program The Music of Nilsson will attest. This document alone suggests that the subtleties of his work would have been lost in the screaming din of an amphitheatre.
But he could also be the very picture of perversity personified, as the out-of-focus photograph gracing the cover of Nilsson Schmilsson, with Harry in a bathrobe cradling a hash pipe, will testify. It's become the stuff of legend about how he and John Lennon were ousted from the Troubadour in west L.A. after consuming too many Brandy Alexanders. Bob Gruen's classic photographs of the two of them playing snooker together says it all: one last hurrah at the boys club before retiring to that domestic penthouse in the sky.
Speaking of penthouses, there was also that bizarre thing where the flat that Nilsson owned in London became the location where both Mama Cass and Keith Moon both met their earthly demises. And isn't it kind of weird that Nilsson's biggest hit, the ultimate plea of emotional desperation, was written by two guys who believed in that sentiment so much that they proved it by hanging themselves?
Seeing his best friend cut down by an assassin's bullet in December of 1980 didn't help his self-destructive streak from turning into a full-blown spiral around the drain of his own mortality. Harry got political and lobbied for stricter hand gun controls in America. Thirty-five years on, it seems the problem has only gotten worse.
Of course, it wasn't all mopiness and sorrow. But it turned out that when the kid struck gold, and had earned an audience in which to bedazzle us with his gifts, he turned around and literally said "fuck you" as a retort to the demands of fame ("You're breaking my heart, and tearing it apart, so fuck you…"). It might have scored him a million bonus points in terms of integrity, but it pissed away the commercial mechanisms that were going to continue to make or break him in the mainstream. Whatever smug satisfaction was gained by knowing that he hadn't compromised his art, cost him dearly in terms of record company and media support: his self-indulgences undermined his commercial potential.
Nilsson was a complex cat who inspired joy in the world. He put the lime in the coconut and understood that everything has a point. His most cherished confidant was his good old desk. And he had a heart of gold. We should all be thankful that he decided to drop by and hang out for a while.
Everybody's Talkin': The Music of Harry Nilsson is directed and choreographed by Javier Velasco, with musical arrangements by Steve Gunderson, featuring Gregory Jbara and Alice Ripley. Performances at the San Diego Repertory Theatre from May 23—June 21.