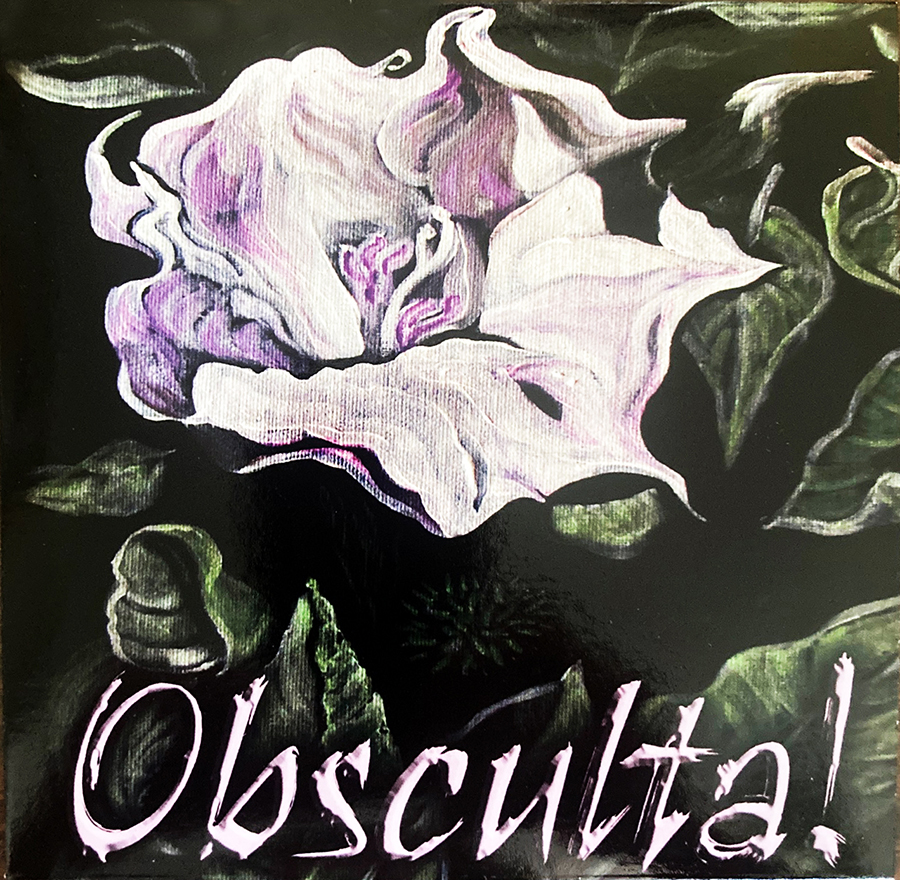 Obsculta is the fifth CD offering from the group Haywire, 14 tracks of original tunes. The group, based out of the lovely mountain town of Julian, California, is spearheaded by singer-songwriters and lead vocalists Kathleen Beck and James Lydick, with Beck on rhythm guitar, bass, mandolin and keyboards as well as Lydick on lead guitar and bass. Haywire is rounded out by Maril Parker on fiddle and bass, Liz on flute, Paul Gordon on drums, and Jon Hasz, who recorded, mixed, and mastered the project, joining in on cello.
The opening track, "Corridors," a straight-ahead rocker featuring the duet lead vocals of Beck and Lydick, sounds as if Grace Slick and Marty Balin were back on stage together, fueled by Gordon's driving drum chops and Liz's flute flurries. However, all comparisons to the past end there. Haywire has a fresh sound, contemporary and eclectic in their lyrical and musical compositions, which delve deeply into a variety of well-written minor key tunes, duly noted over six consecutive tracks after the opening track, starting with "Waterfall," with the lyric "waterfall, falling down, covering our fears," set behind a haunting obligato bass figure.
"Strawbale" rocks out behind Beck's powerful voice and mandolin accompaniment with the instructive lyric "you must find peace within," followed by the gypsy-flavored instrumental tune, "Wynola Surf," with Lydick and Liz trading off on free-flowing harmonic minor scale licks, followed by "Storm," with ominous lyrics eloquently backed by slide guitar phrases from Lydick. "What storm comin'…round and round… inside of me."
Parker's composition, "Johnny Coffee," has her perfectly placed fiddle licks, setting the mood amid a wife's sad tale of war and its consequences. "Johnny Coffee please come home, don't you leave me all alone…empty house and a baby on my knee," followed by the 6/8 time waltz "Maiden," a sad tale of "what was to become of the maiden," adorned with polyphonic bass and flute interplay.
The series of eclectic minor key tunes are broken up by Lydick's lead vocal on the catchy novelty tune "Flashlight," played appropriately in a Calypso rhythm. "I hope you recognize the nature of this tune, go ahead and step outside, shine a flashlight at the moon." Beck's angelic voice on "Remember" "reminds us to be kind" in repeating choruses along with a poignant metaphor. "You are the river, you are the motion, the motivation here and now."
The soulful ballad "Refuge" highlights choruses of mellifluous vocal harmonies amid some tasty guitar licks from Lydick's guitar, with the repeating lyric: "taking refuge in a storm," followed by Lydick's lead vocal on the two-steppin' goodie "Broken Holes." "I don't give a damn about the folks that stare at me, don't slow me down, I'm leaving town, don't care what you see."
"Carnival" showcases another vocal duet from Beck and Lydick, echoing vocal harmony memories of Mary Travers and Paul Stookey. "Think I need a break from the carnival attraction, stop and rest my head awhile…life can get confusing when the colors run together." Shifting musical gears once again, Haywire goes into full rock band mode on "Do It Now," with imminent warning signs ahead for the planet. "Nature, she has turned the table, time to get a clue, you know what to do."
The album concludes with an instrumental tune, "Victor," a lilting regal waltz with a mesmerizing flute melody that builds in intensity via a full-throated vocal chorus, a fitting conclusion to a delightful listen of diverse musical arrangements and a strong vocal presence abounding with lyrical messages and metaphors of inner emotions, tragic tales albeit with glimpses of optimism, hope and change.